Apprentice retains canoeing Junior World Champion title
Posted on: 1 November, 2019
A UCEM apprentice is eyeing senior world championships after retaining her Junior World Champion status in canoeing.
Ottilie Robinson-Shaw, who is on our Level 3 Surveying Technician Advanced Apprenticeship, followed up her 2017 triumph in Argentina by retaining her women's junior title at the 2019 International Canoe Federation (ICF) Canoe Freestyle World Championships in Spain.
Ottilie reflected: "At my first World Championships in Argentina in 2017 I was considered the underdog against a reigning champion and my win was something of an upset. This year, as the reigning champ myself in Spain, all eyes were on me and the competition was fierce with at least three other women pushing hard for the title and at a standard comparable with the senior athletes.
"As such, taking the win was very different; in some ways expected but the pressure was on and winning was therefore as much a relief as it was a celebration. That said, I was elated at retaining the title as doing so had been a major goal for almost two years."
More than 200 athletes were competing from 20 countries with a maximum of three junior women per nation. Ottilie also competed in the senior squirt boat competition – freestyle canoeing in a low boat which only just allows the paddler to float – and gained a bronze medal for her efforts. On this achievement, she said: "I was delighted to medal against some amazing international pro-paddlers."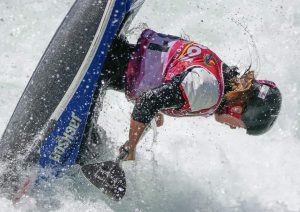 Next up for Ottilie is the 2020 European Championships in Paris, for which she has already been pre-selected for the senior Great Britain team, before the 2021 World Championships in Nottingham.
"My goal is to at least medal [at the European Championships] and, if I am totally candid, I have to admit that I really want the senior title. I also have my eye on the World Championships title but the competition will be massively strong and only time will tell.
"I will need to keep balancing my studies, work and training which becomes much harder over the winter with colder water and shorter days but I will give it my best shot."