Applications open for UCEM's new £15,000 research prize fund
Posted on: 1 April, 2019
Built Environment professionals are invited to submit research proposals for the chance to receive up to £15,000 from UCEM to support their project.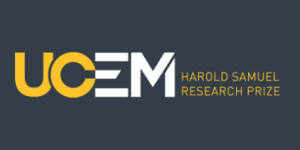 The application form for the Harold Samuel Research Prize is now live for applicants to enter the idea for their project, which ideally will have the potential to provide a transformative insight into the Built Environment.
A judging panel will ultimately decide the destination of the first annual prize/s which will be announced at this year's UCEM Property Awards in October.
UCEM Principal, Ashley Wheaton said: "I am hugely excited to open the Harold Samuel Research Prize fund to the public. It will be fascinating being part of the judging panel which will have the chance to decide which applicant or applicants will have the opportunity to pursue their research to the benefit of the Built Environment.
"There is huge scope for the submissions we can receive, and I would challenge anyone considering entering to think big and use the opportunity to work on issues or solutions which will make the sector stand up and take notice.
"The competition is reflective of our burgeoning research activity, and I would like to thank the Harold Samuel Education Trust for its support in inaugurating this new annual prize fund."
The deadline for proposals is 12pm on Friday, 3 May. For more details and to enter, visit www.ucem.ac.uk/news-events/harold-samuel-research-prize/