Alumni, student and Associate Fellow shortlisted as Construction Role Models
Posted on: 31 July, 2019
Five current and former UCEM students will act as ambassadors for the construction industry after making the UK Construction Week Role Models shortlist.
Alumni, Laura Wilson, Becky Rogers, Pete Ewbank and Laura Collins, who is also a UCEM Associate Fellow, and student, Jenny Owen, will attend UK Construction Week in Birmingham to advise and encourage those considering a career in the industry.
They are part of the 98-person Role Models shortlist selected to inspire the next generation from hundreds of entries. The Role Models will be invited to speak at the event – which is the largest construction event in the UK – where one will be crowned Role Model of the Year. In the lead-up to UK Construction Week, Role Models will be involved in promotional activity designed to boost the profile of the construction industry.
Here's a little more about each of our Role Models:
Laura Wilson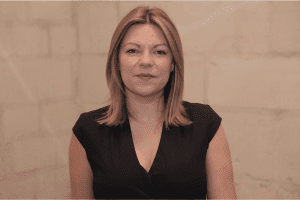 Laura is a Director at land rights service provider, CLM Limited. Whilst Capital Programme Assistant at Savills, Laura spotted a gap in the legal market and became New Connections Manager, responsible for managing the new connections business within the utility team and working with electricity and gas connection providers to procure the legal rights.
Laura founded CLM Limited in 2014 and five years later, the company is made up of 13 professionals, including Senior Project Co-Ordinators and in-house CAD Techicians, and is now the go-to land rights service provider in the UK. The team ensures that the process of obtaining land right consents is transparent and risk-free, and has worked on some of the most prestigious sites in the UK including Wembley Stadium and the Olympic Park.
Laura, who gained a BSc in Estate Management at UCEM in 2013, commented: "I was surprised to make the shortlist. Our company has recently grown and we have taken on a brilliant Brand and Communications Manager, Victoria Magnall, who has been sneakily nominating CLM for various business awards and also surprised me with this one!
"If I were to win the main Role Model prize in October, it would mean everything. Throughout developing the CLM business, I have always been conscious and very passionate about setting clear and realistic examples of how we should conduct ourselves in business. In growing the CLM business, I have had to show leadership and provide guidance in order to develop a successful team. This award would go some way towards recognising that."
On her time studying with UCEM, Laura added: "Working full time and studying with UCEM came with its challenges, however, the tutor support and guidance really helped. The flexibility offered on the course and amount of resources online were very good. I would recommend UCEM to others!
"The foundations on the course provided by the core modules helped me to gain a wider understanding of the industry I work within. It has also helped me to understand other roles within the industry and how these link to the work we do on a daily basis."
Becky Rogers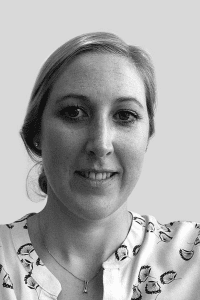 Becky is a Preconstruction Coordinator at Kier. She writes and coordinates bids for the Devon and Cornwall Regional Building business and manages projects through the design stage, coordinating design teams and clients.
Becky changed careers two-and-a-half years ago after serving for 14 years in the Armed Forces' Royal Marines Band Service. She is a supporter of ex-military personnel and young females with their journeys into the construction industry, regularly attending careers events, hosting work experience students and acting as a mentor.
Her strong work ethic saw her complete a Postgraduate Certificate in Built Environment Studies with UCEM and she is currently studying towards a Lean Six Sigma Black Belt qualification to improve her work and support the business in its needs.
Becky said: "I am really pleased to be shortlisted and to be honest, a little surprised! I haven't taken a conventional route into the industry having served in the Marines band but hope to be inspiring to others that, given a little hard work, you can make it in whatever industry you choose and the construction industry is a great place to work.
"My manager suggested that I would be a worthy candidate as I could inspire a wide variety of people into the industry by sharing my story. I already support ex-service personnel to realise the opportunities within the industry and have spoken at events aimed at attracting more females into the industry."
On her time studying with UCEM, she said: "I enjoyed studying with UCEM as I was able to fit the studying around my already busy life. Trying to balance a full-time job and family life is tough enough but UCEM provided the flexibility to study as well, meaning that I could progress with my career.
"My studies enabled me to gain valuable knowledge in order to progress within the construction industry. Previously serving as a musician in the Royal Marines, the fast-paced and intensive course quickly gave me the confidence and knowledge to take on more responsibility. Since completing the course, I have led the submission and production of multiple bids and coordinated projects through the design phase as a Preconstruction Coordinator. My career is quickly progressing and I'm excited about what I can achieve next."
Pete Ewbank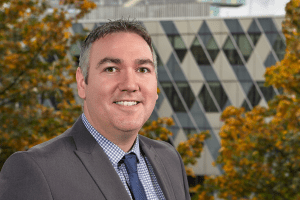 Pete is an Associate Director at Trident Building Consultancy. Pete began his career as an architectural technician but found himself wanting to head out on-site and study building defects and problem-solving rather than just being in an office working on CAD. To achieve his aim, he self-funded his studies on UCEM's BSc (Hons) Building Surveying programme, graduating in 2013 with a First and gaining the highest mark on the programme that year.
Having joined Trident last year, Pete has inspired his team in Manchester and the wider company, acting as an APC Counsellor to his team's assistant surveyors and involving the whole team in projects as part of his inclusive approach, leading to a happy team and grateful clients and contractors.
Pete said: "I feel very privileged to be shortlisted for this award, and hope that I can encourage some of the younger generation of school/college leavers to get involved in the construction and surveying industry in the future.
"If I were to win the main award, I would be delighted. It would be a great achievement and acknowledgement of my hard work and time dedicated over the years working in the industry. I would also be very proud to know that I could be a role model to the younger generation of professional people entering the industry, giving them an insight into what to expect and what can be achieved from hard work and dedication working in surveying and construction, which can be a very rewarding career."
Reflecting on his time studying with UCEM, Pete added: "Studying with UCEM was amazing. It was very flexible being able to study for my BSc in Building Surveying whilst working full time, providing all of the study materials needed, support from tutors online and face-to-face, study and revision sessions, and exams held locally to where I lived. The whole experience and the possibility of achieving a degree in my own time via distance learning whilst working was great, and I would recommend it to anyone working in the industry, who is prepared to commit the time and dedicate the hard work required, as the degree doesn't come easy!
"My studies have enabled me to progress vastly in my career, after achieving my degree I soon after got promoted to senior level, and I am now a Senior Associate Director of my firm, which would not have been possible without achieving my degree. The UCEM experience also helped me to manage my time better, multi-task and improve my management skills."
Jenny Owen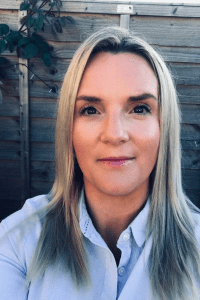 Jenny is coming towards the end of her studies on UCEM's MSc Quantity Surveying programme. Having worked in education as a Teacher, Faculty Manager and Safeguarding Officer for 14 years, working with many young people experiencing difficulties, and given birth to her second child, Jenny decided to fulfil her ambition of working in the construction industry.
After researching opportunities within the industry, she decided to study with UCEM which helped her gain employment at Beard Construction as an Assistant Quantity Surveyor. Jenny's career in the industry is now flourishing and her story is an inspiration to anyone who wishes to change career and work in construction.
"I was amazed to be shortlisted as a Role Model," she revealed. "I really didn't think I stood a chance, so I'm very happy to hopefully get my story out and inspire a few more people into the profession. Through this nomination, I wanted to show that regardless of age or gender, there are many opportunities in the construction industry and universities like UCEM to help you achieve your goals.
"Studying with UCEM has been such an incredible experience; genuinely life-changing. The staff are very supportive and knowledgeable, the work has been manageable and I have learnt a huge amount. I would highly recommend UCEM, and do, to other people I meet who wish to further their skills or retrain as a manageable and good value mechanism to gain a degree.
"I am employed as an Assistant QS and have been for three months. I previously had a successful career in Education as a Manager and Safeguarding Officer which I thoroughly enjoyed but I have always wanted to work in construction. Aged five, I thought briefly about being a lorry-driver but for the most part I wanted to build things. Unfortunately, when I was going to University the first time it was rare for women to work in construction, and certainly not something I was offered much advice about. Therefore, I chose a Psychology degree, some years later trained a teacher but always wanted to re-train. When I had my youngest child, I decided it was now or never so in 2017 enrolled on the MSc course which I will complete this summer."
Laura Collins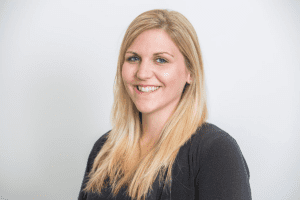 Laura is an Associate M&E Cost Manager at independent construction, property and management consultancy, Rider Levett Bucknall (RLB). She was one of the youngest professionals to qualify as a Chartered Surveyor at just 23 years old and one of the youngest to be promoted to the role of Associate Director at Mace at 27.
She has gone on to win Best Woman Quantity Surveyor of the Year at the European Women in Construction and Engineering Awards 2016, was named UCEM's Alumni of the Year in 2017 and received the accolade of RICS Young Surveyor of the Year 2018.
Laura is a passionate advocate of the industry; she is involved in outreach programmes, is a member of RLB's Equality Diversity and Inclusion Steering Group, which is focused on embedding change within the industry, and is part of a project to get more women to fellowship – the Women in Surveying MRICS to FRICS. Only last month, Laura was inaugurated as an Associate Fellow at UCEM – an award which goes to recent graduates who have made a positive impact in the Built Environment early in their careers.
Laura reflected: "I am absolutely delighted to be shortlisted and to be recognised as a UK Construction Week Role Model. I have worked tirelessly over my career to attract the best talent to the industry and mentor a number of Next Generation Professionals to achieve their goals. We can all be a positive Role Model and I encourage everybody to make a difference to the industry we all enjoy working in so much."
UK Construction Week is at the NEC in Birmingham from 8-10 October. For more about the UK Construction Week Role Model scheme, visit www.ukconstructionweek.com/role-models#/