Alumni achievements recognised with nominations at UCEM Property Awards 2019
Posted on: 7 October, 2019
Eleven alumni have been nominated for awards recognising academic excellence and achievements in industry at the UCEM Property Awards 2019. 
The five nominees for the Alumni of the Year Award, which goes to a former UCEM student who has made an outstanding contribution to the Built Environment early in their career are Daniel Butterick, Pete Ewbank, Judi Greenwood, Nathan Jarman and Laura Wilson.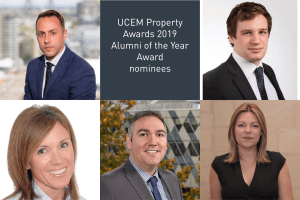 Our Alumni of the Year Award nominees: (Anti-clockwise from top left) Daniel Butterick, Judi Greenwood, Pete Ewbank, Laura Wilson and Nathan Jarman
The six recent alumni nominated for the Academic Excellence Award, which recognizes the high quality of students' research submissions are Laura Bell McMillan, Paul Anderson Vera, Emma Martinez, Sami Phoenix, Beverley Reid and Sharon Reilly.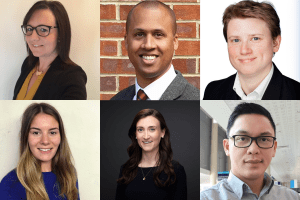 Our Academic Excellence Award nominees: (anti-clockwise from top left) Beverley Reid, Laura Bell McMillan, Sharon Reilly, Paul Anderson Vera, Emma Martinez and Sami Phoenix
UCEM Principal, Ashley Wheaton, commented: "Each year, I am astounded by the calibre of alumni nominated for these two awards and this year is no different. 
"In the Alumni of the Year category, I was struck not only by the personal achievements of the nominees, but also by the consistency in how each candidate is actively mentoring the next generation of professionals to contribute towards a better Built Environment. 
"The research projects by those in the Academic Excellence category encompassed a wide spectrum of topics in the sector and demonstrated the huge diversity in job roles which our degree programmes cater for. Each dissertation can be used to make a positive difference in the world and I'm delighted that several have already been used to support governmental policy and organisational changes. 
"It has been an incredibly difficult challenge to select the winner in each category. Each nominee is deserving of huge praise and should be proud of their academic and industry achievements." 
In addition to the Academic Excellence and Alumni of the Year prizes, there will also be the presentation of the main Property Award which goes to a person who, or an organisation which, has made an outstanding contribution to the property sector. Past winners of this prestigious award include Sir Michael Latham – author of The Latham Report which transformed the modern construction industry; the National Trust; and our Patron, HRH The Prince of Wales. 
The UCEM Property Awards 2019 take place in London on Thursday, 10 October. Follow our social media channels on Facebook, LinkedIn, Instagram and Twitter for more as we build up to this prestigious event.