Agents of change championed at the UCEM Property Awards 2021
Posted on: 19 October, 2021
Agents of change in built environment sustainability, ethics and equality, diversity and inclusion took home the three prizes at this year's University College of Estate Management (UCEM) Property Awards, an event celebrating an all-female cast who are driving change in the sector.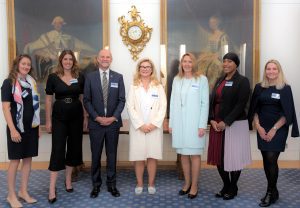 UK Green Building Council (UKGBC) chief executive, Julie Hirigoyen, became the 34th recipient of the prestigious Property Award, which recognises an organisation's or individual's outstanding contribution to the property industry.
Julie was recognised for the leading role she is playing in improving built environment sustainability, particularly in tackling the environmental crisis. In her current role, Julie delivers lasting change within the industry by engaging with UKGBC members, regulators and wider stakeholders in an effective and collaborative way.
Julie was previously UK head of sustainability and an international director at JLL where she oversaw the development of cutting-edge sustainability services to property investors and occupiers across the UK and EMEA region. Prior to this, Julie was co-founder and joint MD of Upstream, a leading sustainability consultancy. Julie is a commissioner on the London Sustainable Development Commission, chairs the Igloo Footprint Advisory Board and sits on both the Green Construction Board and Grimshaw's Stewardship Group. Most recently she was appointed as a trustee of the purpose-driven charity Blueprint for Better Business.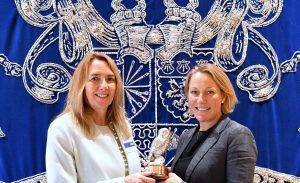 Julie commented: "It is a huge honour to be the recipient of the 2021 UCEM Property Award, particularly given the calibre of my predecessors. That my contribution to the industry is recognised this year highlights the growing momentum to create a better, more sustainable built environment for people and planet. However, if we are to achieve net zero then much more needs to be done and I remain obstinately committed to working with the industry to transform the built environment together."
UCEM Principal, Ashley Wheaton, used his speech to praise the efforts of the institution's staff over the past couple of years during challenging circumstances.
Ashley also referred back to the launch of UCEM's vision which took place at the awards luncheon two years ago, stating: "We are a highly ambitious institution, never happy to stand still, or rest on our successes or past achievements. I believe that we have the most exciting and compelling vision anywhere in higher education.
"The current conditions are now perfectly aligned to UCEM's vision. The policy landscape – which is focused on increasing skills and access to education through lifelong learning and levelling up, alongside the well-documented skills shortages across the built environment professions, and the government's commitment to drive economic growth through construction and building back better, the focus on net zero and the rise in the appreciation for the vital role which accessible, flexible, online education can play – all adds up to a massive and very real opportunity for UCEM."
UCEM Chair, Amanda Clack, used her first speech in the role at the awards to highlight three areas in which the institution is progressing well: apprenticeships, finance and taught-degree awarding powers.
Amanda shared her pride in the fact that UCEM is the number one provider of surveying degree apprenticeships, that the 2019/20 financial year recorded a surplus, enabling the university to be run sustainably and reinvest its profits into resources to benefit students, and that UCEM is another step closer to gaining taught degree awarding powers after submitting its documentation to the Quality Assurance Agency (QAA) last week.
Amanda touched upon the recent National Student Survey (NSS) in which UCEM received 91.38% satisfaction in response to the specific question evaluating student satisfaction with delivery of learning and teaching of courses during the COVID-19 pandemic, contrasting it to the 47.57% sector average. She said: "It's been two years since we were last together, during our then-centenary year, and I am well aware of what a challenging period it has been for everyone.
"The personal and professional disruption and issues caused by the pandemic have been widespread, but UCEM has continued to thrive, and its model for accessible, flexible, online learning has really come of age. Despite the many challenges presented by working under the difficulties of a global pandemic, UCEM has been able to deliver an exceptional student experience."
Earlier in the day, the seventh recipients of the Alumni Award and Academic Excellence Award were revealed by UCEM Principal, Ashley Wheaton.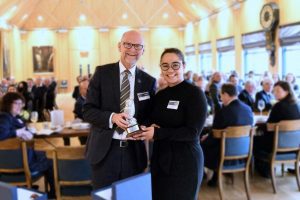 Rachel Ricketts – a senior project manager at residential property developer, Vabel Ltd – won the Alumni Award. Rachel graduated with a postgraduate diploma in surveying from UCEM, having previously gained a BEng (Hons) Civil Engineering from the University of Birmingham.
Rachel is passionate about changing the image of construction to make it a more attractive option for young people, women and those who come from an ethnically diverse background.
She said: "I was not expecting it. Thank you so much. It's the first award I have ever won so I'm delighted!"
UCEM MSc Quantity Surveying alumna, Sam Dawson, scooped the Academic Excellence Award for her dissertation entitled 'An investigation into avoiding non-compliant tenders in private UK construction'.
The study identified and analysed contractors' reasons for submitting non-compliant tenders. These were used to propose a guideline that was tested. The analysis showed that over 50% of the final guideline tested 'highly likely' to avoid tender qualifications and would be adopted by the cost consultants.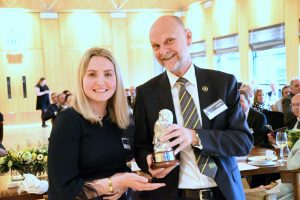 Sam is pleased the study will make a positive impact within the industry and is hoping this will further ensure tenderers are treated fairly – an attitude she takes to all aspects of life.
Reacting to the award win, Sam said: "I am absolutely thrilled to have won the Academic Excellence Award. It's a great honour and privilege.
"I'd like to thank UCEM for hosting a terrific awards luncheon. It was a pleasure to meet my fellow nominees, alumni and UCEM staff.
"I'm eternally grateful for all the support from home, UCEM and my team at Currie & Brown."