Zoom webinar transcripts and accessibility: What our students think
Posted on: 23 February, 2021
Our learning technology research team plays a pivotal role in ensuring the systems used by our students are as up-to-date and accessible as possible. The team surveys the learning technology landscape, identifies technologies which could benefit our students and monitors the success of those used. It's the latter role which is discussed in this article by our learning technology researcher, Dr Tharindu Liyanagunawardena.
Here, Tharindu provides an overview of her published research on our students' and tutors' feedback on Zoom and the software programme's accessibility features…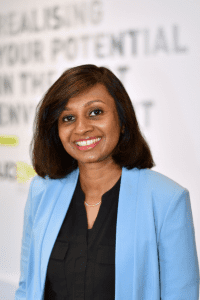 In the summer of 2019, after Zoom was first introduced as the webinar platform at UCEM, we asked our students and staff about their experience of the new software. The survey captured 283 students' and 27 tutors' views of the new system. In my research paper 'Transcripts and Accessibility: Student Views from Using Webinars in Built Environment Education', I have concentrated on two questions to explore the uses of transcripts as I was interested in looking at how these were perceived. The paper is published in the European Journal of Open, Distance and E-Learning which provides open access to the full research paper.
97.8% of the students have watched at least one recorded webinar session, demonstrating the importance of recorded webinars for our students. Only 144 students (52.7%), however, had used the audio transcript, 14 students (5.1%) were unaware of the availability of the transcript facility and 115 students (42.1%) indicated that they had not used the audio transcript facility.
A follow-up question, 'Did you find the transcript useful? Why?', was asked of the students who indicated that they had used transcripts. Out of the 130 students who answered this free text question, 104 students (80% of those who responded to this question) agreed that the transcripts were useful while 14% indicated that the transcripts were not useful. Out of the 92 respondents from non-English speaking countries (excluding respondents from majority English speaking countries), 40 responded to the free text question, 'Did you find the transcript useful? Why?'. Only two respondents said that the transcripts were not useful. The large majority, 95% of students who have English as a foreign language and responded to the question, found transcripts a useful addition to understand what is being said in the webinars.
Many students who have used the automatic transcripts found them to be useful.
One response stood out for me:
'So useful! Amazing. The search functionality is revolutionary. If I vaguely remember something being said in the webinar but can't quite remember where or when I used to have to watch almost the entire webinar again – and it took so long to load. Now, I just type a word and everything comes up. It's amazing. Ok, the audio transcript is not always spot on, but frankly it's amazing how much it does pick up especially with different accents and pronunciation of words and acronyms. Really love it.'
The study has some limitations which are discussed in the paper, including the reliance on anonymous self-directed surveys. This is UCEM's first implementation of automatic transcription for webinar recordings. There could be an element of 'novelty factor' affecting the student responses too.
The study found that many students appreciated the availability of automatic transcripts despite their less-than-perfect accuracy level. Students used transcripts mainly as a tool for searching within a video. This small study shows that students used transcripts in multiple ways:
skipping to a specific location in the video
as notes
as an accessibility aid
to overcome unfamiliar accents and words such as technical terms
to follow the pace of a fast speaker
to study 'on the go' – in quiet places, for example
to catch up if distracted
compensating for poor audio and/or connectivity
as an alternative format for video
as an aid for non-native English speakers.
Other key results from the survey were:
despite 31.1% of students not using any Zoom guidance provided by UCEM, 89.3% agreed with the statement: 'I was able to join the Zoom session with ease'
8% of the students have watched at least one recorded webinar session. 89.4% students agreed with the statement: 'Do you agree that Zoom provides good quality audio and video?'
of the students who have previously used Blackboard Collaborate, 72.9% preferred Zoom
5% of students prefer facilitated webinars. Students identified three main functions performed by facilitators in webinars: monitoring chat and supporting the smooth run of Q&A during a webinar; helping with technology; and helping with non-subject specific information
many students watch recorded webinars and want them to be available soon after a webinar
there were some instances where students in certain localities (especially parts of the Middle East) could not access the software due to local restrictions. For these students, the recorded webinars were made available on a video-sharing platform.
To find out more about the study, take a look at the full research paper.