'Young people have such a strong capacity to learn and grow into the job': Q&A with an apprentice and her employer
Posted on: 24 August, 2021
We love working with and hearing from SMEs who understand the importance of training their staff to become chartered surveyors. Page Hardy Harris is one of those firms, so we asked director, Nick Hardy, and current Chartered Surveyor apprentice, Sophie Holmes, to share some thoughts with us about apprenticeships.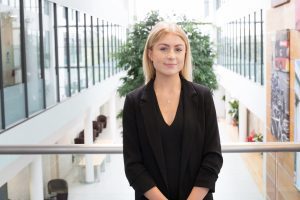 Sophie, how did you find out about apprenticeships?
I first heard about apprenticeships when I was at school. I was introduced to the idea of degree apprenticeships when I was studying for my A levels. I very quickly decided this was my preference for after school opposed to the traditional path of going to a university full time.
How did you become an apprentice?
When I first applied for this job role, I knew an apprenticeship would be a part of it. It was one of the main things that attracted me to the job, knowing I'd be able to work in the industry whilst getting my degree. I knew this would create a great environment for me to learn.

Nick, have you had employees on apprenticeship programmes before?
This is the first time we have officially taken on an apprentice, although we already had a long track record of supporting our employees through an online learning degree at UCEM.  We became aware, through UCEM, that the formal apprenticeship route had opened to support new entrants all the way through their degree to chartered surveyor status. We have had at least one employee enrolled at UCEM for most of the last 15 years so the progression to apprenticeships was fairly obvious.
Was it an incentive to be able to use the levy fund to pay for Sophie's apprenticeship training?
The financial support from the apprenticeship levy fund certainly influenced our decision to take on an apprentice as we had previously fully funded the degree course for our young surveyors.
Sophie, when you found out you had been accepted onto an apprenticeship and were going to be studying online with UCEM, what were your thoughts?
Having no previous experience of studying online, naturally I was a bit apprehensive although I was very quickly reassured by the level of support from Page Hardy Harris as well as UCEM's support team. So far, I'm really enjoying my apprenticeship. My studies have helped me to develop my skills and experience in commercial property.
What do you love most about the apprenticeship?
My favourite thing about the apprenticeship is being able to apply my learning to my job. Not only does this help in the workplace, but also helps in my studies. Being able to relate to my topics with real life examples helps me to really understand my study material that bit further.
Nick, what are the benefits of Sophie studying on this apprenticeship for Page Hardy Harris?
I would certainly agree that there is a really positive feedback loop between Sophie's studies and her day-to-day work and both benefit from the other.  The combined work and study approach is something that Page Hardy Harris can recommend pretty enthusiastically.
What do you think the benefits are of hiring an apprentice?
We like to get new talent into the company after A levels because young people have such a strong capacity to learn and grow into the job.  We benefit by ending up with really competent professionals who understand our business but are still only in their mid-20s.
Sophie, what are you hoping to achieve professionally in the next few years?
My main goal for the next few years is to become a qualified chartered surveyor. Once I have completed my degree, I will go on to do my APC.
Nick, anything else to add?
We very much appreciate the support that UCEM provides to our younger staff members and hope that it is a collaboration that extends many years into the future.
To find out more about employing an apprentice, head to our employer webpage.
To find out more about becoming an apprentice, head to our apprentice webpage.