Winning the EDEN Best Research Paper Award: Guest blog by UCEM Learning Technology Researcher, Dr Tharindu Liyanagunawardena
Posted on: 24 June, 2019
Last week, our Learning Technology Researcher and chair of the Online Learning Research Centre, Dr Tharindu Liyanagunawardena, found out that she had won the prestigious 2019 EDEN Best Research Paper Award in Bruges. Here, she reflects on this outstanding achievement…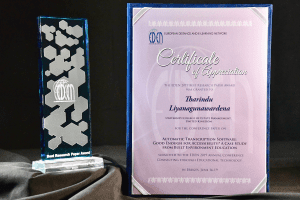 It feels great to be recognised for the effort you put in for your work. Some of the research we do does not give the results we intend. It tells us that what we wanted is not happening or it is not effective. But this is part of the research.
When I started my research into looking at whether off-the-shelf automatic transcription software was good enough to be used for Built Environment education, I never expected it to be recognised this way. Of course, I knew that at EDEN (European Distance and E-Learning Network), they awarded the Best Research Paper Award every year at their annual conference, but I did not know how it was selected nor did I think I would be that lucky person!
When I got to know that I was one of the eight finalists out of the shortlisted 23 papers, I was delighted to be one of the best to be considered in the final round. Going to Bruges was my first visit to Belgium. To make me feel more at home, I was visited by UCEM mascot, Oswald the Owl on one of his flying visits! Here's Oswald and I at the Grand Place: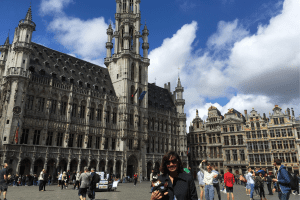 The conference was well organised – undoubtedly the best conference organisation I have seen. I had the privilege to listen to two of the Best Research Paper Award nominated presentations on the Tuesday of the conference. They both were PhD research projects and the quality of the work was very high so I was really glad that my work had been shortlisted among such high-quality research.
At the Conference Gala Dinner which was held at the amazing Market Hall (first constructed in 1240!), they announced the winner of the Best Research Paper Award. The chair of the Jury said it was a unanimous decision. This year's theme was 'Connecting through Educational Technology' and the jury had agreed that my work 'Automatic Transcription software: Good enough for accessibility? A case study from Built Environment Education' was well aligned with the theme. He further said that when they critically evaluated each criterion (contributes convincingly to the theme(s) of the conference; deals with a research question of relevance for conference participants; rigorous examination/research methods are applied; findings, results and outcomes are convincingly presented and critically examined; conclusions are thoroughly discussed (including aspects like applicability, transferability, and/or further research); and literature is reviewed against the state of art) there could be no other winner.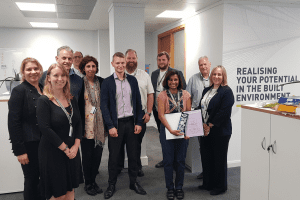 Dr Liyanagunawardena celebrating her award win with other members of the Online Education Department
As researchers, we continuously criticise our work to find better ways of doing things the next time. Self-doubt is par for the course, however, I think now it is time for me to celebrate! But before that, I need to thank my amazing PhD supervisors, Professor Andrew Adams (Meiji University, Japan), Professor Emerita Shirley Williams and Professor Naz Rassool (University of Reading, UK) for guiding me through my PhD to make me the independent researcher I am today.