Why study on our Year 13 BSc Access Module? Guest blog by the Module Leader, Tony Selman
Posted on: 30 April, 2020
Year 13 students left in limbo by COVID-19 have until Monday (4 May) to apply onto our bespoke BSc Access Module. Applicants who have a BAME (black, Asian or minority ethnic) background, are disabled or live in a disadvantaged area with a lower than average participation rate in Higher Education are eligible to study on the module for free, thanks to CSTT's generous sponsorship offer. Those ineligible can study on the module at the heavily discounted price of £195.
Tony Selman will be the main teaching contact as Module Leader and he has written a little about himself and the opportunity the course presents, as well as answered some questions we put to him about the module and the sector…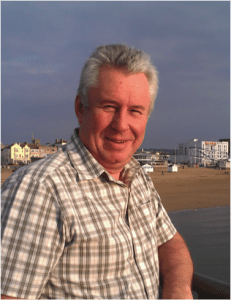 Whilst at school in my last two years leading up to GCSE (or rather CSE at the time) we took part in an experiment where a class of volunteers enjoyed a day at the local technical college in Swindon. For a year we spent half a day on engineering and half a day on building (I made a pig's ear of it but I now know that there is actually a way of shaping lead around the corner of a flat roof – and carried this out myself!). In the second year, we specialised and I chose building. The rest is history and I took forward an interest in construction with a love of drawing and became an architectural technician when I left school.
This module does not quite achieve that but it can give a unique insight (with my expertise) and make a difference in knowing what school leavers might want to do in the sector, and put them in a better position to gain work as an apprentice or in other roles, or pursue related courses in FE/HE.
I left school with 4 CSEs, plus a City and Guild in Construction whilst my mates went on to Sixth Form and university. All these years later, I have enjoyed two great careers in construction (later became a building surveyor) and not only caught up with the degree but ended up running one for 20 years at UWE.
I never saw that coming when I left school!
In that context, I can relate to anyone considering studying on the BSc Access Module and believe it will benefit any Year 13 student with even just the smallest amount of interest in buildings and the wider Built Environment.
Why should Year 13 students consider taking this module?
Year 13 students should consider taking this module because it provides a convenient online taster session for studying at FE and HE, it evidences students' ability to study a new, unfamiliar technical discipline and it will develop their academic skills in research analysis and communication. Studying on the module will add value to any application students make for employment (in any sector) or further study in FE or HE, or indeed, continuing onto any of UCEM's five BSc (Hons) degree programmes.
The module can open students' eyes to the large amount of career opportunities in the Built Environment. In practical terms, students will achieve a Level 4 module upon completion.
What does the module involve?
The module provides an introduction to the simple construction which is integral to building, technology and environment theory, principles, materials, components, performance, standards, sustainability, communication and techniques.
It develops students' competencies in communication through essays, sketching and drawing to describe simple construction of buildings in the context of the environment and technology. The module establishes a foundation of building, technology and environment knowledge and understanding to be further developed in other modules.
What support will be provided by UCEM?
I will be running two webinars a week – the first to explain some of the principles and concepts included in that week's learning activities, and the second will explore some of the career opportunities in the Built Environment and demonstrate how their other interests might usefully combine with students' new knowledge of construction into a rewarding career.
Students are able to message me and one of our Academic Support Tutors to assist on the module material and study skills, respectively. Students have a network of peers to share their thoughts on the weekly learning activities and they also can benefit from the vast amount of resources on our e-Library which can assist with their assignment work.
Additionally, the students will have access to all our support services and teams who can assist on pastoral and wellbeing matters, among others.
What is your background in the sector?
I left school with four GCSEs without an opportunity to attend Sixth Form that was seen as the stepping stone to university. I was given the opportunity to study a City and Guilds qualification in Construction whilst at school and this opened up career opportunities for me.
A knowledge of construction and a love of drawing saw me start out as a Trainee Architectural Technician. Fast forward 30 years (okay – a little more!) and I have enjoyed two rewarding careers having moved on to become a Chartered Building Surveyor.
I studied at college whilst working (as you can now as an apprentice) achieving an ONC, HNC and BSc degree in Building Surveying. Having studied for most of my career, I jumped ship and joined Bristol Polytechnic [now UWE] to start up their new BSc in Building Surveying, and did so for 20 years.
I have really enjoyed life in academia, having seen probably 800 graduates off to their new and exciting careers. Having taken early retirement from UWE, I now enjoy working as an Associate Tutor with UCEM, having done so for the past four years.
Why embark on a career in the Built Environment?
The impact on global warming and need for sustainable solutions is increasing. Many careers in the Built Environment present an opportunity to make a real contribution to reducing carbon whether that be in new buildings or the management and adaptation of the existing buildings we are surrounded by.
The construction industry and property professions are huge employers offering an exciting and varied range of job opportunities. Beyond the construction industry itself, there are a huge range of other careers with property being developed, managed, bought, sold and maintained. Most jobs in the sector will get you out of the office and interacting with a range of other professionals and clients and you will certainly not be stuck in an office doing the same things every day.
As part of this module, you will gain a real insight into range of professional careers that are open to you including within architecture, planning, building control, civil engineering, building surveying, quantity surveying, construction management, property investment and valuation, among others.
Head to the Year 13 BSc Access Module webpage to find out more!