What I've learnt – Upskilling in a difficult jobs market: Guest blog by our MSc Real Estate Programme Leader, David Hourihan
Posted on: 15 July, 2020
Among many other impacts, the COVID-19 pandemic has caused a worldwide downturn in the economy creating a harsher landscape in the jobs market.
Whilst the nature of this downturn is different to previous recessions, can lessons be learnt from the past?
Here, our MSc Real Estate Programme Leader, David Hourihan writes about his own experience of job-seeking during such times, what he did to stand out and how his programme can help others find employment within the industry…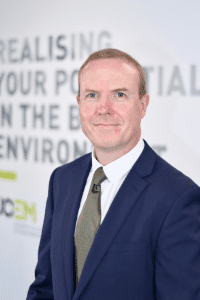 Finding work in Ireland in the 1990s
The first difficult jobs environment I experienced was in the early 1990s where I had just graduated from having done a diploma in Limerick, Ireland. The idea of trying to find work was very daunting. It was a very subdued market. At the time I had the choice of going to do a full-time degree at Heriot-Watt University in Scotland or go into industry. I chose to go into work as I wanted to balance my academic experience at that stage with work experience.
During my diploma studies I failed an exam which came as a shock to me, however, it spurred me on and I got the second best final grade out of a group of about 30 of us. Before graduating, I had gone up to Dublin and went door-to-door with my CV trying to talk to partners in the leading surveying firms. One partner told me off for interrupting him! I guess he thought I was too pushy! One of the places I left my CV was with Costello Commercial – a well-respected employer who could pick and choose which graduates they took on. Because I did well with my diploma, they took me on and allowed me to do my APC studies too. I subsequently qualified as a Chartered Surveyor at the age of 23!
Standing out in my peer group put me in a better position during this difficult market. This demonstrated how upskilling is so important. The employer was focused on picking a good student who had excelled. There was a lot of competition at the time but having really good grades got my foot in the door.
London
The second example was when I moved to London in 2002 which was a tricky market. At that stage, I had done some further studies in the late '90s – a postgraduate diploma in property investment at UCEM. When I went to the London employers, it was evident to me that they were focusing their questions on my studies at UCEM as they were unfamiliar with my earlier studies in Ireland. I had no background in the London market but it was the UCEM qualification which made the difference and helped me find employment in a new market.
2007 recession
During the 2007 recession, I was working at a very good company who were unfortunately going through a round of redundancies. Rather than wait for the outcome of this process, I took the opportunity to start a business of my own. Again, this was in a difficult market.
Having the qualifications I had allowed me to set up the business. It was a property investment business. At the same time, I carried on my relationship with UCEM as an Associate Tutor. A position for Programme Leader became available and I got a call from Anthony Banfield [then UCEM's Director of Retail Studies]. I'm forever grateful to Anthony. I had the choice of continuing my business or going full-time with UCEM.
This career move took me into full-time academia from practice. This was an unusual move for a Chartered Surveyor but what I take from it is always keep your options open.
Reflections
For me, that is one of the biggest lessons I learnt from my job-seeking: keep your options open.
Which institution you decide to study with also has a big impact on your job prospects. UCEM has a strong long-standing reputation within the industry and my UCEM qualification allowed me to find work in London. Having the right qualification from an institution known in the market you wish to work in makes the difference. Your qualification needs market recognition.
We specialise in real estate and construction and there is huge goodwill from industry towards us in the UK and Ireland, as well as further across the world. It pays dividends choosing an institution known in the industry.
Comparisons and advice
The current situation is extraordinary. If you look at certain statistics, the UK economy has contracted so much. It's far more severe than the recessions I previously experienced. It remains to be seen how quickly the market bounces back.
There are obviously fewer jobs so you need to stand out both through your industry experience and your qualifications. If you are looking for work at the moment, you need to gain qualities and experience that will make you stand out from the crowd. We can help with the qualification part. From my personal experience, having the qualification paid dividends. It helped me grow my knowledge base and afforded me opportunities in the industry. Without the qualifications, I probably would not have been able to work in London.
I had a hunger to grow and the qualifications I achieved opened doors for me. Having the qualifications demonstrates your commitment to the market. Employers have to invest in you as an individual and they want to know that you are a long-term option. A qualification is a mark of your commitment.
Our MSc programme
Our MSc Real Estate programme gives you a great insight into the role of different stakeholders from the landlord through to the tenant and the different types of surveyors involved in the lifecycle of a property. It is very industry-focused. It will put a lot of the theory into context to give you a deeper level of understanding.
Property is very complex. If you are new to real estate, this degree will give you a great insight into the various challenges that arise in valuation, asset management, sales etc. You will learn how to apply your learning to the real estate industry.
When I worked in a shopping centre management team, we would regularly meet up on site. There would be a whole host of different surveyors involved (e.g. valuers, agents, asset managers, rent review specialists, lease renewal specialists, building surveyors) at these meetings and you learnt how each role contributed to the successful management of the shopping centre. As an asset manager, I would liaise with the landlord and discuss what asset management activities we were doing and how these initiatives were impacting on the value of the property. This programme will show you how these various roles interact with each other and how they protect and improve the underlying value of the real estate asset.
Through the programme you develop a deeper understanding of the different roles in real estate and which specialism is for you.
If you would like to find out more about David's programme, head to the MSc Real Estate programme webpage.