#UCEMTwitterTakeover – Meet the Admissions Team
Posted on: 18 December, 2017
Starting this evening (18 December), UCEM's Admissions Team will be taking to Twitter for weekly 'Twitter takeover' Q&A sessions.
The friendly team, based at our Horizons office in Reading, will be running these all the way through to March to help any prospective students wishing to apply on to a programme with UCEM during our Spring 2018 intake period.
So, what is a Twitter takeover? What do the Admissions Team do? Who is in the Admissions Team? And when are the deadlines for applying to UCEM?
Twitter takeover
Twitter takeovers are events in which certain people monitor a Twitter account for a specified period of time in order to provide information and answer any questions posed in real time.
During UCEM's Twitter takeovers, various members of the Admissions Team will be providing useful tips on the admissions process and applying with UCEM, as well as respond to any questions sent to the UCEM account, drawing upon their vast amount of knowledge and expertise.
The Admissions Team
The Admissions Team assist once you have applied to study with UCEM. They assess your application to ensure that you are enrolling on the best programme available to you.
Every team member undergoes training with UK NARIC – a national agency for comparing qualifications – and IELTS – an international standardised test of English language proficiency for non-native English language speakers.
The Team operate within a centralised Admissions Office and work closely with UCEM's Academic Team for further advice on students' programme choices.
The Admissions Team are on hand to answer key programme questions, application queries and any questions to do with the entry requirements.
The Team take students from the application process through to registering for their programme.
They attend the monthly webinars hosted by the Marketing Team and all Open Mornings/Evenings to assist with the more technical queries, so are well-versed in answering a wide spectrum of questions.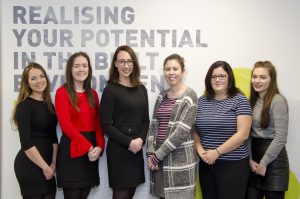 The members and what they enjoy about their role
Sophie Elliott is the Head of Admissions and Student Registrations. She said: "I enjoy going to the Graduation ceremony as we get to see the student journey from beginning to end. I assess their application to study with us so it's good to see them come through. It's great to see how much it means to them and their families.
"The Admissions Team is a good team to work with. They are very positive and are the first team to set off the student journey. They set the bar for the rest of the student experience. I am very proud of what we do in the team."
Admissions Officer, Jade Dunstan, has previously worked in construction recruitment and is currently studying UCEM's BSc (Hons) Construction Management programme. She said: "Being a student myself, I feel like I can empathise with our students. I also enjoy the B2B (business-to-business) side of things and learning more about the growing apprenticeships provision at UCEM."
Assistant Admissions Officer, Katie Curtis, is a qualified English teacher and therefore knows a lot about English qualifications (IELTS, CAE, PTE, TOEFL and TOEIC) which she can use in her role. She also worked for an ECO Funding company and therefore, UCEM's sustainability objectives are familiar to her. "If anyone has questions about how the English qualifications are structured, I can give an overview," she said. "We primarily deal with IELTS and TOEFL."
Assistant Admissions Officer, Jessica Fitzsimons, previously worked in UCEM's Examinations Team which gave her a different perspective on the student experience. "I enjoy the communication with the students and learning about the variety of qualifications and experiences students may have," she commented. "One of the most rewarding parts of the job is doing the offer calls and passing on the good news to our students."
Assistant Admissions Officer, Rachel White, added: "I really enjoy the international aspect of my role. The qualifications differ in different countries so there is a lot to learn but I find it very interesting."
UCEM deadlines
The deadline for applying on to our postgraduate programmes is Monday, 5 February, and the deadline for applying on to our undergraduate programmes is Monday, 5 March.
How to get in touch
As ever, the Admissions Team are accessible at the end of a phone (0800 019 9697 if you are based in the UK or +44 (0)118 921 4696 if based overseas) or email, or even generally on our social media channels – Twitter and Facebook.
Our Admissions Team #UCEMTwitterTakeover dates are the following:
Monday 18 December – 7pm-8pm
Tuesday 2 January, 2018 – 12pm-1pm
Monday 8 January – 12pm-1pm
Monday 15 January – 12pm-1pm
Monday 22 January – 12pm-1pm
Monday 29 January – 12pm-1pm
Monday 5 February – 12pm-1pm
Monday 12 February – 12pm-1pm
Monday 19 February – 12pm-1pm
Monday 26 February – 7pm-8pm
Monday 5 March – 12pm-1pm
Monday 12 March – 12pm-1pm
Monday 19 March – 12pm-1pm
Monday 26 March – 7pm-8pm
If you are interested in getting in touch during one of our Twitter takeovers, then use the hashtag #UCEMTwitterTakeover on the dates and times listed above to send your questions and have them answered.