UCEM's staff accessibility awareness course: Q&A with its creator, Dr Tharindu Liyanagunawardena
Posted on: 18 November, 2021
Accessibility is a hugely important part of what we do at UCEM. Embedding accessibility into our communications and learning resources enables everyone to be able to access these.
To learn more about this, we asked Tharindu several questions and here's what she had to say…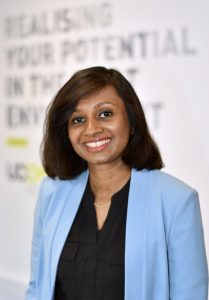 Why did you decide to set up the course?
Over the years we have been doing various activities at UCEM to raise accessibility awareness. We ran a poster campaign, created screensavers, wrote blogs and staff-facing bulletin articles, gave presentations to teams across the organisation, ran accessibility workshops, and, when COVID hit, we moved to accessibility webinars.
Naturally, people forget and they want a place where they can go back to look up something or refer to something. Though we have the Online Education Blog's accessibility area with many relevant blog posts, they may not directly address what you are looking for, so I really wanted to put the information in an organised way where it can be quickly referred to.
By having all the information organised in a course, it allows staff members to follow it at their own pace. New staff joining UCEM can go through the course at the time of their induction.
When we only had accessibility awareness webinars running quarterly, some people had to wait months before they could join one. This bottleneck will now not be there.
How long did it take to create?
Well, it did take a long time. I already knew about accessibility before joining UCEM while facilitating the University of Reading's first massive open online course (MOOC), created with FutureLearn, entitled 'Begin Programming: Build your first mobile game'.
There was a learner who could not see the billiard-like game we used to teach programming because the ball was red and the background was green (red and green being hard to distinguish for people with colour vision deficiency). After that feedback, I started reading more and more about accessibility.
Around that time, I joined UCEM and was appointed the chair of its online learning research centre (OLRC). Because this topic was so relevant to UCEM's core purpose relating to accessible education, and being an online learning provider, accessibility has been a theme that the OLRC worked on all these years.
I write about our accessibility work regularly, so I was able to reuse some of the work that I had already done when compiling resources for the course. Even though I have only worked on the course since the start of the year, the learning that went into the course was accumulated over years.
How did you go about creating it? And who else helped in getting it off the ground?
We have a well-established way of creating online courses at UCEM, so it wasn't difficult to apply the same principles for this course.
Identifying topics and the most relevant content to refer to took more time because there are so many resources out there. I tried out a lot of ideas within the learning technology team which I am a part of. Graham North [UCEM learning technology researcher] helped a lot with the content, especially the quiz questions.
Once the content was ready to be reviewed, I invited the wider online education team to provide feedback and Louise Walters [UCEM learning designer] and Marieke Guy [former UCEM learning technologies production manager] provided detailed feedback to improve activities.
I asked Asma Hussain [UCEM graphic designer] to work her magic to create the open badge designs and she also played the part of 'critical friend', looking at the full content of the course as an expert. I must also thank Adrian Shell [UCEM development editor] who helped with editorial aspects.
What will UCEM staff learn by taking the course?
The course is structured into short sections and these are subdivided into activities. The sections of the course are: how we view disability, assistive technologies, web accessibility standards, colour, document structure, images, video and audio, links, tables, check accessibility, and the final section is a reflection. There are seven milestone badges the learners can earn throughout the course. Once they have earned all seven badges and reflected upon their learning, they can claim the final 'Accessibility Awareness' badge.
What do you hope to achieve with it?
I want as many people as possible to be aware of accessibility. Whenever we create a document, a presentation or write an email, if we are aware of accessibility, we can make it more accessible to people by using headings, descriptive link text and good colour contrast to give just a few examples.
Once you learn about accessibility, you can apply it to all digital content you create. By having this course at hand, I hope UCEM staff will be able to increase their accessibility awareness and, by doing so, will be able to provide more accessible material to our students. They will be able to share the accessibility practices with their networks and hopefully create a snowball effect of accessibility awareness.
What are your aims with the course moving forward?
I wanted to create an open course for accessibility awareness, however, the funding bid did not work out. Now that we have the content, perhaps the next step could be to look at how this could be provided openly so that other institutions too can make use of the course.
What's next for you in terms of enhancing accessibility across UCEM?
We have done so much work to understand and research accessibility over the years at UCEM. I think now we have to incorporate accessibility into 'business as usual' so that accessibility is no longer championed by a few but all UCEM employees become accessibility champions.