UCEM's centenary volunteering programme: Reflections from our staff on the first event at Purley Park Trust
Posted on: 14 February, 2019
UCEM staff are invited to take a charity day once a year. This contractual perk enables colleagues to arrange to volunteer for a charity or use a day's work to devote to a community project. To highlight this opportunity, UCEM has organised a centenary volunteering programme with four group events in 2019 at Reading-based charities. The first such event took place at Purley Park Trust – a charity which provides people-centric support for those with learning disabilities.
We spoke to a few of the volunteers to hear about their experience on the day…
UCEM Graduation Officer, Jeanette Pizzey helped out with the hands-on activities with the residents and tells us what her day consisted of: "In the morning I was taken back to my disco days and enjoyed dancing to Boney M with the clients! I had my first experience of Tai Chi and was certainly chilled by the end of it. I loved the science lesson before lunch. It was amazing to see how the clients were able to absorb information and interact with the experiments. Their understanding of how important water is to their everyday lives and to those in other countries was remarkable.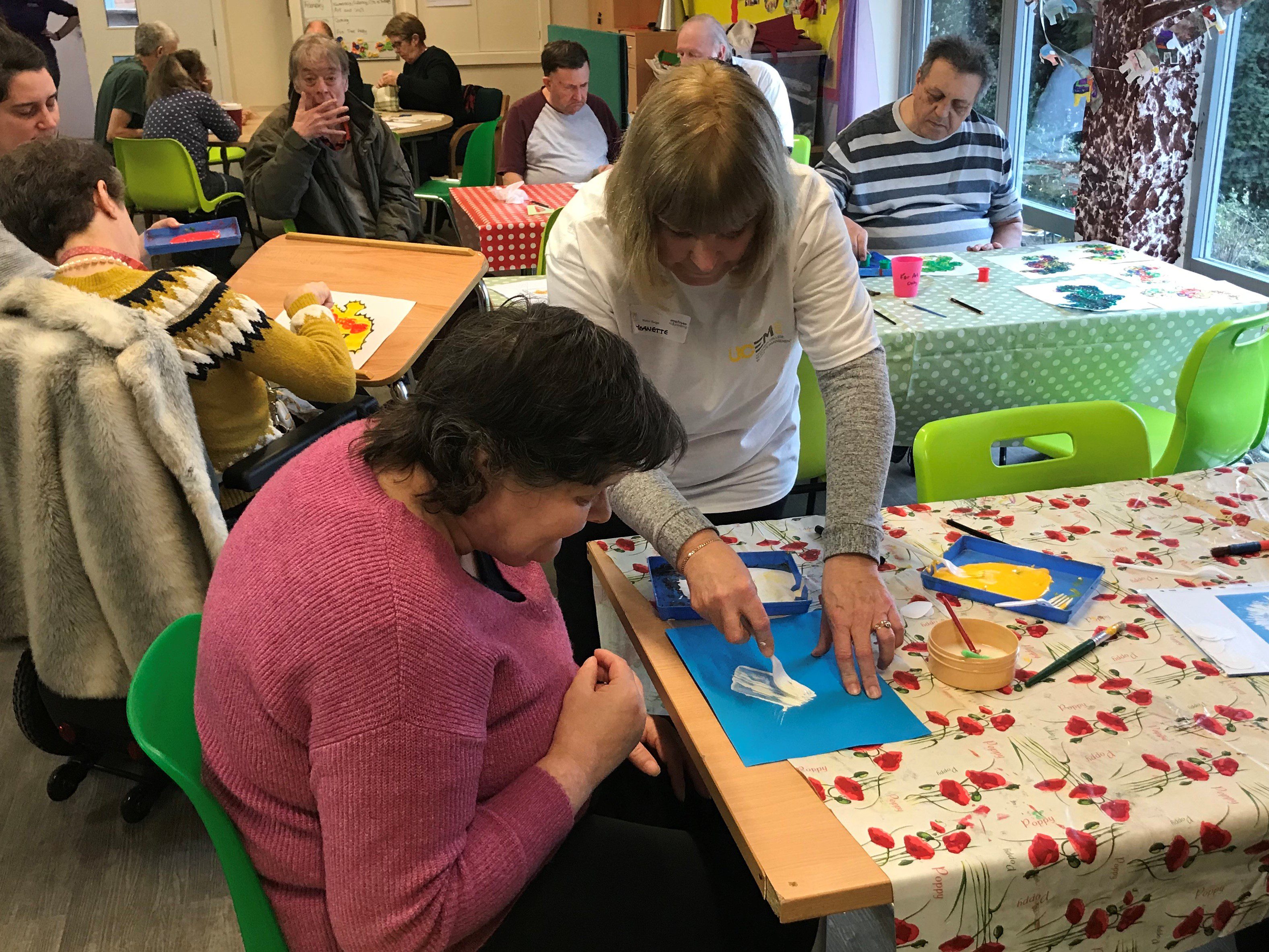 "In the afternoon, we ran a crafts session with lots of paint! I am not at all artistic, but I learnt that very simple crafts can make great activities and create lots of fun. Moreover, they provide the opportunity to interact on a one-to-one basis and understand client needs better.
"I choose to volunteer for Purley Park Trust as the work they do is close to my heart and I saw it as an opportunity to spread that passion to others. I was able to share my experiences in communicating with people with learning disabilities and to give something back to the community.
"On the way home, I reflected on the day and was quite emotional. Why? Because to see the enjoyment and smiles on the clients' faces is a very special memory that will remain with me for years to come.
"Service to others has always been important to me and I felt humbled, albeit in a small but significant way, to be a part of a day that was well organised and relevant to the needs of the clients."
Will you volunteer again in future? "Definitely. I am immensely grateful to UCEM for giving me this opportunity. It has certainly opened my eyes to how valuable volunteering is and the rewards are immense."
Assistant Admissions Officer, Jess Fitzsimons and IT Infrastructure Engineer, Clive Sidwell, were part of the outdoor group on gardening duty.
Jess said: "When reading about Purley Park Trust, it sounded like a really nice caring community which I wanted to help in any way possible.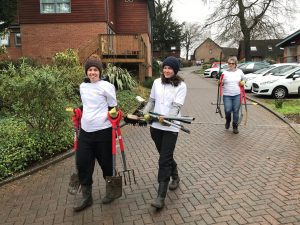 "I chose to be on the gardening team. I helped clear the garden area at the front of one of the residents' homes. This involved clearing away weeds and leaves, and putting down more soil. I also contributed to transforming the back garden into a really nice space for the residents to enjoy where I helped make flowerbeds and potted plants.
"I had such a lovely day volunteering and went home feeling really proud of what we had all achieved. As we were gardening, residents were looking out the windows or coming outside to see what we were doing and it was nice to talk to them and see them smiling. I really enjoyed working in the team on the day as everyone was so positive and it was nice to work with people who I would not necessarily work with in my role at UCEM.
"I learnt about the amazing work that Purley Park Trust does and developed my teamworking skills on the day. I was not aware of the charity before this experience and will keep an eye out for the Trust in future as they do such good work to care for the residents.
"I have always been keen to volunteer and this experience has made me even keener! I would really like to be involved in a volunteering event again, both through the work charity day scheme and in my personal time, as it is so rewarding and it was amazing to see how just one day of us being there really made a big difference to everyone at the charity."
Clive reflected: "Having worked with people with learning disabilities many times before, I knew what to expect and how to interact with the residents in a positive way so this opportunity was a good fit for me.
"Our group was on gardening duty where there was a small but overgrown garden that needed some tender love and care. Working with Pete Stone [UCEM Learning Technology Innovation Manager] and Chris Northover [UCEM Payroll Supervisor], we set about taming and trimming some trees down to a manageable size, both at the roots and at head height. We managed to clear the area so that people could walk around the trees and we moved the cuttings into a compost heap. We interacted with several residents and even managed to share some golden moments with them with a toad we discovered. It was the residents' first interaction with a toad which made it all the more special and unexpected!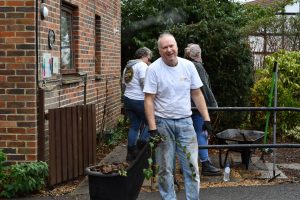 "It was great to achieve the goal which we were set and it was priceless seeing the joy derived from our work in the support staff and residents' reactions. They really appreciated all our efforts.
"The day taught me that nothing is insurmountable to a team when you set your mind to the task ahead and just get going, chipping away at each challenge in front of you. It was a great Team UCEM success!
"The residents at Purley Park Trust deserve our respect and any assistance which can be given. The benefits for the residents far outweighed any small inconvenience to us volunteers and it was a privilege to give back to the community in this way.
"The day was very positive and I was pleased with myself for having volunteered. I left the Trust with a real buzz… and a 45-minute walk to the train station! The tyre on my bike burst en route to the Trust so the physical exertions didn't end with the day's gardening – but it was well worth it."
To find out more about Purley Park Trust, visit www.purleyparktrust.org/