UCEM Property Awards 2021 – Our Academic Excellence Award nominees: Sam Dawson
Posted on: 30 September, 2021
We will be hosting the 34th UCEM Property Awards in London on Thursday, 14 October. After being hosted online last year due to restrictions imposed by COVID-19, we are delighted to be able to resume the prestigious event in person this year.
The Awards will see a seventh person receive our Academic Excellence Award since it was added to the event in 2015.
The Academic Excellence Award recognises the academic excellence and quality of a recent student's research/dissertation submission.
In the lead-up to 14 October, we will be profiling each of the nominees for the Award, and first up is our MSc Quantity Surveying alumna, Sam Dawson, who was shortlisted for her dissertation entitled 'An investigation into avoiding non-compliant tenders in private UK construction'.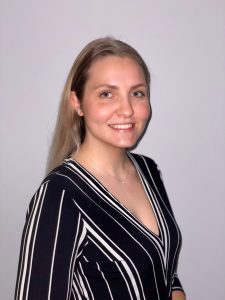 Following the completion of her undergraduate degree in mathematics, Sam chose a profession within the built environment as a quantity surveyor. She kick-started her career in consultancy within the private commercial sector, working on a variety of projects from residential new builds to office fit-outs, and graduated from UCEM in 2020.
Through her work, Sam became aware of the issues around receiving non-compliant tenders – the option of proceeding with a non-compliant tenderer can lead to legal claims against the client and the option of rejecting the offer can leave the client with an unsatisfactory tenderer or no tenderers at all. From there came the inspiration of her postgraduate study titled 'An investigation into avoiding non-compliant tenders in private UK construction'.
The study identified and analysed contractors' reasons for submitting non-compliant tenders. These were used to propose a guideline that was tested. The analysis showed that over 50% of the final guideline tested 'highly likely' to avoid tender qualifications and would be adopted by the cost consultants.
Sam is pleased the study will make a positive impact within the industry and is hoping this will further ensure tenderers are treated fairly – an attitude she takes to all aspects of life.
Responding to the news of her dissertation shortlisting, Sam says: "I feel incredibly grateful and honoured to be nominated for UCEM's Academic Excellence Award.
"I was so pleased with the outcome of my postgraduate research and delighted with my grade, but this nomination has taken it to a whole other level!"
Reflecting on her studies with UCEM, she adds: "The programme was resilient and I was able to balance my studies and working full-time. Working in the industry and studying for the MSc in parallel allowed me to explore curiosities from one in the other. This helped enrich my knowledge and kick-start my career."
What advice does Sam have for students about to start writing their dissertations? "My advice to other students would be to start with a topic that captures your attention, and ensure people around you have the right experience to take part in your surveys or interviews," she offers. "If your research can be positively applied to your work then it will make it even more worth it."
Looking ahead to what's next, Sam shares: "I'm currently working towards my RICS professional membership. Following this, I'm excited to further contribute to the industry and see where my career takes me."
Thanks for sharing your thoughts and best of luck, Sam!
To keep up-to-date with the build-up to this year's Property Awards, follow us on Twitter, LinkedIn, Facebook and/or Instagram.