UCEM Property Awards 2020 – Our Alumni of the Year nominees: Shane Jones
Posted on: 29 September, 2020
We will be hosting the 33rd UCEM Property Awards on Thursday, 15 October. Due to COVID-19, we will not be able to hold this in person but we will be sharing videos and announcements throughout the day on our social media channels to celebrate the achievements of our nominees and winners.
The event will see a sixth person receive our Alumni of the Year Award since it was added to the Property Awards in 2015.
The Alumni of the Year Award goes to a former UCEM student who has made an outstanding contribution in their early career towards creating a better Built Environment.
In the lead-up to 15 October, we will be profiling each of the nominees for this Award. Last week, we profiled

Jonathan Bayfield

and Michelle Dobson, and the third nominee we feature is Valuer, Shane Jones.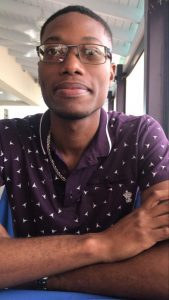 Shane is a two-time graduate of UCEM, having gained a BSc (Hons) in Estate Management in 2016 and followed that up by completing our MBA in Construction and Real Estate in 2019. He currently works as a Valuer at the Barbados Revenue Authority.
Shane recently became a sub-committee member of the Barbados Valuers Council and one of his roles is to encourage other valuers to join the council and to get valuation surveyors recognised as a profession within Barbados.
To date, the Council has made strides to ensure that all financial institutions consult valuers who are engaging in continued professional development and adopt the RICS Red Book Global as international best practice when conducting valuations. Accurate valuations are vital to a healthy property market and a stable economy, forming the basis of performance analysis, financing decisions, development advice, dispute resolution and taxation, and valuers need reliable comparable evidence in order to produce reliable valuation reports. The Council is one step closer to achieving this through consultation with the Barbados Revenue Authority.
In 2019, Shane became the youngest surveyor in the Caribbean to become a professional member of RICS and, since receiving his qualification, he has been assisting those with similar endeavours.
Commenting on the nomination, Shane said: "I feel elated as I know they are many incredible students who have studied with UCEM and it feels like a one-in-a-million chance to be selected for this prestigious award."
Reflecting on his studies with UCEM, he added: "It was challenging, but I enjoyed the learning process as a lot was learned which was relevant to my career path. The biggest issue I faced while pursing the BSc was time management; I had to set aside time each day to study and research additional material.
"The challenge encountered with the MBA was staying focused as I did not take a break on the completion of the BSc, but my colleagues (Debs, Sandesh, Alison and Karan….. just to name a few) encouraged me to keep going and we always supported each other through the WhatsApp group ('UCEM Survivors') formed for our year. In both programmes, the tutors were always there to guide us; there was no 'spoon-feeding', but the interaction was great, particularly during webinars."
With regards his future aspirations, Shane commented: "The dream to work as a consultant on major projects such as the Palm Islands and the Burj Khalifa has always been on my mind and every day that passes takes me closer to realising that dream. I also wish to contribute to the real estate industry on an international level and it would be nice to be on the RICS Management Board."
Thanks for sharing your thoughts and best of luck, Shane!
To keep up-to-date with the build-up to this year's Property Awards, follow us on Twitter, LinkedIn, Facebook and/or Instagram.