UCEM Property Awards 2020 – Our Alumni of the Year nominees: Michelle Dobson
Posted on: 25 September, 2020
We will be hosting the 33rd UCEM Property Awards on Thursday, 15 October. Due to COVID-19, we will not be able to hold this in person but we will be sharing videos and announcements throughout the day on our social media channels to celebrate the achievements of our nominees and winners.
The event will see a sixth person receive our Alumni of the Year Award since it was added to the Property Awards in 2015.
The Alumni of the Year Award goes to a former UCEM student who has made an outstanding contribution in their early career towards creating a better Built Environment.
In the lead-up to 15 October, we will be profiling each of the nominees for this Award. Earlier this week, we profiled Jonathan Bayfield and the second nominee we feature is Michelle Dobson.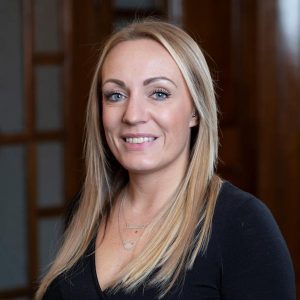 Michelle was awarded a BSc (Hons) in Real Estate Management by UCEM in 2019. She completed her studies whilst working at Walker Singleton Chartered Surveyors in Halifax, West Yorkshire. Michelle was promoted to an Associate position shortly after her graduation.
Michelle concentrates on the commercial property market and undertakes a broad spectrum of multi-discipline professional and agency work. This sector of the business has grown significantly over recent years as the firm has expanded its regional client base.
Michelle was awarded EGI's Dealmaker of the Year for Yorkshire and the North West in 2018 and 2019. This prestigious award is provided to the surveyor with the highest number of completed transactions throughout the region each year. This highlights the volume and success of the deals Michelle has achieved.
Michelle has been instructed on several exciting new developments, which have been beneficial in regenerating the landscape locally and the wider economy.
Michelle also contributed significantly to Halifax town centre itself, completing around 20 retail lettings within the last 12 months whilst in a market trend of retail decline. These lettings include: Somerset House – one of Halifax's most impressive relics of the Georgian era built in 1766; 24/26 Commercial Street – an impressive stone-built property based in the banking sector of the town; and 1 Cornmarket – previously a charity shop now transformed into a trendy sushi bar.
Michelle has significantly contributed towards the substantive work with Dean Clough – winner of the Halifax Civic Trust Award. Once one of the world's largest carpet factories, the site has undergone a faithful restoration of its Listed heritage buildings to become a modern and lively place to work, shop, eat, drink and see events and exhibitions. Now home to over 150 businesses, the Dean Clough site has made a meaningful contribution to the Halifax landscape and the local economy.
Commenting on the award nomination, Michelle said: "I feel extremely honoured to be nominated for Alumni of the Year Award. Completing the degree through UCEM has been one of the most challenging things I have ever taken on, especially given I have been out of the education system for over 10 years. This is my biggest achievement to date.
"I am proud to have graduated and even more proud it has given me the opportunity to progress within my career and the company I work for.
"Studying with UCEM helped develop my skills and knowledge within the property industry. I was offered the opportunity to study alongside my role and, as a result, I obtained valuable experience on a day-to-day basis, whilst also learning the necessary skills in order to back this up.
"Online learning can be a daunting prospect, however, the modules were broken up in such a way that made them easy to digest. The continued support from the dedicated tutors ensured that I had a good learning experience with UCEM, which offered me the opportunity to develop my career to its maximum potential.
"Moving forward, my aspirations within the industry are to continue with my professional development. Having enrolled with the Royal Institution of Chartered Surveyors, my aim is to complete the Assessment of Professional Competence with the view to becoming an RICS Registered Chartered Surveyor. Working for a general practice firm of Chartered Surveyors, my role is varied and I find I am still learning on a daily basis.
"I aim to continue my learning and development to ensure I build the skillset required to have a successful career within the property industry."
Thanks for sharing your thoughts and best of luck, Michelle!
To keep up-to-date with the build-up to this year's Property Awards, follow us on Twitter, LinkedIn, Facebook and/or Instagram.