UCEM Property Awards 2020 – Our Alumni of the Year nominees: Jonathan Bayfield
Posted on: 22 September, 2020
We will be hosting the 33rd UCEM Property Awards on Thursday, 15 October. Due to COVID-19, we will not be able to hold this in person but we will be sharing videos and announcements throughout the day on our social media channels to celebrate the achievements of our nominees and winners.
The event will see a sixth person receive our Alumni of the Year Award since it was added to the Property Awards in 2015.
The Alumni of the Year Award goes to a former UCEM student who has made an outstanding contribution in their early career towards creating a better Built Environment.
In the lead-up to 15 October, we will be profiling each of the nominees for this Award and first up is our MSc Real Estate alumnus, Jonathan Bayfield.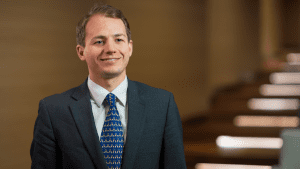 Jonathan obtained an MSc in Real Estate from UCEM in 2016 and is now head of the UK and Republic of Ireland Real Estate Research team at Aviva Investors – one of the largest Real Assets investment managers in Europe, with around €50m of assets under management (AuM).
Working across the UK and Irish debt, equity and long income mandates, he has a significant role in influencing individual funds' investment strategies, as well as leading the house location strategy. He is also part of the senior team that challenge and give guidance on investment strategy and portfolio construction decision-making. As part of his role, he also manages the thought leadership and insight programme for the wider Real Assets Research team.
Prior to joining Aviva Investors, Jonathan worked in JLL's European Research and Consulting team. He also has a BSc in Geography from University College London and holds the Investment Management Certificate (IMC). He is a committee member for AREF's Research and Information Committee and an active member of ULI [Urban Land Institute], SPR [Society of Property Researchers], BPF [British Property Federation] and CREFC [Commercial Real Estate Finance Council], speaking regularly at industry events.
Commenting on his nomination, Jonathan said: "It came as a total shock. One of my aims for this year has been to actively engage with academia again and doing so with UCEM was my natural first step. I very much look forward to maintaining our relationship, particularly through the Alumni Association, and am very thankful for this nomination."
Reflecting on his studies with UCEM, Jonathan added: "UCEM's unique selling point is its flexibility. I joined one of the largest real estate companies in the world with no academic background in the sector. After a couple of years of work, I did not want to return to full-time studies, but I wanted to continue learning away from my professional life. UCEM's Real Estate MSc programme got me up to speed with some of the industry fundamentals. I was able to do this in my own time and at my own pace, whilst still growing professionally.
"The Virtual Learning Environment [VLE] is easy to use and the majority of lecturers and fellow students were active participants. This brought an eclectic mix of people together and stimulated interesting debates online. The dissertation module also gave me the opportunity to make contacts within the industry and position myself as an expert in this subject area. In addition, the programme also helped me to appreciate what I enjoy doing and what I am good at."
So, what next for Jonathan? "Who knows where my career will take me? I am very fortunate to be in a role which combines many of my personal interests including travel, cities, psychology and data analysis. Hopefully I will be able to continue to do this."
Thanks for sharing your thoughts and best of luck, Jonathan!
To keep up-to-date with the build-up to this year's Property Awards, follow us on Twitter, LinkedIn, Facebook and/or Instagram.