UCEM Property Awards 2020 – Our Academic Excellence nominees: Laura Millican
Posted on: 25 September, 2020
We will be hosting the 33rd UCEM Property Awards on Thursday, 15 October. Due to COVID-19, we will not be able to hold this in person but we will be sharing videos and announcements throughout the day on our social media channels to celebrate the achievements of our nominees and winners.
The event will see a sixth person receive our Academic Excellence Award since it was added to the Property Awards in 2015.
The Academic Excellence Award recognises the academic excellence and quality of a student's research/dissertation submission.
In the lead-up to 15 October, we will be profiling each of the nominees for this Award. Having profiled Philip Goldstone's story and nominated dissertation earlier this week, we now turn our attention to Laura Millican. Laura's nominated dissertation project was on the application of Lean tools and techniques at the different stages of the project lifecycle.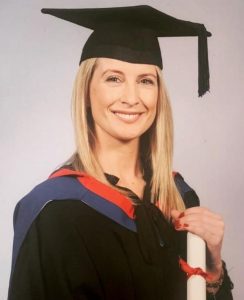 Laura previously lived in Perth, Australia, where she completed a Bachelor of Commerce at Curtin University in 2009 and subsequently worked as a Procurement Advisor for an engineering company.
Laura moved to London in 2015 and began working for Lendlease Construction (Europe) Limited on the Rathbone Square Project, a mixed-use scheme housing the new Facebook London office.
For the past three years, Laura has worked as a Commercial Manager on the ONE Bishopsgate Plaza Project which will be the first high-rise residential and hospitality development built in the City of London in many years. The mixed-use development includes private residences and Europe's first Pan-Pacific Hotel along with select retail spaces in a flagship 43-storey tower. Laura is responsible for the commercial management of several significant fit-out packages on the hotel element of the project, providing robust commercial and risk management processes to deliver cost certainty for the client.
Laura has also shown her commitment to supporting an incident and injury-free culture on the project, providing regular orientations to operatives and has contributed to the project successfully, achieving over three million working hours without a reportable incident. She is also committed to improving mental health within the construction industry and is a trained Mental Health First Aider.
Laura recognised the opportunities for females in construction and registered with UCEM to complete an MSc in Quantity Surveying to develop her commercial skills in the industry. Laura juggled her studies whilst working full-time and established a general interest in sustainability and contributing to a better Built Environment. As such, she undertook a dissertation project to understand the application of Lean tools and techniques at the different stages of the project lifecycle. Laura recognised that waste was inherent throughout all stages of a construction project and subsequently presented several ideas to apply Lean techniques in other areas such as repetitive work processes, design and logistics. The significance of these findings demonstrated the practicality of Lean Construction on real life projects and was intended to encourage organisations to buy into this modern philosophy and drive change in the industry. Laura went on to win the UCEM Responsible Futures Dissertation Prize in 2019 for her submission.
When asked about the nomination, Laura commented: "I feel extremely honoured to be nominated for such a prestigious award and I am grateful that UCEM recognised my hard work and achievements."
Reflecting on her four years' studying part-time with UCEM, she said: "I enjoyed studying at UCEM especially via online learning, I was able to manage my own time and studies whilst working full-time. This provided a deeper understanding of the QS [quantity surveying] discipline as I was able to put into practice what I learnt through the UCEM course content. I found the tutors to be very responsive and the forums were a good channel for feedback and discussion between students."
Appraising the assignment process and what advice she'd have for others embarking on their dissertations, Laura added: "The best advice someone gave me was to pick a topic that you are generally interested in as it will be your focus point for the next 6-9 months. Taking this on board I also selected a topic that was trending in the industry at present, something that was not overdone and would be an interesting read for others.
"For those starting out on this journey, I would suggest preparing a plan with set milestones to achieve, to ensure you do not run out of time. Make use of the resources around you; for example I was able to interview people from my workplace to gather information and ideas which I consolidated into a real life case study. Writing a dissertation can be extremely challenging and I personally experienced days where I was mentally fatigued and found it difficult to focus, so it's important to take breaks and have time for yourself."
And finally, what's next for Laura? "Since completing my studies I have been working as a Commercial Manager for Lendlease Construction (Europe) on the One Bishopsgate Plaza Project in the centre of London. As the project comes to a close, I hope to move onto a smaller Design and Build Project where I can gain exposure to a wider range of packages and subcontractors following a different procurement route. I also aim to work towards RICS Chartership within the next 1-2 years."
Thanks for sharing your story, Laura, and all the best for the Awards and the Chartership!
To keep up-to-date with the build-up to this year's Property Awards, follow us on Twitter, LinkedIn, Facebook and/or Instagram.