UCEM Property Awards 2018: Academic Excellence Award – Meet the nominees
Posted on: 9 October, 2018
We are two days away from the 31st UCEM Property Awards which will be held at Haberdashers' Hall in London.
A grand total of three awards will be handed out during the event, including the main Property Award, which goes to a person who, or an organisation which, has made an outstanding contribution to the property industry.
Yesterday, we looked at the nominees for the Alumni of the Year award and today, our focus turns to the Academic Excellence award nominees. The award recognises the academic excellence and quality of our students' research and dissertation submissions with UCEM's Academic Team tasked with devising a shortlist. Read more about our nominees below:
JM Ruvindu Ruvan Bandara
2014-2018 – BSc Real Estate Management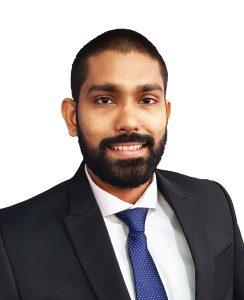 Ruvindu graduated from UCEM earlier this year, having completed an LLB (Hons) degree at the General Sir John Kotelawala Defence University in 2017.
His dissertation, entitled 'Can the urban wetland parks created in Sri Jayawardenepura Kotte be considered as a sustainable urban regeneration model?', was inspired by the rapid urban regeneration which has taken place in post-conflict Sri Lanka through the lens of sustainable development. The dissertation was supported by first-hand evidence gathered by Ruvindu.
Ruvindu works in the Deal Advisory Division at KPMG Sri Lanka and he intends to work for his father's private valuation firm in future when he will take his APC with RICS to become chartered in property valuation.
Reflecting on his nomination, Ruvindu said: "First and foremost, I feel extremely honoured and privileged to have been nominated for this award and I thank the UCEM's Academic Team and my research supervisor in this regard. It gives me a great sense of self satisfaction and pride in knowing that I was able to produce a quality piece of work after all the hard work and effort I put into it, especially given the fact that I did this while doing my law exams simultaneously.
"Secondly, the nomination is of immense sentimental value to me. This is because I can dedicate it as a gift to my parents and family for always supporting me in my endeavours and providing me with opportunities to grow from strength to strength. I believe that this achievement belongs and means so much more to them.
"Thirdly, a main aspiration of the research topic I chose was to contribute to the advancement of the industry and my country if possible. I believe that the outcome of my research can provide for this in a small but meaningful manner.
"Winning the award would be an unforgettable life experience and a great motivating factor for me to continue exploring further in the academia of this industry but, truth be told, the nomination itself is a humbling inspiration for me."
Jonah Mastin
2006-2010 – BSc Building Surveying
2016-2018 – MSc Construction Management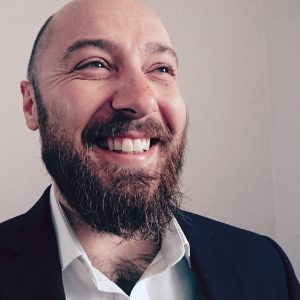 A two-time student at UCEM, Jonah was awarded First Class Honours for the BSc in Building Surveying in 2010 and gained a Distinction earlier this year, having completed an MSc in Construction Management.
By virtue of his work for the MSc, Jonah became the inaugural winner of the Peter Goodacre Award for best overall performance across academic programmes at June's Graduation ceremony.
Jonah's MSc project entitled 'The Innovation Gap: An investigation into the strategic drift of small construction firms in the UK' looked at the innovative behaviour of contracting microbusinesses comprising fewer than 10 personnel, in the light of strategic drift theory. The project was of personal interest to Jonah, who works for a family-run design consultancy, TMCS, and encounters the dichotomy of changes called for in the construction industry versus the realities of working for a small firm.
He commented: "It's a considerable honour to be nominated. Firstly, because it recognises the hard graft and discipline that we needed to complete the MSc, and the deeper reflection that was necessary to produce a meaningful piece of research. Secondly, it shines a light on the scholarly abilities that I've developed whilst studying with UCEM, and illustrates the high quality of the programme and its tutors.
"I would further add that being nominated repays the faith that my research supervisor had in me, and my ideas. Similarly, I was only able to study the MSc with scholarship funding from the Chartered Institute of Building. This nomination delivers on the CIOB's generosity and demonstrates the worth of level 7 study in a construction context.
"If I win, I'd be delighted – absolutely thrilled! I would be especially pleased that my research into the lack of innovative progress at small construction firms might reach a wider audience. My workplace is a microbusiness, and so often the technical subjects we covered on the MSc had different connotations for smaller companies. I'm conscious that, for the entire sector to pull itself up by the bootstraps, small companies need to embrace change and I would be very proud to have played a part in raising consciousness to that perspective."
David Mason
2014-2017 – MSc Building Surveying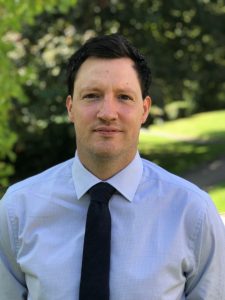 David gained a Distinction for the MSc studies he undertook with UCEM, during which he became the institution's first ever Student Trustee, alongside his role of Lead Student Representative. David worked hard to increase student engagement across UCEM and provided a student voice in Board meetings.
David is a Project Manager in the Major Project Team at the University of Winchester which sees him managing construction projects and refurbishments. In addition to this, David volunteers as a Special Sergeant for Hampshire Constabulary.
Scope 1 and 2 carbon emissions in the English higher education sector was the focus of David's dissertation which helped contribute to a better understanding of the sector's progress against the reduction targets set for 2020 and 2050.
He reflected: "Once I began my career in the built environment, I found that I loved the challenge of it all. I started as an Administrator, being promoted to CAD Technician, Assistant Project Manager and then Project Manager. It dawned on me that to progress further I needed to get qualified and undertake further study, which led to my enrolment at UCEM.
"Unlike past educational experiences, I finally found myself studying something I enjoyed which was being delivered in a way that resonated with me. This is where I believe UCEM is unique in its offer, delivering the course in a vocational context with the flexibility for me to take control of my own progression. It was the first time I had ever really tried and given my all in an academic setting. I was of course delighted when I graduated with a Distinction and even more so having been nominated for this award, which is a prize in itself.
"If I was fortunate enough to win I think it would simply be the icing on top of the cake and a wonderful way to close off this chapter my life. I have thoroughly enjoyed my time studying with UCEM, for which I think I have already benefited immensely, both professionally and personally."
Jane Henshaw
2014-2018 – MBA Construction and Real Estate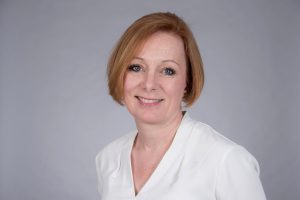 With more than 20 years' experience in the construction industry, undertaking traditional building surveying work, project management and design services, Jane joined Cadogan Estates as Head of Building Surveying in 2015. Her work sees her responsible for Cadogan's development pipeline with a budget of £500m allocated over the next five years.
Jane's dissertation examined foresight techniques in urban planning at Cadogan Estate with the conclusion being that carefully considered architecture, place-making and reputation, and maintaining connections are vital for the surrounding area in Chelsea.
The dissertation brought Jane's career and studies together and she plans to continue her research to publish the findings within academic journals.
"The nomination amplifies the achievement of the MBA and allows me to more deeply establish ownership of what I can achieve through the structured application of my intellect to complex problems," she said.
"It has given me a further wave of gratefulness for all the support I received from my family, friends, Cadogan and UCEM over a three-year period. It reinforces that the work I undertook looking into the use of foresight at Cadogan would be an appropriate area to further study. It gives me confidence for my future studies relating to foresight."
Nicholas Hosam
2014-2018 – MSc Real Estate
Nicholas is Chief Operations Officer for the HCL Group of Companies – one of the largest real estate developers and investment property owners in Trinidad and Tobago. Prior to this, Nicholas worked in a variety of property development and property management roles.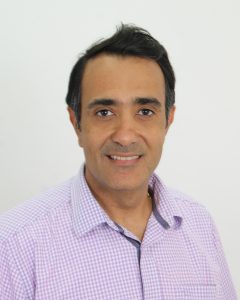 In his current role, Nicholas supports the Group's vision of new urbanism and the development of sustainable communities. This was reflected in his research into the drivers of green and sustainable commercial buildings in a small, emergent economy characterised by relatively low energy costs. Nicholas's research helped to drive sustainability and efficiency in the HCL Group's operations and he is committed to advancing sustainability generally and in Trinidad and Tobago.
He said: "Being nominated is personally very gratifying given the high level of academic standards to which UCEM ascribes. I believe this achievement is a reflection of the excellence that is intrinsic to UCEM's programme content and delivery.
"Winning the 2018 Academic Excellence award would certainly be the high point of my academic pursuits. More importantly, it would give recognition to the research and, I trust, the value of the research findings as a basis for further investigation into the subject of green and sustainable building development."
Holly Pullinger
2015-2018 – MSc Real Estate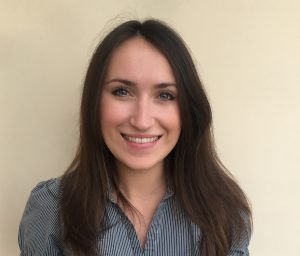 Having previously earned an LLB degree in Law, Holly embarked on the MSc Real Estate programme with the support of her employer, Octopus Healthcare – a specialist investment and development company in healthcare property – in her role as an Investment Surveyor.
Holly looks for new investment opportunities in GP surgeries and this inspired her to complete her dissertation on investor sentiment in primary care. Her research revealed that there was a dearth of information on investor decision-making in the primary healthcare market, so Holly researched further and found that there is a level of sentiment among investors in relation to future primary care funding.
Holly is now a Development Manager for care homes and retirement living at Octopus Healthcare.
"I am truly honoured to have received this nomination, it means so much to have my work recognised from an institution as good as UCEM," she said. "A lot of time and determination went into my dissertation and to have this recognised means everything.
"To win would mean a huge amount to me. To have been able to add something to the sector from a niche market such as primary healthcare would be amazing and to have this award from UCEM would be a privilege."
We wish all our Academic Excellence nominees the best of luck for Thursday!
In our final preview blog tomorrow, we will look at one of our winners from last year, who will recall the events of the last UCEM Property Awards and update us on what they have been up to since.