Building climate competency: how UCEM is leading the way in professional sustainability education
Posted on: 25 October, 2023
A key ethos of UCEM's Vision & Strategy to 2025 is to work collaboratively with those across the built environment sector, and part of this is to help shape major industry initiatives.
UCEM is therefore pleased to be able to utilise its expertise to lead the Education & Qualification workstream of the Construction Industry Council's (CIC) Carbon Zero: the professional institutions' climate action plan.
Professional institutions within the built environment sector are uniquely placed to lead and enable professionals to play their role when it comes to tackling the climate emergency.
These professional bodies have aimed to develop awareness and knowledge of sustainability within their professional competency frameworks for many years. Some have gone down the route of inculcating their members with specific knowledge via initial training and CPD, while others require their members to show evidence of practical experience of working sustainability, with many institutions requiring a mix of both.
Indeed, 92% of professional standards-setting bodies now include sustainability outcomes as part of the professional assessment in their entrance requirements.
Similarly, 82% of professional bodies now mandate sustainability CPD for professionally registered members.
This has resulted in the respective built environment professions delivering highly skilled and environmentally aware technical specialists. However, since sustainability factors must be considered at all stages of the built environment life cycle, it is imperative that these various approaches to developing professional competencies are aligned as closely as possible.
The professional institutions will also need to consider how they will educate members to achieve net zero and how to prepare their membership to address imminent climate challenges.
Learn more: Adopting a sustainability lens in everything we do – a Q&A with UCEM Principal Ashley Wheaton
Aligning professional competencies for a sustainable future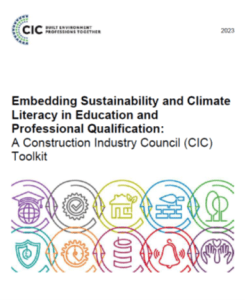 UCEM, which has over 100 years' experience in providing built environment education and leadership of the CIC's relevant workstream (see above), is therefore well-placed to advise the various professional institutions on how they can embed sustainability and climate literacy in education and professional qualification, as well as to ensure this learning is aligned across the different professions.
UCEM was therefore delighted to co-author a new CIC toolkit, as a resource for professional institutions to consider how they might implement changes, or devise a complete programme of activity, to place sustainable practice and climate literacy at the heart of the education and qualification of professionals, whilst considering ongoing competence of those who are already professionally qualified.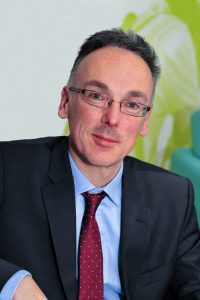 Aled Williams, Executive Director, Innovation & Partnerships UCEM who leads the Education & Qualification workstream and co-authored the toolkit, commented:
"Professional institutions are striving to provide members with better knowledge, skills, understanding and behaviours to tackle climate change. This toolkit provides the opportunity to progress in partnership improving the sharing of knowledge through collaboration, coordination and commitment."
Empowering professionals: The UCEM approach to continuous learning
Indeed, in response to an industry need for high-quality short courses to address sustainable practice, UCEM worked collaboratively with professional bodies to develop a 25-hour short course for professionals in the built environment, Energy and Carbon in the Built Environment. The course itself explored how net zero carbon can be achieved through optimised building design, sustainable material selections and efficient construction.
On finishing the course, UCEM offered a completion certificate, enabling built environment professionals to enter and validate the 25 hours of CPD they have completed, with professional bodies able to capture this high-quality experience for their members. During the first year of the course, free access was open to all, with over 2,700 professionals registering.
UCEM has also further developed the course, now dividing into bite-sized modules, enabling wider uptake and access for busy practitioners. These 6-hour CPD courses are:
As we continue to face the mounting threats posed by climate change, collaborative efforts like the toolkit become not just advantageous but imperative. We encourage any interested students or professionals to explore UCEM's educational offerings tailored to building a future-proof, sustainable built environment or download the CIC's new toolkit Embedding Sustainability and Climate Literacy in Education and Professional Qualification.