The fourth person in Ethiopia to become a chartered surveyor: Q&A with our MSc Real Estate student, Netsanet Tsegaw
Posted on: 14 December, 2021
For the majority of UCEM students, becoming a chartered surveyor is the first major goal of their career. Getting to this point by completing the assessment of professional competence (APC), however, is not easy. Doing this while studying and working is even harder. The feat is even more special if you join the list of only a handful of people in your country to have gained chartership.
For the above, read Netsanet Tsegaw, who last month became only the fourth person in Ethiopia to become a chartered surveyor. Netsanet currently studies on our MSc Real Estate programme and is principal at Ghebbi Associates and Valuers.
We posed several questions to Netsanet and here's what he had to say…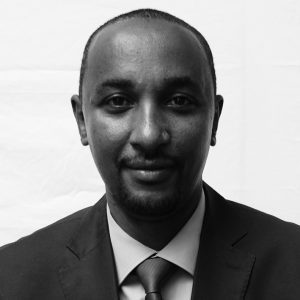 How did you become interested in real estate?
Real estate came to my attention as I considered training in valuation. As I looked into the entry routes to a Royal Institution of Chartered Surveyors (RICS) qualification, I realised the MSc in real estate could offer me much more than a conversion degree in valuation – it offered a broader understanding of the built environment and an opportunity to consolidate my career.
How long have you been working in the industry?
I have been working in the real estate industry for three years. During this time, I had the opportunity to train under the late Habtegiorgis Indrias, the first chartered surveyor in Ethiopia and a UCEM alumnus from the university's BSc course in quantity surveying.
What did you do before moving into real estate?
I was primarily in business roles, working for employers such as the Association of Chartered Certified Accountants (ACCA), Shell, Unilever and Gemini Trust. Before obtaining an MBA and working in business, I trained as a civil engineer and worked on construction projects, including working as a client engineer for ELFORA Agro-Industries.
Why did you decide to study with UCEM?
The decision to study at UCEM was straightforward. The fact that I could fit my studies around my work and family life was very important for me. Apart from flexible studies, UCEM offers courses which are designed for people from a wide range of backgrounds, connected with practice in industry and accredited by many professional bodies.
When did you begin your APC?
I enrolled on the APC at the end of 2019. I selected the preliminary review route initially based on my training and experience, yet the modules I completed at UCEM and the practical experience I gained in my roles as a valuation surveyor provided me with the experience, skill and knowledge required to work towards the APC.
What support did you have from UCEM and Property Elite in achieving your APC?
All the courses at UCEM are practice-oriented. Our module leaders ensure we understand the professional standards and guidance applicable to specific situations and how these can also be reasoned during an APC assessment session. Thus, UCEM provided me with the knowledge, skills, professionalism and information required to achieve my APC.
Property Elite mentored me, and the process helped me to understand the APC final assessment better, helping me to refine my preparations for the interview.
How did it feel to complete your APC?
I was overjoyed to complete my APC! I am proud to have the privilege of putting the letters MRICS after my name signifying membership to a globally recognised professional body in the built and natural environments. I also feel more confident in my work as a professional.
How difficult was it to complete your APC whilst working and studying the MSc as well?
I would say it was difficult but then it was manageable with good time management in place. Whilst it could be overwhelming at times, having my study aligned to the APC and my work was very helpful.
You are now the third active chartered surveyor in Ethiopia. How does that feel? And why are there so few chartered surveyors in Ethiopia?
I can say it feels a privilege to have unique skills in a market, but, for the most part, it is also a huge responsibility, among others, to be a good example to develop other professionals. There are few chartered surveyors in Ethiopia especially considering the first chartered surveyor qualified back in 1964.
One of the reasons for having so few chartered surveyors is that there was a limited building stock for a period of time; however, the construction and real estate industries have been expanding at breakneck speed for decades now. Thus, the built environment needs not just valuation surveyors, but also those in quantity surveying, building surveying and building control. There is also a need to create awareness and link with other professions so that young people are attracted to careers in surveying and the built environment.
How are you finding your studies with UCEM?
I am finding my studies with UCEM to be practical and useful. The module leaders are inspiring and fantastic. The study materials are effective, organised and resourceful, and allow me to study at my own pace, fit my responsibilities around the study and enhance my analytical thinking in real estate matters.
What are your future aspirations in the industry?
My future aspirations are to put my training into use and make a sizeable contribution to the built environment in Ethiopia.
Thanks for sharing your thoughts, Netsanet, and congratulations on your achievement! Best of luck with the rest of your studies with UCEM!
Are you an international student who has an interesting story to share? Get in touch with us via press@ucem.ac.uk and a member of our team will get back to you to share your story.