Tamzin Love – 2023 Winners
Posted on: 10 February, 2023
Degree Apprentice – Project Manager, Mott Macdonald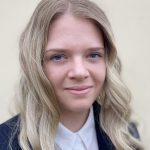 Tamzin joined Mott Macdonald as a Project Manager in August 2022, having researched their choice of provider for degree apprenticeships. She felt that UCEM's estate management speciality was perfect for her, and she was impressed by how closely the course linked to her role:
"When I was applying for apprenticeships, I was looking into which university each company used, and I saw that Mott Macdonald used UCEM. So I looked into it and I just thought it looked like a brilliant university. There were so many good reviews. And obviously because it's construction management, it was exactly for what I was looking to do: they specifically offered the course linked to what I'll be doing in everyday life."
Tamzin feels well-supported by UCEM's virtual learning environment, with its wealth of helpful resources such as the forums where students can ask questions about course content, and the helpful resources like videos to watch or extra work to do if she has time to delve deeper into a particular topic.
She has been nominated for the Rising Star award by her line manager, Zoe Park, who said: "Tamzin has been very proactive in trying to get herself fully utilised on various projects, and I have had feedback from many team members that she is reliable and is performing at a high standard considering she's only started working. Great addition to the team and I see a lot of potential!"
Supporting other young people to consider apprenticeships is a priority for Tamzin, and she is working towards becoming an Apprenticeship Ambassador. She wants to encourage other young people to consider all their options: "Don't just assume you have to do A-levels and go to uni. An apprenticeship might be for you, but then again it might not be."
She sees the key advantage of an apprenticeship as the freedom to explore different areas of the industry, pointing out that while someone who went to a traditional university might not use their degree, she is using her degree to her advantage with each rotation around the business.
Tamzin a Rising Star at UCEM's 2023 Apprenticeship Awards, when found out she had been nominated, she said: "It's absolutely brilliant. I was not expecting it at all. And it helps energise me moving forward. But without the time, care and attention from all my colleagues helping me and supporting me, this would not be possible. So I am very, very grateful for that."
2023 Winners >