Sustainable Futures Conference: Guest blog by our Research Assistant – Education and Sustainability, Dr Renuka Thakore
Posted on: 11 March, 2020
UCEM recently hosted 'Sustainable Futures: Progress through partnerships' – an inaugural international research workshop for networking and partnership creation. Here, the organiser of the workshop, Dr Renuka Thakore, reports back from the event…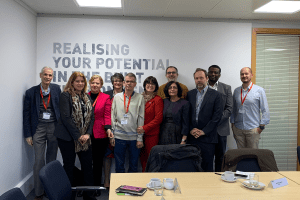 Background
As in most developing regions of the world, there is ongoing need to develop local research capacity and capabilities in the Triple Frontier region. In particular, there is a pressing need to strengthen and operationalise the concept of integrative multi-institutional and transdisciplinary research. It should make allowances for institutional inputs at multiple levels (communities, local authorities, small businesses, non-governmental organisations, government and regulatory bodies), incorporating sectoral perspectives in a way that is practical and sustainable.
This is especially challenging to execute in the Triple Frontier, not only because of the difficulties arising with the rapid land use changes in the urban fabric and accelerating population growth, but also due to the fact that this region is characterised by the ongoing struggle between multiple, different social groups, and their use of urban land, with each having unique and divergent economic capacities and political will to support research activities. Indeed, any attempt at creating a homogenous Triple Frontier research capacity among these varied regions poses several challenges and issues that need careful attention in order to arrive at initiatives that are workable for sustainable futures.
Given this context, it is important that the key players – academics, researchers, industry professionals, technocrats and research-oriented institutions – respond to ongoing and emerging climate change, environmental and sustainability challenges in the Triple Frontier region. Missing, however, are the 'knowledge and skills' to 'integrate' and 'network' these fundamental ingredients of capacity development in organic, real-time and innovative ways. Thus, the case is made for a considered, deliberate effort to build a framework that integrates all the above listed elements, ultimately to improve the research capacity and capability of researchers and sustainability professionals throughout the Triple Frontier region.
The event
The 'Sustainable Futures: Progress through partnerships' event was structured to facilitate and encourage human and material capacity and capabilities, and development components incorporated into it. The overall aim of the event was to bring together Triple Frontier and UK-based academic, governmental, NGO and technical organisations to address key gaps in the Triple Border region pertaining to the environmental and sustainability challenges by means of transdisciplinary interventions: creating a strong research environment.
The aims of the event were twofold:
To develop and share knowledge;
To support innovation in sustainable economies and societies.
The workshop was attended by several leading Triple Frontier academics from UNIOESTE, (the State University of Western Paraná). The representatives from UNIOESTE included Prof Dr Irene Carniatto de Oliveira, Prof Dr Wilson Alves de Oliveira and Alexandre Mendes dos Reis. They represented the International Research Network on Resilient Climate Development: Climate Resilience Network, (Brazil – UK – Paraguay And Argentina).
From the UK, there were representatives from the University of Central Lancashire and London South Bank University. There were representatives from research, online teaching and academic teams at UCEM too. UCEM Real Estate Tutor, Hazel Lobo, chaired the workshop and facilitated the workshop activities, making the participants feel at home. UCEM Associate Tutor, Dr Kevin Waldie, contributed his expertise on social development which he has worked in for the majority of his career. I was delighted that UCEM Principal, Ashley Wheaton, attended, demonstrating his commitment to the initiative.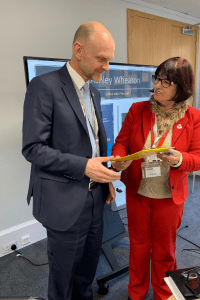 UCEM Principal, Ashley Wheaton, with UNIOESTE's Prof Dr Irene Carniatto de Oliveira
The event remained timely and progressed successfully from a very good start to end. Hazel made a huge contribution to the success of the event.
Using a participatory and integrative approach, commonly referred to as transdisciplinary, attempts were made to involve potential partners in the formulation and design phase of the development framework proposal. This approach integrates multiple disciplinary experts along with potential research capacities both at the design phase of the research proposal development and throughout its implementation in future.
Outcomes
The group identified and agreed the following key points for research and partnership development:
To tackle persistent global issues:
Extreme weather conditions such as torrential rain, hailstones, tornadoes, floods, droughts, high temperature, desertification;
Social inequalities such as poverty, poverty due to climate change, inequal distribution of knowledge and resource availability, needs of local people;
Unsustainable resource use, materialism and consumerism, urbanisation (especially organic urbanisation);
Legal governance, health and wellbeing;
Priorities to tackle global issues:
Working together – partnerships, teamworking, cooperatives;
Imparting education and creating self-employment opportunities to tackle poverty;
Socio-technical production – development of social complimentary assets for water management, energy and food production;
Creating political commitment working with local governance bodies, authorities, mayors and people;
Imparting knowledge and providing training;
Creating sustainable community knowledge working conscientious and working in partnerships while tackling urbanisation, sustainability of infrastructures, tackling desertification and climate change impacts.
Among the feedback provided by participants was:
"The workshop was exceptionally well thought-out."
"This workshop exceeded the proposed expectations and addressed issues of extreme importance."
"The researchers' presentations were very enlightening and the research developed at the workshop was quite interesting."
The event helped colleagues better understand best academic practice in this area. I gave a presentation entitled 'Creating a strong research environment' which I will be recording and making available to all participants of the workshop (and potentially a wider audience) so that full and proper consideration can be given to the many details.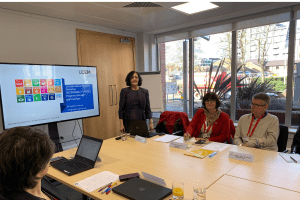 Dr Renuka Thakore during her presentation
All participants felt involved and appreciated being invited to be part of the workshop and the wider international research partnerships' development programme. According to participants, the proposed theme presented opportunities for projects of great relevance and with great results. The next steps will be soon disclosed – watch this space!