Sustainability network's 'considerable progress'
Posted on: 10 March, 2021
At the end of last year, we introduced you to the GLOBAL SUSTAINABLE FUTURES: Progress through Partnerships (GSF PtP) Network. Here, the Network's founder and UCEM's research assistant – education and sustainability, Dr Renuka Thakore, provides an update on what progress has been made since its inception.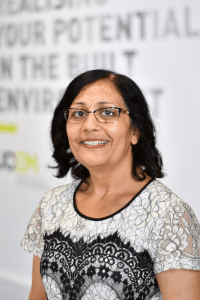 I am pleased to report that the GSF: PtP Network has made visible and considerable progress over the past few months. The Network has grown to 130 coordinators from 42 countries.
The Network delivers monthly meetings on the latest thinking on sustainability and engages via social media to develop a community of practice. The United Nations (UN) Secretary-General, António Guterres, announced that the goal of the month – in line with the UN's Sustainable Development Goals (SDGs) – for January 2021 was: "We need to turn the recovery into a real opportunity to do things right for the future." Our Network continues to contribute to this objective.
January activities
Social media
It was decided that using social media would enable the Network to communicate with diverse audiences on a weekly basis. The content concentrated on the first four Sustainable Development Goals (SDGs) – no poverty, zero hunger, good health and wellbeing, and quality education in January. Interactions on our social channels grew from previous months which was noted as a positive development in raising awareness of the SDGs.
Monthly meetings
I am joined by several Network coordinators at our monthly meetings. This has helped us articulate the Network's vision and run through ideas for delivering our vision. In addition, we held brainstorming sessions in these meetings to debate on SDG developments and research. These sessions and other activities serve as capacity development opportunities for those who attend the meetings. Several important topics such as meaningful stakeholder engagement, systems-thinking, transdisciplinarity and sustainability and circular economy were debated.
Meaningful stakeholder engagement
We then held a brainstorm on the topic of 'meaningful stakeholder engagement' as, without the buy-in of all stakeholders, it is not possible to achieve transformation.
Here's a summary of what was raised by the coordinators:
Markus Zorn, representing the Chalmers University of Technology in Gothenburg, Sweden and the Technical University in Vienna, Austria, raised the role of young people in bringing about climate change actions
Elina Teodol, representing the Namibia University of Science and Technology, shared an interesting case study from Africa entitled 'Social inequalities in compulsory acquisition of land in peri-urban areas'
Dr NseAbasi Etim, representing the Akwa Ibom State University in Mkpat-Enin, Nigeria, stressed the importance of meaningful stakeholder engagement to address gender inequality and unequal access to healthcare
Dr Helene Ahlborg, representing the Chalmers University of Technology in Gothenburg, shared her experience of decolonising research with good suggestions as to how you can conduct research with communities without exploiting their knowledge but, instead, enhance the relevance and value of solutions proposed
Hazel Lobo, representing UCEM, raised the importance of getting companies to buy into proactive climate change initiatives
Elio Jacob Hennrich Junior, representing the Federal Institute of Paraná in Brazil, advocated the creation of small grassroots movements to combat environmental injustice
Zoe Almazan, representing Kingston University in London, UK, touched upon her work with Innovate UK on the effort to reach net zero emissions by 2050 and the development of smart cities
Irene Carniatto, representing the Western Paraná State University in Brazil, shared the ambitious vision and targets of her own network – the International Research Network on Climate Resilient Development (RIPEDRC)
Fanen Terdoo from the Federal University Dutsin-Ma in Nigeria, commented: "It was interesting to be a part of this group and to see different disciplines discuss sustainability and meaningful engagement in their own disciplinary language."
The Seedling Project
In January, Sarah Gold, representing HOLODECK architects, and Markus Zorn hosted a workshop for children to learn about the value of organic waste.
STRIDES
I hosted the second meeting of STRIDES – Systemic Transformative and Resilient Interventional Drivers for Education for Sustainability – earlier this month. 19 coordinators from 10 countries are currently part of the project, and we have an ambitious aim to have representation from every country in the world.
This project seeks to transform the education systems (environment) in which we learn, teach and exchange knowledge. It is about repurposing education in learning institutions for sustainable societies and climate change.
The research is looking to unfold from the simple to the complex based on a grounded theoretical framework that, for education to be meaningful and relevant, a society should be able to fight risks such as the recent COVID-19 pandemic. The framework of current education seems to be operating at strategic level without the bottom-up approach that should leave no one behind.
The great thinking at strategic level leads to numerous changes of policy in educational institutions and poor evaluation because of slow implementation processes which are overtaken by events. To address human needs within the context of promoting a positive attitude toward climate changes, this research suggests an all-inclusive approach.
Internationalisation of the education process in line with the SDGs may help to build the strategies required to embrace sustainability and climate change.
February activities
UKRI ECR Induction Week
February ended with a unique opportunity to engage with early career researchers. This was through the UKRI ECR (UK Research and Innovation, Early Career Researchers) Induction week, where I organised two meet-ups with the fellow attendees, which were focused on introducing the Network to the fellow early career researchers in UK and beyond who were attending the UKRI ECR Induction Week.
I engaged with all the activities in this event through the Whova app. Whova is an app developed for engagement at online events. You are able to message, chat and talk to the attendees of the event through this app. I was ranked number 1 on the Whova leaderboard at UKRI ECR Forum Induction Week for racking up the most engagement with fellow colleagues, and through the event sessions and meet-ups.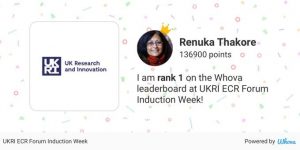 Social media
In February, we focused on the gender equality, clean water and sanitation, affordable and clean energy, and decent work and economic growth SDGs through the content our LinkedIn, Twitter, WhatsApp, Facebook, Instagram and blogs channels.
Systems thinking, transdisciplinary and sustainability
Our brainstorming session at the February monthly meeting was focused on systems-thinking, transdisciplinary and sustainability. We discussed questions such as 'why use systems thinking?', 'why use a transdisciplinarity methodological approach?', and 'how do systems-thinking and transdisciplinarity help ensure sustainability?', creating a rich dialogue between those present.
UCEM tutor, Janet Hontoir reflected on the how the whole system (whole life cycle process) of procuring things from distant parts of the world impact the carbon footprint of a product. Being an economist, she said it was interesting to her that local people get jobs from that activity, however, from a sustainability point of view, it was important that we make best use of our resources. To this, fellow UCEM tutor, Hazel Lobo commented that it is important that we recognise the impacts on the environment, economy, and society – the three pillars of sustainability. Further, Hazel added that from a biodiversity perspective, we need to be very careful about transmitting disease through these channels and the impact of over-farming.
I shared my views on how the food and agriculture sector is a key contributor to climate change and carbon emissions, drawing on the example of the European Green Deal. To make the food and agriculture sector sustainable, we need to move to organic farming, however, this will ultimately cause farmers to grow less due to the requirement to leave the soil without farming for some time for it to replenish its fertility. This could therefore lead to the loss of jobs and have a huge impact on their livelihood. Hazel suggested there needs to be a balance between natural systems and manmade systems.
Edgar Sandoval-Garcia from the National Technological Institute of Mexico mentioned how in Mexico, every seven minutes a 30-tonne truck of chicken is exported to the USA. Gustavo Biasoli Alves from the State University of Western Paraná in Brazil shared how 40-tonne trucks export soybeans from Japan to Taiwan. He questioned why they would not use a sustainable mode of transport such as a train that would carry 600 tonnes at a time. He highlighted that this was a loss of resource and a pollutant, stressing that there was a need to change political powers governing such systems.
To all this, I concluded that there is a need to look at all these challenges from a multi-perspective lens. The societal systems are not linear – they are complex and interdependent – therefore, we have to be careful when addressing one problem, that we are not creating another problem in another part of the system.
Poster presentation
A poster presentation was made by Jonathan Muledi from the University of Lubumbashi (UNILU) in the Democratic Republic of the Congo. Jonathan presented on the management and conservation of Miombo woodland in a mining region, explaining the role of the university in contributing to the climate regulation and wellbeing of the local communities. To contribute to the implementation of best management practices, UNILU has resumed research on the Miombo since 2008 via the Faculty of Agronomic Sciences. They are focused on vegetation and species ecology, NTFPs, carbon sink and nutrient cycles and valuation of other ecosystem services. More specifically, interactions with the mining sector are studied to better mainstream Miombo conservation in mining operations. UNILU has been a member of the SEOSAW (Socio-Ecological Observatory of Southern African Woodland) network since its creation.
If you would like to join the network or share news, research, stories, events or presentations for the attention of the network, please email me on r.thakore@ucem.ac.uk.