Student stories: Seb's unexpected return to education
Posted on: 12 August, 2021
Often, new UCEM students are returning to education after a long time away from studying. On top of this, they are studying part-time with us in addition to a full-time job and other commitments.
Seb Born – an assistant manager in residential agency for JLL – is one such student of ours, having left school after his A levels to join an estate agents and pursuing a career in property before deciding, at 25, to enrol on our BSc (Hons) Real Estate Management programme.
Here, in his own words, is his story…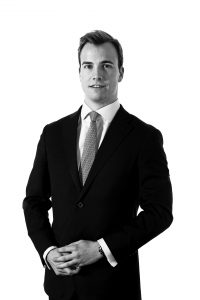 Early interest in property
Property has always been an interest since I was a teenager. I wanted to be a vet when I was a child but realised I would most likely not get the grades.
Move into property
I did some work experience at an estate agents based in London after finishing my A levels. I worked there for two months and proved myself, and was offered a job as a junior agent. Seven years later I'm still in property!
Returning to education
I had a meeting with a managing director for a large corporate firm in Hong Kong where I was discussing furthering my career within the built environment. He suggested studying a part-time degree and UCEM was best placed to do this, so I applied last year during the pandemic
Studying with UCEM
Studying with UCEM has certainly been the most challenging thing I've done to date, what with working full time, maintaining a social life and training for physical challenges such as the London Marathon, it's a real test for my time management skills. I never performed well in school so deciding to start a part-time degree at 25 was not a decision taken lightly. You have to put in a tremendous amount of work but the results are extremely rewarding.
Online learning
I have never studied online before so this has been a new experience, I am enjoying studying online due to the flexibility of being able to work anywhere on a laptop. You don't have to worry about missing lectures as they are always available which is lot less stressful compared to my school days!
So far I have taken four modules. The module team and academic support have been excellent. They are ridiculously efficient in coming back to you which I find really helpful.
'No matter what age, you can always achieve your goals'
I'm carrying out this degree to further progress my career in the built environment and obtain my RICS chartership. I'd also like to show people that no matter what age, you can always achieve your goals – just start!
The built environment can improve on its use of technology and its sustainability so I hope to make a difference in these two areas.
Thanks, Seb – best of luck with the rest of your studies and helping to improve the sector's use of technology and its sustainability drive!
If you are a current student who would like to share your story, please email press@ucem.ac.uk and our team will get back to you.