Student stories: Sarah's efforts to grow global interest in the sector among 16-25-year olds
Posted on: 6 September, 2019
Our latest 'Student stories' blog comes from our MSc Real Estate student, Sarah Hayford, who writes about her journey into the Built Environment and the launch of her website, The Land Collective, which aims to educate and engage more young people with the sector through insightful commentary.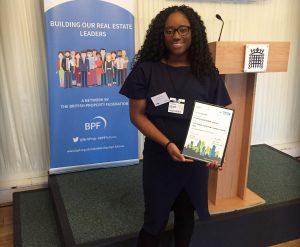 Early interest in the Built Environment
My interest in the built environment actually came from my love of interior design and architecture! I studied international relations as my first degree and very quickly felt a creative gap in my studies that I didn't quite know I needed filling. In the second year of my degree, I started an interior design diploma via distance learning at a local college to my university. This taught me a lot about design in general, how to read floorplans and even designing commercial spaces.
Following this, I provided freelance interior design services and interned under some designers in London who had connections to developers and agents in the capital. Through quite a lot of networking and reading through sites such as Property Week and Construction Enquirer, I became very interested in the commercial side of things and more specifically commercial surveying.
The Land Collective
In the third year of my degree, I went on a year abroad to China which is where my real interest in commercial property began. There were so many issues and topics that I wanted to talk about with my peers, but quite often I was met with: "I don't know very much about that area" or "I don't really see how that's relevant to me/what I'm studying". After a while it began to frustrate me.
I went solo-traveling around China for a little while in the holiday period after exams and upon doing so met quite a lot of people along the way. I ended up speaking a lot with someone who worked for a large commercial real estate firm at the time, and voiced all of my interests to her – she mentioned that I should start blogging about my thoughts surrounding hot topics in real estate and that's when it clicked!
I feel as though sometimes you just need a little nudge or for someone to verbally suggest something that you've wanted to do, for it to sink in properly! That person who suggested that I start the blog, started off helping me edit articles in relation to international real estate and now leads The Land Collective and its growth in the Asia-Pacific region, which is super exciting!
Aim of The Land Collective
We aim to educate and engage more young people (16-25) with the property market and built environment through critical and insightful commentary. The platform is non-partisan and doesn't align politically. We host a range of different insights and opinions on hot topics surrounding the industry as a whole. We hope to grasp the attention of not only people interested in property, but those interested in design, the law, ethics, finance, etc., as they all have a large part to play in the sector.
Reflections on The Land Collective's journey to date
It has been a rollercoaster of a journey that's for sure, starting your own project usually is! From battling writer's block, to waking up at 5am to conduct a conference call with a potential writer in Dubai, it can definitely be frustrating and exhausting but, in saying that, it has also been a blast.
I have met so many new people through starting The Land Collective and have built upon my skills such as networking, writing and presenting. It has been very humbling to have tweets, messages, and emails from people who want to get involved with the project or who now would like a career in the sector due to our content. I'm very grateful for people who have supported it and it has been amazing seeing it grow organically over the past two years.
Hopes for The Land Collective
I really hope for it to become self-sufficient with a larger readership around the world. We already have readerships and writers in quite a lot of countries already but are missing a presence in Africa and South America – it would be great to build upon that! I would love for the platform to be a 'go-to' for young people interested in the property and built environment commentary.
Work. Study. The Land Collective. Repeat.
Juggling studying, working and your own project is definitely difficult! But I have found myself almost becoming robotic with what I have to achieve with both my work and The Land Collective. I'm quite often asked how I have time to work on The Land Collective at all, and the answer to that is I never really stop working on it!
I tweet whilst I'm on the train, I read articles to keep up with what's going on in the industry, I'm delegating on WhatsApp, etc., so it definitely keeps me going! Work is also great for this, as my manager may mention a new concept to me that I find very interesting which sets off a whirlwind of new article ideas or points of view. Work is also the best place for shameless promo of the platform!
Studying with UCEM
Studying at UCEM alongside work has been fantastic, but also quite hard. Learning new concepts on my course and having the ability to directly apply what I've learned to my day-to-day work has been very exciting for me and I feel as though I learn a lot quicker in that way as I'm working with real-life examples and scenarios as opposed to theoretical ones. I have also found that the interactive online nature of the course has also helped me run The Land Collective as it's nice to see what kind of topics my fellow students are actually interested about and the areas they want to personally develop in.
Ambitions
I'm very passionate about the retail and leisure sector, and the enjoyment that it can bring to people. So I hope to become a retail asset manager or in-house property senior for a retail or leisure company – I'd love to have an international career, so I'm also working towards my proficiency in Mandarin, so I can hopefully go back and work in overseas in the more senior part of my career.
Sarah is an Assistant Estate Surveyor at Wasabi Sushi & Bento and the Founder of The Land Collective. Head to The Land Collective website for more news and views on the Built Environment.
If you are a current student and would like to tell your story, email press@ucem.ac.uk with your idea and our team will get back to you.