Student stories: Nicki's experience of being dyslexic and studying on a UCEM apprenticeship
Posted on: 11 October, 2019
To coincide with Dyslexia Awareness Week, our Surveying Technician Diploma apprentice, Nicki Robinson, has written about being dyslexic and the challenges it brings when studying.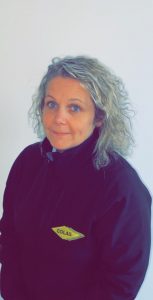 Career to date
I started my career as an Apprentice Maintenance Fitter working on power stations and then in a precision machine shop. I gained qualifications in Microsoft Word and Excel and once I had children, I worked in an office in HR providing engineering qualifications to companies.
From there I moved on to a powder coating company doing admin, then on to the food industry working in the Engineering Department ordering parts for the machines and looking at RAMS (Risk Assessments and Method Statements). I then started at Colas in 2017 as a Commercial Administrator where I demonstrated an understanding of figures and procedures.
Path into the Built Environment
I was interested in pursuing a career in the Built Environment as I have always worked in engineering, I love figures and have a willingness to learn every day.
Becoming an apprentice
I was recommended to do an apprenticeship by my line manager who thought I had good eye for detail and that I thought out of the box a lot.
My first year as an apprentice was very intense due to it being a condensed year and I did find it really hard as I haven't been in education for some time.
Challenges studying with dyslexia
UCEM helped me by diagnosing my dyslexia which I have struggled with for most of my life. I have managed to find ways of improving my coping strategies with Dyslexia. The hardest thing I have found is proofreading my work back. In work, emails are short and sweet but assessments are longer so people in my office or at home have helped to proofread my work for me.
Support
Phoebe Hughes [Disability and Wellbeing Administrator] has been a great help sorting out Clear Links Study Skills support and my headset and assistive technology software. I love my headset. I don't really wear it at work but at home I use it freely. Andreas at Clear Links has taught me a lot too. Sylwia Wodyk – an Apprenticeship Support Tutor at UCEM – has been my shining star all though my first year of my apprenticeship. Nothing is too much trouble for her and her knowledge is first class. She always returns my emails and phone calls and helped me through the tough times enabling me to complete my first year.
Ambition
I hope to be a Commercial Manager/Assistant Manager going forward and hope the completion of my apprenticeship will help me achieve my aim.
If you are a UCEM student and think you may have dyslexia, please get in touch with our Disability and Wellbeing Team via disabilitysupport@ucem.ac.uk to discuss QuickScreen dyslexia screening and the support we can offer you.
If you are a current student or apprentice and would like to tell your story, email press@ucem.ac.uk with your idea and our team will get back to you.