Student stories: Louise's journey to achieve good mental health
Posted on: 7 March, 2019
After launching our monthly 'Student stories' blog last month with Ranikque Hayden-Best describing her route to becoming a Quantity Surveyor, this month we hand over the reins to our BSc (Hons) Quantity Surveying apprentice, Louise Slimm.
To mark University Mental Health Day today (7 March, 2019), Louise – who is a Degree Apprentice Cost Manager at Faithful+Gould – writes about her experience of mental health…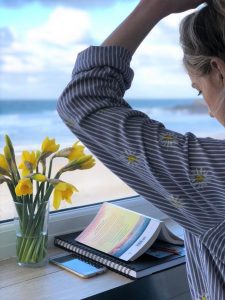 Everyone has mental health. Just like physical health, it can be good or bad and it often fluctuates throughout our lives and can be shaped by different experiences.
Earning a degree is a dream come true for most and while it can be incredibly rewarding, it also brings pressure, stress and juggling competing priorities, all of which can disrupt the balance in your life.
Last year I found my balance was thrown off when I experienced a number of life changes, including starting a new job, moving cities and starting my degree with UCEM. They were all exciting things, but it was quite overwhelming. As a result, my mental health started to struggle along with all the physical symptoms that come with it – struggling to sleep, loss of appetite, feeling on edge, etc.
Thankfully, I have a great team around me and several of my friends and family members gently nudged me to realise what was happening. As it happened over a long period of time, living on edge had become my new normal and I couldn't see how it was affecting me.
There were a few key life changes that improved my mental health when it wasn't in a good way and most importantly, have enabled me to maintain good mental health even with the continuous pressures of work and university.
Self-care is often perceived as being selfish and like many others, I couldn't grasp the concept myself. However, now I understand self-care to be a vital part of living a healthy and happy life. My friends now affectionately call me the Queen of self-care!
I think the key thing for me was to go back to basics. It may seem obvious, but quite often when we are stressed, we are too busy thinking about so many different things that our most basic needs go out of the window!
Making sure I eat three meals a day, drink lots of water, maintain a morning and bedtime routine, aim for eight hours of sleep a night and spend time with those who care about me has made such a huge difference in my life.
Mindfulness has become quite the trend recently and whilst this is fantastic, it may seem out of reach for some. I think most people think you have to be a Buddhist monk in the Himalayas, sitting with your legs crossed and humming 'ommmmmm'! This is far from the truth!
For me, creativity was a game changer. Painting, baking, cooking, sketching and writing gave me an outlet to feel without thinking too much.
Ultimately, mindfulness means different things to different people so it's all about finding what works for you.
Technology can both hinder and help your mental health. Whilst social media can be a source of inspiration and support for some, it was detrimental for me. I spent way too long looking at other people's 'perfect' lives whilst making sure to post regularly, portraying my life as airbrushed, exciting and flawless.
It has now been more than six months since I deleted all my social media accounts and I have not looked back. I understand that this may seem drastic for some, but for me it was the best decision I have made.
At the end of the day, it's all about figuring out what works for you. I also downloaded a journaling app called 'Journey' and implemented this as part of my routine, setting a timer for 9pm each night to write a few lines about how I'm feeling, as well as at least three things I am grateful for from each day.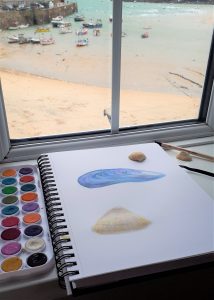 To sum up, the main lesson I learnt over the past year is the importance of balance. Of course, you want to do well in your degree, you want to succeed in your job role and you want to be an all-round winner but you can't do any of those things without balance. By all means, set aside a day each week to study, write a list of the goals you want to achieve in your professional life but also make time to go for a walk in the park with your family, a board games evening with your friends and reading your favourite book – those things are just as important.
"When a flower doesn't bloom, you fix the environment in which it grows, not the flower." – Alexander Den Heijer
For more about University Mental Health Day, visit www.unimentalhealthday.co.uk/
Next month, we feature recent BSc (Hons) Real Estate Management alumna, Sara Kelleher who tells us how studying with UCEM changed her life.
If you are a current student and would like to tell your story, email press@ucem.ac.uk with your idea and our team will get back to you.