Student stories: Lee's determination to complete our BSc (Hons) Construction Management programme
Posted on: 11 August, 2021
Leaving the Armed Forces for civilian life is a big life event for anyone. The culture shock can be significant with the transition not always smooth or straightforward.
Lee Fallows found the change difficult, with employers focusing on qualifications over work experience, stalling his intended career move. With the help of BuildForce – an organisation which helps ex-Forces personnel find employment within the construction industry – Lee was able to move forward with his career.
To complement his newfound career, Lee began studying on our BSc (Hons) Construction Management programme but then experienced furlough, redundancy and a brief spell of unemployment before resuming his career in a different industry. Despite this, Lee is determined to complete the programme to prove to himself and others that he can do it, and, here, in his own words, he tells his story…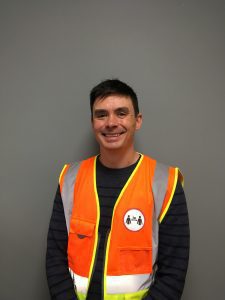 Royal Navy
I joined the Royal Navy in 2007 at the age of 21. I joined as an able seaman – an enlisted sailor – after having completed five years working in tall ships (square-rigged sailing ships).  After a couple of years, I had met the relevant selection criteria to attend Britannia Royal Naval College and began my transition to the officer cadre [a group of specially trained people prepared to lead or instruct others], specialising in maritime navigation and operations. I left the Royal Navy in September 2019 after 12 years.
'Settling down and starting a family'
I made the decision to leave the Royal Navy in 2016; my final day in service would have been 4 January 2017. My decision to leave was multi-faceted but, primarily, I wanted to settle down and spend time at home and start a family with my wife (who was – and still is – serving in the Royal Navy as an engineer officer).
Career limbo
By mid-December 2016 I still did not have a job to go to and by January 2017 – despite having obtained project management qualifications and done a lot of networking – it seemed there was nothing out there for me. I couldn't find a suitable management-level role because I didn't have a degree.
The recruiters and hiring managers that I spoke to and the online application forms that I filled in were seemingly not bothered with my 10 years of leadership experience. With my wife heavily pregnant, I decided to remain in the Royal Navy and reassess my options.
I completed a further two years in the Royal Navy working in an operations management role in Plymouth. During this time, I completed a part-time HNC [higher national certificate] in construction management at City College Plymouth.
Reflections on the transition into civilian life
It has been difficult. Leaving the military is not just 'getting a new job', it is a complete change of lifestyle and vocation. It is a change of language, change of mindset, change of home perhaps. It is leaving a group of friends and colleagues with whom a shared bond and understanding is very strong, and venturing in to the unknown, where people may not always understand you.
Your history and work experience are often misunderstood – I was told by a few people who had not themselves served in the Forces that 'in the military you don't think for yourself, you just do as you're told' which is completely inaccurate. It is demeaning to those sailors, soldiers and airmen and women who make informed and rational decisions on a daily basis as they operate and maintain millions of pounds' worth of kit and equipment.  The time and money which is spent on training across the military is worthless if the result is an employee who cannot think for themselves.
It is this misunderstanding of service leavers that is so damaging to their prospects.
Move into construction
Having decided to move into project management, I selected construction as the industry that would suit me best purely based on my interest in the subject (hence the HNC). I sought guidance from the Career Transition Partnership – a third-party organisation partnered with the Ministry of Defence (MOD) to provide service leavers with guidance and support during their final year of service.
I was also directed towards BuildForce – an organistaion that exists to move service leavers into the construction industry. Caroline Logan [BuildForce programme director] and her team offered great support and linked me with a prospective employer. I was successful at interview and began a role in August 2019 as an assistant PM.
Studying with UCEM
As a condition of my employment, I had to complete a BSc in construction management as a step towards RICS chartership. My employer sponsored my studies with UCEM.  I was sponsored to study with UCEM until the pandemic arrived. Furlough beckoned followed by redundancy and a two-month period of unemployment.
Online learning is hard – it takes a great deal of commitment. It wasn't so difficult when I was working in the industry as I was immersed in construction.  After being made redundant, I was unemployed for two months, but then secured a role with Amazon as an operations manager delivering the night shift at my local delivery station. I find this a demanding yet rewarding role, however, it makes my studies that much harder. I am no longer surrounded by construction professionals, and with it being online learning, I don't have the face-to-face support or camaraderie of a student cohort that is common in a traditional university.
In addition to this, our family of three has recently become a family of four with the arrival of our son earlier this year. Two children under the age of 5, working nights (in a non-construction role), a pandemic, roles in three different industries since 2019, four months furloughed, redundancy, two months unemployed – it has been difficult.
I have had to become rather more pragmatic in my approach to study. My time is limited. I have amended my study programme from two modules per semester to only one.  This has lengthened the time it will take me to graduate, but I feel that it is necessary.
I have chosen to concentrate solely on the aspects of the modules which are contained within the assignments. I would love to be able to read and study all aspects to the fullest, but I must balance my time between family, work and study as well as ensuring that not every waking minute is devoted to someone or something else; I have realised recently that the 'self' is important and often overlooked.
Next steps
I have decided to take a year out from study. Having finished my Level 5 modules in July, instead of beginning my Level 6 modules and dissertation (final year) next month, I will delay until the following year.  This is very much a hiatus and not a termination of my studies. I am very much committed to completing my degree; to prove to myself that I can do it and to also 'tick the box' with those in the wider world that see it as a baseline – a 'minimum standard'.
Over the last year I have decided that a role in the construction industry is no longer a specific ambition of mine, but I am not entirely turned off to the idea. I retain an academic interest in construction.  For the time being I will remain where I am with my current employer; there is a multitude of roles available in a variety of sectors (including some construction-based roles), however, what my family and I need most right now is stability.
At this point I would like to give thanks to my wife for her support throughout the last few years, from the HNC study alongside a demanding ops management role, through leaving the Royal Navy and starting a new career, through the beginnings of a degree, furlough, redundancy, starting yet another new career, and through the continuation of study – she has been there throughout with unwavering support – thank you.
Thanks for sharing your story, Lee! Enjoy your well-deserved year out from your studies with us and best of luck with your future career path.
If you are a student who would like to share your story with us, get in touch via press@ucem.ac.uk