Student stories: How our BSc Access Module helped Rob gain the confidence to study at degree level
Posted on: 23 April, 2020
Rob Hill is the Facilities Manager for St Michael le Belfrey church in York. Having left school early to start his career in the workplace, he never anticipated returning to academia.
After some encouragement, Rob decided to study on our BSc Access Module and is now on our BSc (Hons) Building Surveying programme.
Here, in his own words, is his story…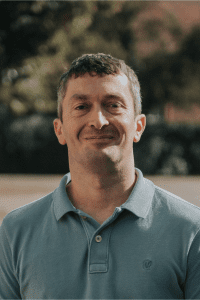 Background
Working for a church with a mix of commercial, domestic, and ecclesiastical buildings, the nature of my role is varied and exposes me to many areas of the built environment and the professionals who work within it. I find the built environment fascinating and the more I learn, the more I want to know. Working in an area I naturally want to learn about and grow in has caused me to find out how I might develop my own professional career.
I left school early and having gone straight into the workplace instead of college and university, I had no experience of higher education at all and didn't even consider a degree to be something I wanted to do, let alone could do. A friend kept encouraging me to consider studying part time and told me about UCEM's BSc Access Module. When I learned that it was aimed at helping people like me develop academically, I decided I had nothing to lose and went for it.
BSc Access Module
I was put at ease after the very first webinar and found myself very quickly getting my teeth into it and enjoying every new week of material. The Module Leader was engaging and as well as being a good teacher, was clearly passionate about the subject of the module which made it fun. I found the pace to be very manageable alongside life and work, and quickly found the module content to be making a positive difference in my own workplace too.
My experience was that support and answers to any of my queries came promptly and clearly. The Module Leader and Academic Support Tutors could not do enough to help with any question I put to them. I felt at times as though I was the only person studying the module.
Online learning
Like anything new, it took a little bit of time clicking my way around the VLE [virtual learning environment] to learn where resources were and how it all held together, but it was quick to get used to, and before long the format and style UCEM use became intuitive to me.
Each week's learning outcomes are very helpfully broken down and I like that there is even a guide as how much time I should expect to spend on each resource which is very helpful with keeping me on track.
BSc (Hons) Building Surveying
Having completed the BSc Access Module, I decided to continue my studies on UCEM's BSc (Hons) Building Surveying programme and I am really enjoying it. The Access Module gave me lots of confidence in my ability to learn at this level and together with the resources and help UCEM make available, I am certain this was the best decision I could have made.
The learning I am gaining is already shaping and deepening my understanding of the built environment and definitely broadening my understanding of the potential out there.
The future
Dean Bieganek, the BSc Building Surveying Programme Leader, makes a great quote, suggesting that Building Surveyors' broad skillset makes them key contributors and "general practitioners" within the built environment. It's my ambition to develop that broad understanding and become an RICS professional in the future, perhaps allowing the journey to chartership itself reveal what my specialism might be.
Best of luck with the rest of your studies, Rob, and we hope you find your ideal specialism along the way!
We are currently offering a May intake onto the BSc Access Module for Year 13 students to sample online, degree-level study. This is being offered at a special rate of £195. Head to the Year 13 BSc Access Module webpage for more information. 
Not in Year 13 but interested in the programme? Head to the BSc Access Module webpage to find out more and start your undergraduate degree journey now.