Student stories: Fidell's journey to become a Chartered Surveyor
Posted on: 2 January, 2020
Our MSc programmes are all conversion programmes meaning they are suitable for students who have a degree in another discipline. One such student was Fidell Brown, who decided to leave the world of law for the real estate industry via our MSc in Real Estate. Here, Fidell – now a Chartered Surveyor at Gerald Eve – describes his successful journey into real estate which saw him recently gain his APC…
Law career
I originally graduated from university with a Law degree and was intent on pursuing a career within the legal profession. I was promoted at my first firm as a Commercial Property Paralegal (a job title which later changed as the role adapted).
Switch to real estate
I began to realise that, although I wasn't necessarily suited to a career in law, I had picked up a lot of the relevant skills for a career in real estate (e.g. account management, lease analysis, business development). I could also see a clear route to becoming a Chartered Surveyor whilst working full-time through completion of the MSc and later APC which made this an attractive prospect.
In hindsight, my situation at the time made real estate a natural fit because I was already working at a firm and performing well in the role.
Thoughts on real estate
I enjoy the variety of working in real estate, particularly when compared to other similar, professional roles. My day-to-day job as a Surveyor providing business rates and lease consultancy allows me to work fairly autonomously whilst constantly learning more without it becoming too repetitive. In addition, there's such a diverse range of different disciplines within real estate that, if somebody were to want to take on more, they shouldn't have to look too far.
I also like how accessible the property industry is when compared to others as it allows those undergoing BSc and MSc courses to work whilst gaining their qualification which is ideal for people who can't attend university full time for financial or other reasons.
Studying with UCEM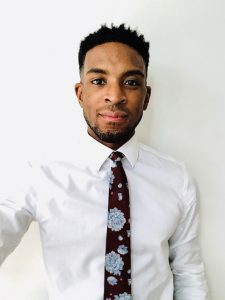 Many of the other surveyors at the firm where I originally worked recommended UCEM to me due to the support that I would receive and the fact that I could continue working as a Surveyor whilst studying.
Studying with UCEM definitely helped me professionally as I picked up a lot of foundation knowledge that allowed me to carry out my day-to-day job better. The course helped in terms of the APC too as much of the Level 1 knowledge required for the APC was covered at some stage via a UCEM module and the usual annual requirement of 48 CPD hours did not apply to final year MSc students which gave me one less thing to think about.
Combining the MSc with working full-time wasn't easy. Lots of sacrifices had to be made in terms of time and there were definitely times that I could have benefited from a face-to-face tutorial. Online studying, however, definitely helped as it allowed studying to fit into pockets of time alongside my employment rather than set times as would be expected of a traditional course. The alternative would have been to leave my job and attend university full-time which didn't appeal to me.
MSc project
My full-time job is to provide business rates consultancy so I chose a topic that allowed me to play to my strengths rather than take on an entirely new discipline. For my Project, I attempted to evaluate the implementation of check, challenge, appeal on business rates reform measured by its effect on key stakeholders.
My research found that reform measures had vastly improved some areas (faster dispute resolution, lower appeal numbers) whilst making others worse (Valuation Office Agency anonymity, lack of ratepayer understanding into rateable value calculation) which has, in turn, created a one step forward, two steps back situation.
Completing the APC alongside work and studies
The MSc and APC are gruelling processes on their own, particularly whilst in full-time employment so my decision to take the two together wasn't one that I took lightly. My mindset at the time was that I would rather make a larger commitment over a lesser amount of time overall.
It wasn't easy but I got much better eventually at managing my time and prioritising tasks. The APC process was also helped massively by my employer and colleagues at the time, many of whom had recently undergone the APC themselves, so I was given lots of coaching and advice before the big day.
The biggest thing I struggled with during APC preparation was the fact that I had been working as surveyor for a number of years by this stage and so many of the questions I would be asked (e.g. talk me through how you would analyse a rent…) were surprisingly difficult for me to answer because, despite having done these things plenty of times, I hadn't considered how I would describe that experience.
The future
Following successful completion of my APC, I have recently been promoted to Senior Surveyor and hope to continue progressing further. Much further along in my career, I would definitely consider mentoring or maybe even teaching if UCEM will have me back!
Maybe our paths will cross again in future then!
If you are a current student and would like to tell your story, email press@ucem.ac.uk with your idea and our team will get back to you.