Student stories: Andras's sustainable built environment ambitions supported by postgraduate scholarship
Posted on: 7 October, 2021
At UCEM, we offer a range of scholarships and bursaries to new and existing students. Last year, we launched our Postgraduate Scholarship Scheme for new students to apply to receive up to 50% off the programme fee through demonstrating outstanding academic ability and a financial need.
The first two recipients of the scholarship were Luke Pinkham and Andras Belan. Having shared Luke's story, here, Andras – a tradesman who works for a housing association – shares his story…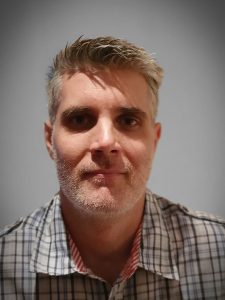 Choosing to study on UCEM's MSc Building Surveying programme
I have studied in two different fields previously. I went to a technical secondary school in Hungary where I learned carpentry and joinery, then went on to study environmental engineering and graduated in 2003.
I came to the UK in 2004 and have worked in construction ever since, constantly expanding my knowledge, but I also felt passionate about the environment and started researching sustainable architecture. Our housing stock in the UK is in dire need of modernising and hopefully, the government will introduce a new permanent green grant scheme to help homeowners and councils make our houses more energy-efficient and net-zero ready.
One of the reasons I chose to study on the MSc Building Surveying programme is to help tackle this challenge on a more influential level. In addition to this, I am also fascinated by modern methods of construction (MMC) and view it as another exciting area that will play an important part in delivering sustainable homes on a bigger scale quicker. As these changes are unfolding now, I feel this MSc course can provide me with the necessary skills in my career.
Applying for the postgraduate scholarship
I applied to help my family financially. I have three young children to support, and I will not be able to work extra hours or weekends for the next two years while I study. It would have been really hard to manage repaying the full student loan on top of my other commitments, if not impossible, and start a new career at the same time.
The application process was quite straightforward. The correspondence from UCEM was helpful and clear when I needed to provide more information. It took some time to get the documents (which were not in a digital format) from my previous institution. I also knew professionals already working in the field who supported me and my application.
I was not sure I could qualify until I got to the interview stage so I would definitely recommend others to apply if they are eligible. There is nothing to lose and the process gave me early feedback of how much UCEM cares about its students, whatever background they are from.
It is also a good way to gain early focus of why we want to study a particular course so I would advise students to be committed to studying at UCEM before applying. Make a list of your experiences, future goals and just be yourself at the interview so you can show who you are and share your aspirations. The interview will be unique to your application; do not expect the typical scholarship interview questions. Being genuine is more important than having prepared answers.
Studying at UCEM
I really enjoy studying at UCEM. The module leaders and their teams have huge experience in their subjects and are very committed in ensuring students succeed, giving 110%. It is not easy to fit studying around work and family commitments, so being as organised as possible is a must to manage it all effectively.
Online learning
I had never studied online before. I acquired my first degree at a traditional university. I do miss the live lectures and interactions with students and tutors, but once you settle in to the virtual learning environment (VLE), it's great. It is well organised and the recorded live webinars, activities and reading materials offer the flexibility we need to study when we have free time. The vast online e-Library provides all the resources we need.
Student support
I think UCEM excels in in its study support which is excellent when we need it. Every module has dedicated forum threads where we can get help and also provide help to others. I found it an essential resource to succeed. Many students are actively involved and we see each other's struggles, questions and ideas.
The module leaders and their teams patiently address each question and respond until the students are happy. They also offer help individually when needed to make sure we keep up week-by-week.
The future
I see many paths ahead. Ideally, I would like to work in a consultancy where I can be exposed to all aspect of surveying to become chartered. I have a strong background in residential refurbishments and maintenance where I was working for many years so that would be an easier pathway.
I am most passionate about sustainability, and the decarbonisation of our built environment will become very important on a wider scale due to the government's 'net zero' agenda in the coming years and decades. That is where I would like to work in the future. The UK is lagging behind its European counterparts making buildings energy-efficient; whether it is new builds or retrofitting, there is a huge task ahead for built environment professionals to catch up delivering and transforming our residential and industrial buildings to make them sustainable. It would be really exciting to be part of this 'revolution' as I see it.
Thanks for sharing your story, Andras, and best of luck with the programme and helping to make the built environment more sustainable!
If you are a current student who would like to share your story, please email press@ucem.ac.uk and our team will get back to you.