Riyaz Caratela – 2023 Shortlisters
Posted on: 10 February, 2023
Estates Valuation Surveyor, Leicester City Council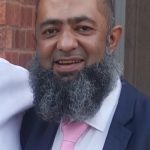 Riyaz had worked for Leicester City Council for 26 years when his manager spotted his potential and suggested he put himself forward for a surveying apprenticeship at UCEM.
"Riyaz came to my attention in 2021 as a vastly under-estimated and talented future Chartered Surveyor," said Kathryn Ellis. "He undertook his Level 7 Apprenticeship MSc in Commercial Real Estate with APC from September 2021 and by September 2022 he had achieved the highest results of any student at the University College of Estate Management through his sheer hard work and determination to be the best in his field."
After many years working in finance in a property environment, Riyaz had moved into a property management role in 2018, looking after a portfolio of land and licences. This was his "foot in the door" of the world of real estate, but while his manager gave him as much experience as possible, he didn't yet have the professional qualification to progress.
When Riyaz's manager suggested the council support him through an apprenticeship that would lead him the the RICS APC, he recognised it as "a fantastic opportunity" that he "took with both hands".
With a busy family life as well as his role at the council, Riyaz appreciates the flexibility UCEM's course structure provides:
"The main benefit is being able to do things in your own time. You can build the study around the other things that you're doing, because it's online. The course teachers are really good as well, and very accessible. The whole structure is nicely planned out which helps you see the light at the end of the tunnel."
Riyaz is keen to encourage anyone thinking about career progression to consider an apprenticeship: "It's a lot of work, no doubt, but it opens doors for you that you couldn't have imagined."
2023 Winners >