RICS Matrics Surveyor of the Year Awards 2019: Our nominated alumni and apprentice's reflections
Posted on: 15 November, 2019
Five UCEM alumni and three apprentices have been nominated in various categories at the RICS Matrics Young Surveyor of the Year Awards 2019.
We spoke to our nominees to find out their thoughts on being shortlisted and what it would mean to them to win.
Apprentice of the Year nominees
Rebecca Humphrey – Apprentice Cost Manager at Rider Levett Bucknall
Chartered Surveyor Degree apprentice (Quantity Surveying and Construction)
"I was nominated by one of RLB's Partners after being shortlisted for our regional G4C awards earlier this year. I believe I have been nominated for the hard work and contributions I have made towards projects and the company's values.
"I am very honoured to have been nominated and to receive such a prestigious award would be amazing!
"Having gone through the traditional university route on a previous degree, I would recommend anyone given the opportunity to do an apprenticeship to take it. I have been welcomed into the construction sector and know that the content provided by UCEM and experience in the workplace will give myself a springboard into the sector as a Chartered Surveyor."
Ben Fenwick – Assistant Project Manager at Arcadis LLP
Chartered Surveyor Degree apprentice (Project Management)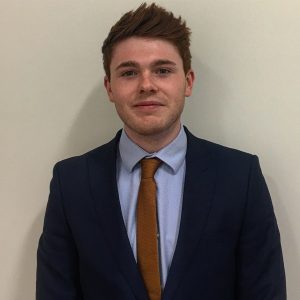 "I think I was nominated for a couple of reasons. Firstly, earlier this year, I became one of the youngest Full Members of the Association for Project Management (APM) at just 21 years old. Having acted as a project management practitioner for some time, it was a great accolade for me as a professional at such a young age.
"Secondly, a lot of the work I have done over the last year within Arcadis has been innovative and at the forefront of supporting the development of new technology for smarter and more efficient ways of working. As a result of this work, I was placed in the role as digital ambassador/lead for the Public Sector Business of Arcadis – a position of responsibility that I consider a true accolade for someone who is still in the process of completing an apprenticeship.
"Finally, I think that my delivery of projects, client-centric approach and can-do attitude has helped.
"I feel honoured just to have been shortlisted.
"It would be a fantastic achievement for me to win against such stiff competition. I think winning the would show others in the industry that the level of the person doesn't matter if they have the skillset to be able to deliver.
"I still consider that 'apprenticeship' is a word which isn't as highly regarded as the traditional university route within the surveying industry; however, if you look at the category that we are competing in, and the skillset and the work these young professionals are doing for their respective businesses and the industry, it just goes to show how well apprenticeships work for our young professionals when executed right. It is an honour to be shortlisted alongside them all."
Lewis Wilkes – Design Technician at Jeffrey & Wilkes Limited
Surveying Technician apprentice (Building Surveying) alumnus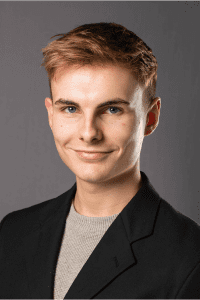 "My nomination came about because colleagues saw that RICS were hosting the young surveyor of the year awards and thought that it's worth going for it!
"Doing my Level 3 and achieving AssocRICS at UCEM allowed me to move onto doing my BSc apprenticeship in Building Surveying. I have been able to learn and develop in many areas of the profession during my four years working as a surveyor as I am within a small company which allows me to be exposed to many areas. A surveying apprenticeship has given me the experience and education to be on track to achieve MRICS at the young age of 22.
"My apprenticeship at UCEM went very well. I believe I was one of the first to do the Level 3 surveying apprenticeship at UCEM as the so-called 'guinea pigs'! UCEM taught me many areas of general surveying in the first year and then I branched off into building surveying-specific topics such as building pathology in the second year. I thought that going into class only once a month would be an issue, but UCEM had a wide range of content within the VLE which allowed me to continue learning from home on my other weeks when I wasn't attending workshops.
"I've never won anything like this before, so it would be a massive achievement [to win]. It would show me that all the hard work I have put in is paying off and will drive me to progress further in the profession and my career."
Rebecca Turner – Trainee Surveyor at AECOM
Chartered Surveyor Degree apprentice (Quantity Surveying and Construction)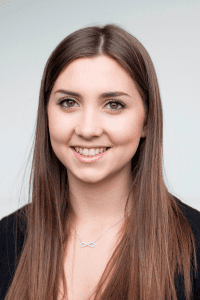 "I was nominated by my director at AECOM. I think I was nominated because of my enthusiasm to learn, and always striving to go the extra mile. I have taken on a number of extra roles within the team such as work experience co-ordinator, 'CostX Superuser' and CPD coordinator. I feel very fortunate to work with such a supportive team, and have tried to learn as much as I can from their expertise.
"I am glad that I took the apprenticeship route, as it has enabled me to learn from skilled tutors and put what I learn into practice. I have had a very positive experience with UCEM and would definitely recommend the apprenticeship programme!
"I am very honoured to be nominated, so to win would be truly incredible!"
Commercial Property nominees
Gabriel Kada – Senior Surveyor at The Hallmark Group
MSc Real Estate alumnus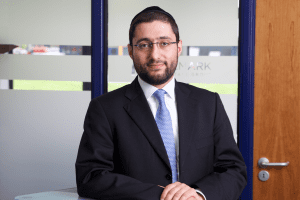 "My nomination came through my director and through client feedback that expressed the high standards of service they received with their assets under management. I think I was nominated partly due to the fact that I've influenced several real estate entrepreneurs to join RICS as professional members and have guided them along their APC journey. At my place of work, I've helped shape processes and systems that adhere to the highest RICS standards and which has resulted in attracting new investors.
"My studies at UCEM helped merge my real estate experience together with academia and I regularly draw upon my studies and incorporate the concepts and discipline into client reports."
Kieran Webber – Senior Surveyor at Page Hardy Harris
BSc (Hons) Real Estate Management alumnus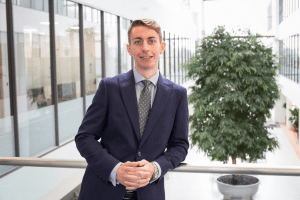 "Earlier on this year I was honoured to have won the Thames Valley Young Property Professional award and I am delighted to have been put forward for the RICS national award.
"The past year has been full of various highlights. Working as part of a local firm, I have benefited from gaining experience across multiple sectors and being able to take on a range of responsibilities. I am very pleased to have been promoted to senior surveyor and to have graduated from UCEM with a First Class Honours whilst working full-time.
"I am grateful for the knowledge I gained across the four-and-a-half years I studied with UCEM. It's been an excellent foundation for my career as a surveyor.
"I am honoured to be nominated as a finalist. Winning would be the icing on the cake! It's great to see RICS supporting young surveyors with annual events such as this. I look forward to the awards ceremony towards the end of the month."
Assets & Facilities Management nominee
Sarah Phillips – Senior Property Surveyor at Transport for London
MSc Surveying alumna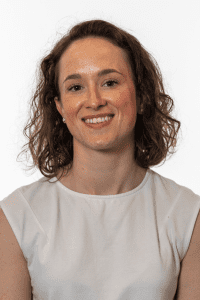 "I nominated myself as I have pride in the work that I undertake and, whilst some may think it is big-headed, people should not be afraid to blow their own trumpet.
"At first I was sceptical about distance learning through CEM (as it was known then). I had always undertaken study in person at university so I was unsure how the distance learning would fair. But my fears were quickly put to one side as the course was delivered extremely professionally, thoroughly and I always felt supported throughout. The online forums were a great source of support and camaraderie between the students.
"It would be a massive honour to win as the other shortlisted nominees are all worthy winners."
Valuation nominee
Joe Ellison – Chartered Surveyor at Pinnacle Surveyors
BSc (Hons) Real Estate Management alumnus
"I was a finalist in the Rising Star category of a mortgage industry awards earlier this year and, following this, my mentor and employer decided to nominate me for the RICS Young Surveyor of the Year Awards as well.
"I think I have been nominated because I have helped to make a positive impact on residential survey and valuation, particularly within the mortgage valuation sector. I have championed the increased use of technology for mortgage valuations and residential surveys and continue to work with technology providers to increase the technology offering to independent surveying firms. A vast amount of this work has been done on top of completing my degree, my APC and, since qualifying as a Chartered Surveyor, my day-to-day survey and valuation work. Since qualifying I have also achieved excellent client satisfaction and I am exceeding all client targets and Service Level Agreements. I have constantly pushed myself to achieve and I think my nomination shows this.
"I look back on my studies as the starting point of what has so far been a very successful career. The ability to work in a surveying firm throughout my studies allowed me to put theory straight into practice, and meant that I have qualified as a Chartered Surveyor within two years of finishing my degree. Within the Project module, I researched the impact that technology has on mortgage valuations. This then pushed me to do more work with providers to improve technology and lower risk for lenders, which I believe has led to this nomination.
"I think it would be amazing to win this award and it would mean that my constant work and determination over the last few years has paid off. It would also be an excellent end to the year that I qualified as a Chartered Surveyor!"
Congratulations to all our nominees, and good luck in your categories! To find out more about the awards, visit www.rics.org/uk/events/networking/rics-matrics-young-surveyor-of-the-year-awards/