Revelations, misconceptions and plenty of coffee: Guest blog by Harold Samuel Research Prize 2019 winner, Adrian Tagg, seven months on
Posted on: 14 May, 2020
Adrian Tagg was the joint recipient of our inaugural Harold Samuel Research Prize last year. The Chartered Building Surveyor and Associate Professor at the University of Reading gained funding from UCEM to go towards his research on commercial attitudes towards disability.
Adrian's research is due this October and he has provided an update on how it's all going so far…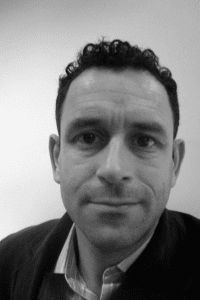 Since being announced as the joint winner of the 2019 Harold Samuel Research Prize I've managed to wholly immerse myself in the subject of commercial attitudes to disability in the Built Environment. Working in academia and managing a commercial surveying practice means research is undertaken in intense blocks, at strange times of the day, often in unusual places. Perhaps I should dedicate this research to a well-known chain of coffee shops or the Great Western Railway Paddington to Bristol Temple Meads train where much of this has been written!
One thing about looking into commercial awareness of disability and the access to goods or services means there are 'live' examples of good and bad practice in every town centre, shop or travel hub. It's been fascinating to align the theory with what's actually happening in the real world. However, to underpin the research, it has been necessary to review the existing body of knowledge on disability in the UK.
It's hard to imagine accessibility in Medieval England and indeed, there's lots of evidence of persecution or ignorance in the passage of time up to the 21st Century, but one thing evident is that throughout the ages, there's always been parts of society willing to make a stand or reach out to help those with physical or mental impairments. This revelation as well as the Disability Perception Gap study (highlighting the difference between how disabled and non-disabled persons view discrimination) has driven my desire to expand the research to look at both public and commercial attitudes to disability in the Built Environment. There's no doubt been massive 'advances' in the recognition and acceptance of disability which has been so readily showcased with things like the Paralympics. However, as reported (deep) within the pages of newspapers or journals is an argument that top-level sport does not represent the challenges facing one in five of the UK population who are recognised as being disabled.
The key themes emerging from the literature review are:
An apparent disconnect between the public perception of Paralympians and the wider disabled community – this despite perceived advances in the acceptance of disability;
While there's an implementation of an existing legal framework to prevent disability discrimination, there's perceived restrictions or limitation to the legal challenge of this;
Despite the potential commercial benefits of inclusivity, there's an apparent lack of desire to implement measures over and above the legal minimum.
Under the expert guidance of UCEM MSc Construction Management Programme Leader, Dr Afolabi Dania, a research strategy has been developed to look into the subject from both public and commercial perspectives. Currently the first data collection surveys are with those who can make a change: building owners, investors, service providers and real estate advisors or consultants. The results are coming back in dribs and drabs but some emerging trends include a majority understanding of the legal requirement to make commercial property accessible. Most see the commercial value of doing this but, significantly, most feel that the commercial properties that they advise on are not fully accessible. The way to up compliance may be to strengthen the law and many respondents feel the current legislation is not sufficient. However, ultimately, compliance is linked to a requirement for investment… and there's a greater amount of uncertainty on who should pay.
I'll press on with collating the data and commence with questioning the general public to canvas their opinions on a wide range of issues concerned with disability and accessing goods or services in the UK.
Best of luck with the rest of your research, Adrian!
If you would like to follow in Adrian's footsteps and submit your industry-changing research idea, head to our Harold Samuel Research Prize webpage. The deadline for submissions for the 2020 Prize is 12 June, 2020.