Ranikqué's Ramadan diary
Posted on: 1 April, 2022
Ramadan is the ninth month of the Islamic calendar and is observed by Muslims across the world with fasting, prayer, reflection and community.
Many of our students, alumni, staff and supporters will be observing Ramadan from tomorrow and, for a first-hand insight into Ramadan, our BSc (Hons) Quantity Surveying alumna, Ranikqué Hayden-Best, who is also a UCEM role model for current students, will share her journey, via an online diary, throughout the month.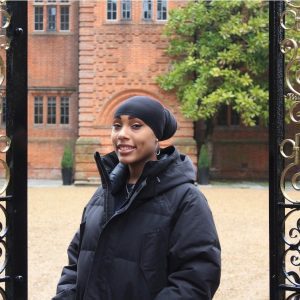 Ahead of Ramadan
What does Ramadan mean for me?
Ramadan is a really special time of year for Muslims. We fast from sunrise to sunset – and by fasting we don't eat or drink, not even water.
To me, Ramadan is special because I see it as a time to make extra efforts to improve my relationship with our creator. I see it as a time to get closer to Allah. Of course, fasting is challenging for a number of reasons, especially when the fasts are long and the weather is hot. I find this is a great time to take time out to appreciate all we are blessed with in life. It's a great time to reflect on how blessed we are to always have food and drink as and when we want and need it. Not only does it remind me to be grateful but it encourages me to give more to charity and to those who are less fortunate with regards to having food and drink so readily available. The rewards for doing good deeds during the month of Ramadan are multiplied and this adds to the reasons why the month is so special.
Although this is a time to practice new habits and learn about Islam, Ramadan for me is also a time to give up things. I always like to do my best to re-evaluate my diet during Ramadan – because we only eat for a limited amount of time each day, it is important to feed our bodies the best food we can. In addition, I like to look within myself and make an extra effort to put a stop to any bad habits.
I also like to make a conscious effort within me to forgive those who I may feel have hurt me and to ask for forgiveness from anyone I may have hurt. Ramadan is also exciting because I always look forward to spending iftars (the meals when we break our fast) with my family. As all Muslims around the world are fasting, it creates a really strong feeling of unity and strength during this month. I always try to enjoy every single moment of the month because when it's over it really does feel quite sad because I miss the overall vibe.
How am I feeling at the start of the month?
I am feeling really excited for Ramadan. I feel like last Ramadan feels like it was ages ago. I am looking forward to the extra early mornings and the overall vibe of the month. I am also feeling extremely grateful that I am able to experience such a special month with my family. In all honesty, sometimes I do think: 'oh my, how will I do it?' but you always somehow get through the month, one day at a time.
It's so special because when you struggle to hold your fast (those days are so hard), you are rewarded for your efforts to continue on.
I do enjoy giving charity throughout the year but I always feel it's a little bit more closer to the heart during Ramadan because, at times, we really feel what it's like to be hungry – and even then we know we have food waiting for us for suhoor (the meal before we fast) and iftar.
I am also really looking forward to sharing my journey with you all at UCEM.
Week 1
How have you found the transition to fasting so far?
It's been an interesting transition for me this year. I say that because, usually, I find the actual lack of food to be the challenging part, but this year I feel like eating is the challenge! In terms of the transition, I do feel like I have enjoyed it so far. The feeling of Ramadan being upon us is a nice feeling and it's a feeling that is always missed when it's over, so I am doing my best to take it all in and enjoy it to the max and back. It's so nice to take the time to plan iftars and plan family time to share meals and hang out.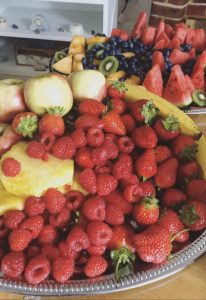 I have included a photo of a fruit platter I prepared for iftar. I really do enjoy hosting iftars and inviting family over. It might sound strange, but it just feels different during Ramadan – it feels so special, especially when you're feeding family good food. I am so grateful that I can share this significant month with my family.
Do you find the first week of Ramadan the hardest (as your body gets used to new meal times and daytime fasting)?
I touched on this in my previous answer but, in all honesty, I feel like getting use to the new meal times is where I have been struggling. When I break my fast, I usually have some water or a herbal tea and a small snack (usually a small piece of fruit). I usually wait a few minutes before eating dinner, but this year I am really struggling to down a whole meal! I feel like my tummy has shrunk so much! In addition to this, I must say it has been interesting to adapt to the new sleeping pattern. Waking up for suhoor is super early and it's getting earlier and by the time your food has gone down in the evening, it's usually quite late.
In the mornings, I find grapes are the best thing to eat before fasting. You might think it would be better to have a big meal but that can feel like it slows you down. One thing I enjoy in Ramadan is taking the time to really listen to and understand my body. I only know grapes work for me because I have taken the time to listen to and understand my body.
I usually find the first day of fasting to be easy but days 2-5 are usually when I struggle. This year has been a busy year and that's helped me keep my mind preoccupied and not thinking about food.
Week 2
Two weeks into Ramadan, how are you finding it?
I can't believe we are two weeks into Ramadan already! I really feel like the month is going by really quickly. So far, I am finding the month very positive. Over this past week, I have taken some time to listen to some Islamic talks and make an extra effort to dedicate time to give thanks and show appreciation for all we are blessed with. I have also taken time to pray for everyone all over the world. I like to pray for peace, love, kindness, happiness and understanding for everyone.
Around this time in the month, I find I am really starting to get used to the fasting and the new routine… although the sleeping part is still a challenge. For myself, it's quite the norm for me to feel hunger or thirst at least once a day but now I feel like I am starting to manage it. The feeling comes and goes and, whenever I feel it, I remind myself how blessed I am because I know at the end of the fast, I can have a range of things to eat, and others in the world do not have that choice. During Ramadan, there are a lot of opportunities to donate to charities so less fortunate people and families can eat during the month. This is something that is really close to my heart, and I really like to give as much and as often as I can.
Do you have any specific techniques to stave off the hunger you experience during fasting? If so, please could you share details.
I remember when I use to fast when I was younger – when iftar was imminent, I remember wanting lots of snacks and treats. Now that I am older and I have a better relationship with my body and internal self, I understand the importance of the food we feed ourselves. You would not want to fill your car up with bad fuel and if you did, you could expect it to not run as well as usual, right? That is kind of how I see our bodies. I mean, don't get me wrong, there are times when I want a treat but, during this month, more than ever, I think it's important to pay attention to what I am feeding myself, when and also how much.
It can be easy to fill ourselves up with fried food, sweet food and the like but, really, what we eat in the evening and morning is quite literally what will fuel us for the next day. So, with all that being said, I personally find it helpful to eat a balanced meal. I like my meals colourful – the more colour on the plate, the healthier it is. I like to be mindful with portion sizes too. If I eat too much, I find it slows me down and makes me sleepy. In addition to this, I try my hardest to always sip water and juices – that way my body retains more.
I find it easier to get through the days, especially the harder ones, when I remember that we are all going through it together. That feeling of unity and togetherness is really strong and empowering.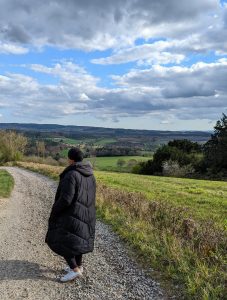 I have also been enjoying keeping myself busy at home. My partner and I have been doing some spring cleaning and, although we take breaks often, we have surprised ourselves with how much we have got done! I have gone on walks and surround myself with nature. I have enjoyed focusing on the sweet songs from the birds and the buzzing from the bees. I feel like when I am on nature walks, because I don't have food or drink to think about, it allows me that little bit more focus to appreciate everything around me. Over the weekend, we went to one of my favourite spots in Surrey for a beautiful view and walk. The sun was shining and the views were absolutely stunning.
I have invited my family over this weekend for iftar and my partner and I also have a BBQ to attend, so I am looking forward to that. At the end of Ramadan, we celebrate Eid and this year, my family and I are doing secret Eid. It's a bit like secret Santa but we will be getting Eid gifts for one another. I am looking forward to that as Eid is always a lot of fun when we all get together. I feel like having these plans gives you something to look forward to. The planning and prep involved keeps you busy and keeps your mind off the hunger you may feel otherwise. Also, spending time with family and good friends is always smiles all round and such a good vibe.
Week 3
With it being Easter weekend, did you get the chance to enjoy a long weekend? If so, what did you get up to?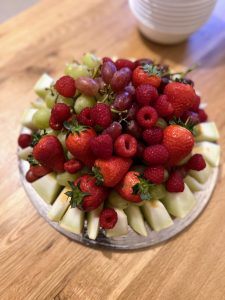 The weather this weekend was amazing! It was nice to have time off and to also be able to enjoy some sunshine. To start the weekend off, I had a family iftar planned. I had my parents, brothers, sisters, niece and nephew come over for some family time and food. For iftar, I assembled a small fruit platter and we ordered an Indian takeaway for dinner. The food was sooo good and it tasted that bit better from a day of fasting. It was nice to start the long weekend off with family time.
The BBQ ended up being postponed which meant my partner and I had a day of exploring. We ended up going to a beautifully relaxing lock and then to a lovely little lake. We spent some time at the lock watching the boats come in and out. We had a nice short walk up to the lake and spent a few minutes there to take it in and appreciate our surroundings. The water was so clear, and it was nice because there was a small part on the walk up where the clear water was trickling down.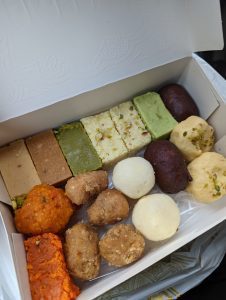 On Sunday, I had a major craving for something sweet, so we went over to East London to pick up a selection of Ambala sweets. Let's just say I was super happy and they tasted super good!
All in all, it was a lovely bank holiday weekend and it's got me so excited for warmer days!
Week 4
How are you feeling about it being the final week of Ramadan?
Firstly, I must say I can't quite believe how quickly this month is coming to an end. Ramadan is such a calm month; the feeling of unity is so prominent. It really has been such a grand month for growth and reflection. It has brought much happiness in simple ways and has been a month where I have truly felt connected and grounded. I always feel flooded with emotions when the month nears the end. I know I will miss Ramadan, and although fasting can be challenging at times, I will miss the united feeling of fasting with all Muslims around the world.
Although it is certainly a time where a lot of things are missed, it is also a time to contemplate on the month and give thanks for being blessed enough to see the entire month through. I personally like to take time to really self-reflect and understand the changes I have implemented this month that I wish to continue. One thing I have made an extra effort with this month is praying and educating myself more regularly about my Islam. I like to think I am honest when it comes to my journey as a Muslim, and I am far from perfect – I in fact do not aspire to be perfect but I aspire to always do my best to be my best in everything. I intend to keep these habits and carry them with me beyond this special month.
As we approach the end of Ramadan, as Muslims, the final 10 nights are very significant to us. This is because on one of these nights the Quran was first revealed – this night is called Laylat Al Qadr (this means Night of Power). During the last 10 days we especially prioritise prayer. I have enjoyed going to different mosques in the evenings to pray – it is a very special experience.
Straight after Ramadan, we have Eid which is exciting and a nice day to look forward to. I usually spend Eid with my family – we exchange gifts, play games, and have fun together. I have enjoyed discussing Eid plans with my family and I look forward to celebrating together. Again, it's a great time to reflect and appreciate all we are blessed with, as well as give thanks and prayers.
I have really enjoyed sharing my Ramadan with you all and I hope I have been able to bring a smile and fresh perspective to the month for you. I hope you all have had a blessed month filled with good times.
Have you become more accustomed to the suhoors? What do you usually eat for this meal?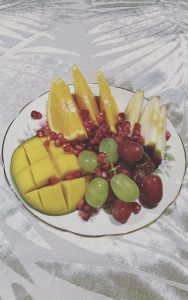 I most definitely feel I have become more accustomed to Suhoors. I know what works for me and although it's super simple, it works, and sometimes it's best to not overcomplicate things. I usually have fruit as I find it gives me energy and keeps me going during the day. I like to sip plenty of water at suhoor too with the hopes that it will carry me through the day.
There have been a few mornings where I have missed suhoor and the fasts on those days have been that little bit more of a challenge but it's all part of the experience.
Post-Ramadan
How was Eid?
This Eid was really lovely. We started the day early with Eid prayers in the morning, followed by heading to a very special mosque in the afternoon.
Shah Jahan Mosque was built in 1889 and is the first purpose-built mosque in the UK and Northern Europe. The building itself is Grade I-listed and is absolutely beautiful. Whilst we were at Eid prayers in the morning and the mosque in the afternoon, we handed out lollies to the children and it was so lovely to see the smiles on their faces. At Shah Jahan Mosque, we met a very lovely family and, after sharing lollies with the children, they invited my family over to share some food. It was totally unexpected but a really nice, memorable way to spend Eid. The family were so kind and generous to open their home to us on this special day.
I have included a photo of myself and my Dad which was taken at Shah Jahan Mosque. It was such a beautiful day and I am so extra grateful to have had some of the most special moments captured. It is always really nice to celebrate Eid and the feeling of unity as all Muslims over the world celebrate is such a special feeling. Again, Eid is a great day for reflection. I like to look over Ramadan and consider the positive habits I had implemented during the month that I intend to keep going forwards. It's also most certainly a time to give thanks and show gratitude.
On Saturday, I will be exchanging my secret Eid gift with the rest of my family which I am excited for. My partner and younger brothers have had a go at guessing who my secret Eid is but, so far, they have not guessed right (to be honest, even if they had, they wouldn't know as I wouldn't tell them).
How did you manage the transition from fasting to not fasting?
The morning of Eid always feels a bit strange because you can start your day with something to eat or drink. Most times on Eid morning I don't quite know what to tuck in to because of the time it has been since having breakfast.
With that being said, I don't find the transition too difficult. I think the strangest thing is realising how little you need to eat to feel content. With the transition it's a good time to consider dietary choices and habits going forwards as it's a great time to implement a healthier diet.
How did this year's Ramadan compare with previous ones?
I feel like every Ramadan is special in its own unique way. For me, this Ramadan stands out from recent previous ones with it being the first Ramadan out of lockdown. This has meant we have been able to go to the mosque and spend time with family and friends. In addition to this, I feel I have really felt the love and unity in Islam. I remember on one of the last 10 nights I went to Shah Jahan Mosque and the recitation of the Quran really touched my heart. It was the first time I have really had tears in my eyes from hearing Arabic recitation and the feeling was too special to put in to words. I have enjoyed the time I have spent at different mosques and I have enjoyed expanding on my knowledge of Islam as well as spending quality time with my family and loved ones.
I have especially really enjoyed journaling and sharing the special month with UCEM and this is something I will always remember. Although it is a way away, I am looking forward to next year's Ramadan and I hope to keep up with the positive improvements I have made InshaAllah (God willing).