Raffles Fulton – 2023 Winners
Posted on: 10 February, 2023
Assistant Development Manager, Countryside Partnerships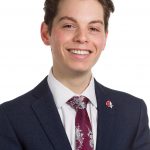 Raffles is an Assistant Development Manager at Countryside, and is studying the corporate real estate pathway for his Masters apprenticeship at UCEM.
He's been interested in the built environment from an early age, helping out his Dad with his small property portfolio during school holidays and weekends. One project in particular caught his attention: a conversion of a shop that included adding an extra floor to the building. It struck him that "actually we're making a difference. We're building affordable housing that people need, and we're improving the area." Raffles secured a two-week work experience placement with the architects that worked on this project.
Raffles attended Nottingham University where he gained a degree in Geography and Maths, which led the way to joining Countryside's graduate scheme. It was there that Raffles decided, with his employer's support, to undertake a Masters apprenticeship at UCEM:
"While I did enjoy university as an undergrad, it was quite important to me that my Masters was actually relevant to what I want to do as a real job, rather than just further study."
His passion lies in sustainable technology and its potential to contribute to a greener way of living without a huge increase in building costs. He points to a work experience placement in Brooklyn as an example, during which he worked on the area's very first precision-made modular building. New methods of construction, he points out, can provide very energy efficient homes with only a small cost uplift – and this could be more than offset by the occupiers' energy savings.
Having been through a traditional degree programme, Raffles is particularly appreciative of the highly practical nature of UCEM's courses:
"The modules are just so directly relevant to what I do on a day-to-day basis. In one of my modules the assignment was to provide advice to a fake client about signing a lease and what do you recommend. And this is what I do for my job – and you can really build on these experiences. It really feels like it's geared towards helping you in your future career."
As a winner of Countryside's Outstanding Trainee award, Raffles isn't new to having his hard work recognised, but he's nonetheless thrilled to have been shortlisted for the Rising Star award: "It's lovely to know that I'm appreciated in my current job … that I'm valued."
2023 Winners >