Q&A with our Chartered Surveyor apprentice, Bayezid Ahmed: Guest blog by our Apprenticeship Outcomes Officer, David Meilhan
Posted on: 7 February, 2020
As part of National Apprenticeship week, I went out to meet Bayezid Ahmed, one of our Chartered Surveyor apprentices on the Project Management pathway. I met Bayezid on site at his latest project in Farringdon, London. 
After being given a health and safety briefing from Bayezid, he then took me on a tour of the six-floor building whilst introducing me to a number of trades and giving detailed explanations about the different phases of work currently being carried out. 
I managed to grab a quick word with Gary Smith, the Operations Manager for Wates London Construction. He told me: "Bayezid's enthusiasm is boundless. Everyone in the management team speaks very highly of him. He likes to get involved in all aspects of the site management which is great to see." Bayezid and I then went to the site office to discuss his experience of the apprenticeship further.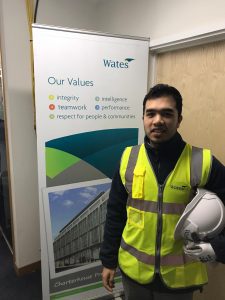 Why did you choose to complete an apprenticeship in the Built Environment?
Mainly because of the opportunities that are available to gain practical experience whilst learning the theory behind my day-to-day role. It was a big incentive for me to start a qualification that already provided employment rather than completing a degree and then having to join the job market. The apprenticeship has given me one foot on a career ladder that can take various pathways in the future and provide me with a vocation that has professional recognition.
What was your previous experience of working in construction?
I had a placement working in a site office at Canary Wharf and this was my introduction to the world of construction. I was shadowing site managers and quantity surveyors, gaining experience and taking advice on how to progress in the industry. After the placement had finished, I then started looking for an apprenticeship that would support my ambitions.
Tell me about the project you're working on.
I'm currently part of Project 2020 being run by Wates which is part newbuild and part refurb. We are completing the shell and core on behalf of the client Anglo American UK Ltd/De Beers. The project started in March 2018 and is due for completion this summer. My main tasks involve on-site management of subcontractors, promoting and implementing health and safety standards on site, managing welfare areas, supporting development of site initiatives including health and safety roadshows, toolbox talks and CPD.
Tell us a bit more about the structure of your apprenticeship.
I'm employed by the Department for Education (DfE) but we have a partnership with AECOM and Wates Construction. This gives me the opportunity to spend my second and third year on secondment and gain valuable experience for the programme's end point assessment where I aim to  become chartered with the RICS. It's been challenging having to adjust to the different environments and methods of working – for example, going from the client side to consultancy and then working for the contractor. But the challenges also present opportunities to gain a vast range of knowledge and skills in the sector and to work under mentors that have a wealth of industry experience.
How have you found the studying with UCEM online?
I can access the modules whenever I need them and I can view webinars multiple times which is handy. Materials are on hand all the time so I can plan study sessions to suit working hours and social events. It's also accessible through multiple devices so I can even use it when I'm on the bus or train.
Do you feel well supported on your apprenticeship?
Whilst on secondment, I'm in regular contact with my line manager at the DfE who is following my progress every step of the way. Here at Wates, I'm working with the one of the Site Managers who has been instrumental to everything I've learned so far. Of course, UCEM provide an Apprenticeship Outcomes Officer to complete regular progress reviews and provide answers to general queries.  They also have a relationship with my line managers, so the cross-collaboration is a great benefit to me.
Thank you to Wates and the Department for Education for arranging this opportunity, and to Bayezid for taking part.