Projects for Good: In focus – Dame Alison Nimmo DBE
Posted on: 3 October, 2019
Our exclusive centenary event for students and alumni was themed around 'Projects for Good'. Tied to our overall centenary theme, The Built Environment of the Future, the event offered a chance for our students and alumni to showcase their Projects for Good – projects designed to promote good sustainability practice at their workplaces.
Projects for Good was also the theme we asked our three special alumni guest speakers to base their presentations on. It could be one or more projects which made a lasting impact on a community or place for the better. Dame Alison Nimmo DBE has made a career out of spearheading Projects for Good since she graduated from our Planning and Development course in 1991.
Here's a snapshot of two of the Projects for Good she ran through during her speech and her reflections on each…
Regeneration of Manchester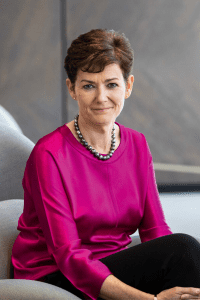 Following her passion for cities, places and regeneration, Alison took on planning roles in Sydney, at Westminster City Council, Drivers Jonas and KPMG before joining Manchester City Council in 1996. Shortly after arriving in Manchester, the city was bombed by the IRA and Alison was heavily involved in the rebuilding effort.
She reflected: "My first real career breakthrough was rebuilding Manchester after the city was bombed in 1996. I remember getting the tram through the area devastated by the bomb and needing to do something to help. I played a central role in helping Manchester turn adversity to opportunity and learnt the power of purpose – getting out of bed every morning to do something you really believe in and not stopping until it's done."
London 2012
Alison then worked on the redevelopment of Sheffield town centre in 2000 before becoming Regeneration Director at the Olympic Delivery Authority as London worked towards hosting the Olympics in 2012.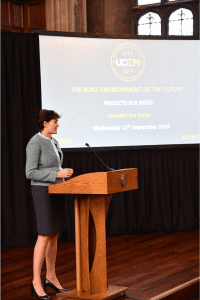 Describing her involvement with the Olympics as her 'second big breakthrough', Alison added: "I joined the bid in 2003 for a few months on a part-time basis to sort some planning issues before becoming Regeneration Director on the project. I spent eight years in all helping to deliver the best Games ever and the legacy of a whole new piece of city in the East End."
The Olympics was a fantastic, unifying event for the UK and the East End of London is now a visitor destination boasting world-class sporting facilities, a vibrant shopping centre and plenty more.
Both projects undoubtedly changed the cities for better and were fantastic examples of what can be achieved for our captivated students and alumni in attendance.
Alison went on to become CEO of The Crown Estate, becoming the first female CEO of the organization in its history. She was awarded a CBE for services to urban regeneration in 2004 and a DBE for public service and services to the Exchequer in 2019.
She will be stepping down as CEO of The Crown Estate at the end of the year. Upon announcing this in July 2018, she was quoted by The Crown Estate as saying: "I've loved my time at The Crown Estate and am proud to have built such a talented leadership team so that I know I will leave the business in very capable hands. But I'm not going anywhere for the next 18 months and I look forward to another very busy and exciting year, after which I hope to continue to pursue my passion for sustainable cities; leading great teams; and working with purpose driven businesses."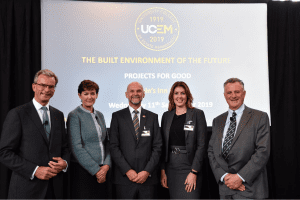 UCEM Principal, Ashley Wheaton commented: "As an institution, we are incredibly proud of Dame Alison and all she has achieved in the Built Environment during her illustrious career so far. She is a perfect example of what can be achieved through hard work, determination and talent after studying with us.
"Dame Alison is a role model for our students and alumni alike, and I was delighted she agreed to share her inspiring story at our special event at Lincoln's Inn, having strengthened her relationship with UCEM over the past few years."
We are sure Alison will continue to make a big difference in the Built Environment and we are proud of her achievements as a UCEM alumna, which include her inauguration as a UCEM Fellow and winning the 2018 UCEM Property Award.