Principal Thoughts – August
Posted on: 23 September, 2016
Welcome to the latest edition of our 'Principal Thoughts' blog series. Each month, UCEM Principal, Ashley Wheaton gives his personal insights into current affairs in the worlds of higher education and the Built Environment, and shares the latest updates from University College of Estate Management.
The results are in
In the world of education, August is a very important month. On the 18th and 25th of the month respectively, A Level and GCSE results were announced to over one million candidates who anxiously awaited their fate after months, and often years, of hard work. I would like to congratulate those who received their results and wish them the best of luck for the future.
This year, a record number of A Level students achieved a place at university, and the demand for higher education remains stronger than ever. As you will know, we were keen to spread the word about the vast array of benefits working in the Built Environment can bring – and how a qualification with UCEM can kick-start your career.
We posted some student testimonials on social media to raise awareness of UCEM – thank you to those of you who shared these with your networks. This all works towards our aim of building a better future for the Built Environment.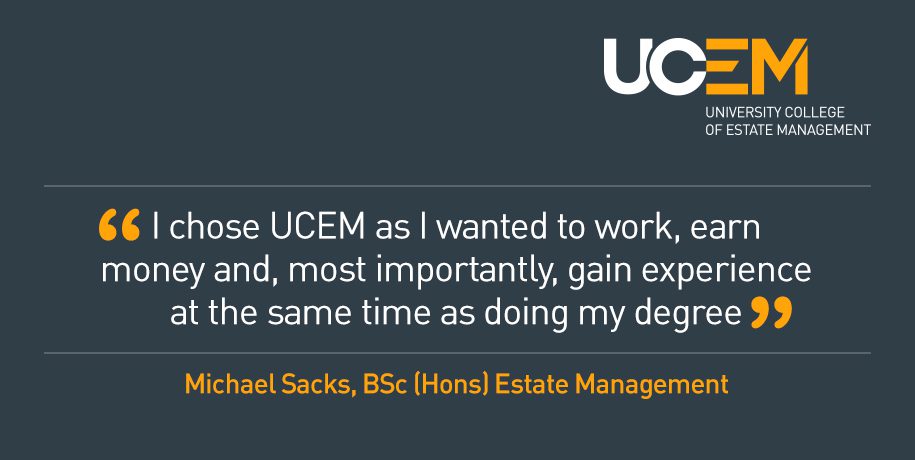 Apprenticeships make headlines
As you may have noticed, the GCSE and A Level results announcements were followed by a flurry of conversations online and in the media regarding what school and college leavers should do next – particularly if they don't want to go to university. Many of these conversations surrounded apprenticeships and it's great to see this valuable educational route being given the recognition and airtime it deserves. Increasing numbers of businesses, including those in the Built Environment, take on apprentices each year and this pattern is only set to continue after the introduction of next year's Apprenticeship Levy.
Apprenticeships are now being considered by a much wider net of candidates than ever before, which is brilliant for expanding and growing diversity within our industry – something that I am passionate about.
UCEM's Head of Online Learning, Lynne Downey recently joined the online discussions and you can read her thoughts on the value of apprenticeships in this article by WeAreTheCity.
As always, please keep in touch with UCEM through our Twitter, Facebook and LinkedIn pages, and make sure you subscribe to our blog for the latest updates.