Principal Thoughts: The apprenticeships agenda a year on (long read)
Posted on: 5 April, 2019
Welcome to the latest edition of Ashley Wheaton's 'Principal Thoughts'. This month, Ashley reviews the progress, or lack of, since writing open letters to five government ministers about the apprenticeships agenda for National Apprenticeship Week 2018 and takes stock of UCEM's apprenticeship progress as highlighted during this year's awareness week.
Wow! What a month March was for us. From the visit of our Royal Patron, The Prince of Wales to the busy application deadline period for new postgraduate students, and our Matrix accreditation to the volunteering of our staff at Launchpad, plus the excellent effort of our team in Launchpad's annual pancake race and the launch of the School of the Built Environment, it has been quite the month! So busy in fact that this blog is for March but its publication has crept into April.
Amidst all the above was the government's annual National Apprenticeship Week at the start of the month.
Last year, I wrote open letters to government ministers during National Apprenticeship Week in a bid to highlight the issues stifling the apprenticeship agenda from achieving its potential and recommend some actions which could be taken to improve matters.
A year on, I was keen to evaluate what, if anything, has changed, albeit realising that Brexit has diverted much-needed attention away from this important agenda.
Letter analysis
Anne Milton
My first letter was to Anne Milton, the Minister of State for Apprenticeships and Skills. I stated with frustration that just 29 of the 87 standards proposed for the construction industry had been approved. A year on and the picture has, admittedly, improved with 68 approved out of the 105 proposed.
Clearly, there has been progress but it still isn't good enough. Some of the most significant standards which employers are hoping UCEM will offer are still being held up and I hope the deficit can be made up at a quicker rate than present. I emphasised the effect the hold-up in standards was having, saying: 'many employers involved in Trailblazer groups have become so frustrated by the lack of progress in obtaining approval for new programmes that that they are increasingly disengaged and reluctant to commit more time and effort to this activity'. Several standards are difficult to get over the line with Building Control – a hugely important apprenticeship post-Grenfell and the Hackitt report – still stuck in the system a year down the line and the Construction Site Management and Construction Site Supervisor standards no closer to approval. The Institute for Apprenticeships (IFA) has exacerbated employer frustration with its refusal to accept industry standards into apprenticeship end-point assessments.
I lamented the 'inexplicably slow' approval process after apprenticeship standards have been agreed and this is still very much the case.
I stated that the number of apprenticeship starts had fallen seven months in a row; however, the latest figures are more encouraging with there now being an increase in starts for the first time since the levy was introduced in April 2017 which is a positive. It's not quite the number experienced a few years ago but hopefully there will be an upward trend from now on.
In concluding my letter, I offered three recommended actions and there has been no movement on all three which, namely, were to:
– Take immediate steps to deliver on the commitment to place employers in control of apprenticeships, restoring their faith that they can use the system to get the training they need;
– Translate the aspiration to accelerate approval of apprenticeship standards into real action, cutting out any processes with no added value; and
– Remove unnecessary barriers to take-up, such as the increasing, unwelcome bureaucracy around the requirement to evidence and report on the 20% of apprentices' time spent on off-the-job training.
On the last point, the Education and Skills Funding Agency (ESFA) made matters worse after publishing confusing guidance about calculating the 20% figure – something the Agency apologised for afterwards.
Greg Clark
My second letter was addressed to the Secretary of State for Business, Energy and Industrial Strategy (BEIS), Greg Clark. The upshot of my message to Mr Clark was that the inadequacies within the apprenticeship system, as experienced by firms in the construction industry, could scupper the government's ambitious Industrial Strategy.
I recommended direct intervention in the case of higher and degree level construction standards after no apprenticeships had been approved for delivery after three-and-a-half years. There has been some movement with four out of the 10 standards delivered but this isn't good enough. All the standards must be approved to enable the construction industry to fully utilise apprenticeships and develop skills so desperately needed for the UK's major infrastructure projects.
Damian Hinds
Third in my sights was the Secretary of State for Education, Damian Hinds. The thrust of my letter to Mr Hinds was that the funding process is fundamentally flawed with funding caps often set well below the amount needed by providers to deliver them. A year on and this hasn't changed.
I recommended greater consultation to ensure the supply-side is able to deliver the standard for the fee level proposed and, while consultation has taken place, employers aren't being listened to. To make matters worse, the system for delivering funding caps is deliberately opaque because the IFA is concerned education providers could 'game the system'.
I also suggested Damian align the funding cap as a minimum set at the costs of non-apprenticeship programmes and reduce the retention percentage providers are judged by down from 20% to a value which more accurately reflects the cost of the end-point assessment. I am still waiting for news of any progress on these…
Sam Gyimah
Those of you who follow the news will be aware that Sam is no longer in the post as Minister for Higher Education. Ironically, this letter was probably the most positive of the lot as the sounds which Mr Gyimah was making were encouraging and it's regrettable that the small amount of momentum which appeared to be growing stalled after his resignation.
My points now relate to Chris Skidmore and the main one was that it was an onerous process for SMEs to hire apprentices. My concerns about the participation of SMEs in the apprenticeship agenda remain. The financial contribution of SMEs has gone down to 5% which is a step in the right direction.
All four of the recommendations I made appear to have not gone anywhere. These were, and still are to:
– Remove artificial barriers that prevent providers from working with non-levy paying employers;
– Reduce the compliance burden on providers wishing to use subcontracting arrangements, where these improve outcomes for apprentices;
– Rationalise the procurement system whereby providers are required to spend valuable resources on repeated, unnecessary bidding processes; and
– Stop allowing government agencies to take money out of the system for activities that provide no added value to the apprentice.
Philip Hammond
My final letter was addressed to Philip Hammond – the Chancellor of the Exchequer. I asked him to enable a fully functioning apprenticeship model as a key part of developing the skills which the Industrial Strategy requires and engage with education providers who are committed to delivering apprenticeships to understand the challenges which are preventing the agenda from being more successful than it was. Both these requests have so far fallen on deaf ears.
Analysis conclusions
Twelve months on from highlighting some of the key barriers which were stopping apprenticeships, most recommendations remain unexplored and unanswered. There is still a vast amount which should be done to ensure apprenticeships make a greater contribution to the country and work as they were intended to. Some inroads have been made to improve apprenticeships but those wheels simply have to move faster to achieve the desired outcomes.
The wider picture
For me, there are three key issues when assessing the apprenticeships agenda currently. For one thing, there are still big problems with how apprenticeships are being managed and the government could be doing more to approve standards and encourage more employers and providers to invest in them. This must be acknowledged and the recommendations I made a year ago still hold true. UCEM, however, is just one voice in this debate and while the consultations are taking place, both providers and employers must be listened to and lessons learned and acted upon to stop us reaching Groundhog Day year upon year when reflecting on the state of play as part of National Apprenticeship Week.
The second big issue specifically relates to the Building Control standard. I can understand other standards perhaps being shunted down the list of priorities but surely the one subject directly related to equipping people with the skills to avoid another Grenfell should not be in the queue a year after being proposed! Brexit has understandably taken newspaper inches away from Grenfell but the scar of the disaster will be felt for decades and inaction on this standard is inexcusable. UCEM wants to offer the Building Control apprenticeship and take on a key role in training workers to safeguard buildings. The government professed it would do everything to change the complacency and ineptitude at the heart of Grenfell; we've had the words, now is the time for action.
Finally, there is the misnomer that the apprenticeships agenda is a waste of money. This needs rectifying. Apprenticeships as an alternative to traditional degrees save money from the public purse. Student debt is spiralling and is now on the government's balance sheet whereas apprenticeships are part-funded by employers through the levy, apprentices give back through the tax system and the apprenticeships are vocational unlike some degree subjects which don't directly funnel students into a particular line of work.
UCEM's role
I can't dwell on apprenticeships without reflecting on UCEM's role as the largest provider of surveying degree apprenticeships. We remain fully committed to making a success of apprenticeships and our activity during National Apprenticeship Week re-emphasised the importance of what we are doing in this area.
We launched a pledge scheme (using a pledge-ometer to keep our audiences on social media informed of progress), asking employers to commit to a number of apprentice hires they will take on to study with us this year. We aimed to gain 100 pledges and managed to beat our target (just!) with 101 apprentices pledged in total by CBRE, Colliers, Currie & Brown, DSB Construction Consultants, ISG, Lambert Smith Hampton, RG Carter, Savills, SNC-Lavalin and Wokingham Borough Council.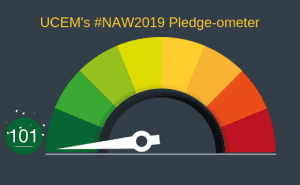 The graphic which announced we'd reached our pledge target at the end of National Apprenticeship Week
We released a blog introducing our Apprenticeship Outcomes Officers (AOOs), detailing the unique role they perform with our apprentices and employers. Four AOOs went on the road to shadow some of our apprentices to deepen their understanding of the work our apprentices do alongside their studies and they wrote about their experiences with Savills, Lambert Smith Hampton, Faithful+Gould and Malcolm Hollis, respectively.
Our Director of Research, Innovation and Partnerships, Aled Williams outlined his plans for a Task and Finish Group to improve the use of apprenticeships in coordination with the construction industry.
I think you would say that the theme of UCEM's National Apprenticeship Week was collaboration and this activity highlighted the importance of the relationships we have with employers and how vital that is to foster a productive apprentice pipeline.
In addition, our Events and Communications Manager, Hannah Peck attended one of our apprenticeship workshops and wrote about the experience and we published a blog by one of our apprentices which coincided with University Mental Health Day.
This one week of huge activity across the institution and more widely quite rightly highlighted the positives of apprenticeships and UCEM's contribution to the agenda.
With more collaboration with government, the outcomes could be so much greater and I hope that I'm not reflecting on another year of political inaction in 12 months' time.
At UCEM, we are committed to contributing to a better Built Environment sector through excellence in online education. We deliver approved apprenticeship programmes, as well as undergraduate and postgraduate degrees. For more information take a look at our Study With UCEM page.
To keep up-to-date with the latest UCEM news and blogs, as well as more general updates from the Built Environment, make sure you're following us on Twitter, Facebook, Instagram and LinkedIn.