Principal Thoughts – September
Posted on: 21 October, 2016
Welcome to the latest edition of our 'Principal Thoughts' blog series, which wraps up the month of September. As always, UCEM Principal, Ashley Wheaton gives his personal insights into current affairs in the worlds of higher education and the Built Environment, as well as sharing any key updates from University College of Estate Management.  
Our new home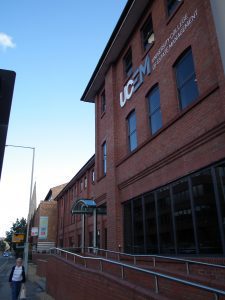 As you may know, on the 8th September we officially opened our new office – Horizons, in central Reading. We said goodbye to the University of Reading's Whitenights campus where we have spent the past 44 years, and took the final step on our road to independence. I'm delighted to have made this move and we're all settling in very nicely. Our next set of open mornings will be hosted at Horizons, so prospective students will have the chance to come along and see the place for themselves!
You can read more on our new premises in our dedicated blog post – or in some of our recent media coverage, such as University Business.
Let's talk sustainability
If you know we've relocated you'll also know that our new office received a BREEAM 'Excellent' rating, which recognises our efforts to be completely sustainable. Now more than ever, sustainability is high on the global agenda – and it's a priority of mine to make sure everything we teach is in line with the latest research and strategy in sustainable practice.
Increasing numbers of high-profile companies are speaking out about our collective responsibility to deploy sustainable initiatives, including John Lewis. At UCEM we recognise our unique position in being highly influential in the education of the industry professionals who design, develop and manage our Built Environment – and you'll continue to see updates on our sustainability efforts as we move into 2017. 
Blended learning recognition
On the 7 September, the shortlist for the 2016 Learning Technologies awards – formerly the eLearning Awards – was released. I was absolutely delighted to learn that UCEM has been shortlisted for Best Blended Learning Project – Public and Not-Profit Sector, with our Level 3 Surveying Technician Apprenticeship. Now we just have to keep our fingers crossed for the awards ceremony, which will be hosted on the 30 November!
Blended learning is an increasingly popular educational technique that combines both face-to-face training and online activity. Lynne Downey, UCEM's Head of Online Learning, recently shared her insights into blended learning in an article featured in Education Technology – which you can read here.
Don't forget, you can find us on Twitter, Facebook and LinkedIn, so please keep in touch, and stay tuned to our blog for the next edition of Principal Thoughts.