Principal Thoughts – March
Posted on: 30 March, 2016
Welcome to the latest post from our 'Principal Thoughts' blog series, in which UCEM Principal Ashley Wheaton shares the latest news from University College of Estate Management, and discusses this month's industry news from the Built Environment. 
Welcome, new students!
March has been yet another jam-packed month for both UCEM and the wider industry, with our key priority for the first part of the month being our spring student recruitment period. As part of this, we've been attending UCAS events around the country speaking to many prospective students about what UCEM has to offer, and will continue this throughout the summer. As the final spring application deadline passed on the 16th March, we were delighted to register a record number of new students who will be welcomed to their programmes from next month onwards.
Apprenticeships under the spotlight
The third week of March was officially National Apprenticeship Week (NAW). Co-ordinated by the National Apprenticeship Service, NAW is designed to celebrate apprenticeships and the benefits they offer. The week saw a number of national events and gatherings, and the UK government also announced an update to the Apprenticeship Levy, which will be introduced from April next year.
One of the key events during NAW was the FE Week Annual Apprenticeship Conference and Exhibition (AAC), which our Product Development Manager – Apprenticeships, John Pratt, attended for three days. John came back with a breadth of knowledge from the event, which he has shared within our two-part NAW wrap up blog series here, alongside a full wrap up of NAW.
The highlight of NAW this year for UCEM was our news announcement about our new Trailblazer

Apprenticeship Programmes, in collaboration with Chartered Surveyors Training Trust. To find out more about these programmes, click here. You can also read about some of our apprentices' experiences first-hand in two student case studies recently uploaded to our blog.
MIPIM and more
The Built Environment industry also hosted MIPIM this month. Taking place in Cannes between 15th – 18th March, the annual gathering for international property professionals saw 21,400 attendees this year. One of these was our very own Martin Cawley, and you can read more about his experience in our dedicated blog post.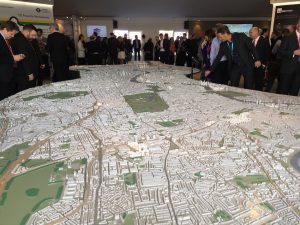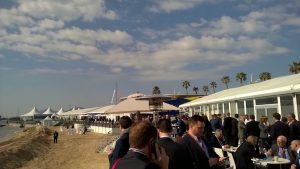 Images: MIPIM 2016 – a scale model of London; the beachside London pavilion.
At UCEM we value the importance of attending key industry events such as MIPIM, to ensure we're at the forefront of trends and developments within the Built Environment. Stay tuned to our news and events page to keep up to date with our experiences and insights, and make sure to follow us on Twitter, Facebook and LinkedIn.