Principal Thoughts: Being kind to yourself and to others
Posted on: 8 July, 2020
Welcome to the latest edition of Ashley Wheaton's 'Principal Thoughts'. This month, Ashley looks back at Mental Health Awareness Week and shares his reflections on an initiative which can be taken forward in our daily lives.
How often do you take the time to reflect on how you treat yourself and others? I'll admit that the busy pace of life tends to be incompatible with allowing for regular moments of self-reflection; however, the events of the past few months have changed that.
With not having to rush to get to places and spending a lot more time at home, this 'pause' on life as we know it has provided those of us fortunate enough to still have our health in tact the opportunity to think about things a great deal more.
At UCEM, we are lucky that our supported online education delivery mode has enabled us to support our students throughout the pandemic. The decision made when I first joined as Principal in 2013 to pursue academic delivery wholly online was clearly the right one, futureproofing the institution; although, the current situation or something similar was never part of those forecasts.
We have proven to be a resilient organisation under the circumstances but we have not been immune to the effects of COVID-19, tightening the purse strings and making some difficult decisions to ensure our operation remains viable. The wider picture is far more stark.
Around 9 million workers in the UK have been put on furlough, more than 40,000 people have lost their lives on these shores and worldwide, we are looking at nearly 500,000 victims of the pandemic, with cases still rising. All of us will know of someone who has died, contracted the virus or is battling for their livelihood.
With more time for reflection set against a dystopian backdrop, maintaining good mental health has never been so important.
Mental Health Awareness Week
Mental Health Awareness Week, organised by the Mental Health Foundation, took place in the middle of May and quite rightly, we devoted a lot of time to it.
The theme for the initiative was 'Kindness' and we actively got involved, with activities supporting the awareness week for both staff and students, promotion on social media and useful resources shared to help anyone seeking dedicated support.
We declared Monday 'Brew Monday' with staff invited to catch up for a social call over a hot drink, recognising the need to talk to each other and battle the isolation some may be feeling at this time. We asked our followers on social media to get involved too. We also published a video introduction to our Mental Health First Aiders (MHFAs), signposting our students to the support the team provides as and when required.

Tuesday saw us ask staff and our social media followers: 'who's keeping you company?'. Whether it was family, housemates, pets or even plants, this gave an opportunity to thank those who have kept you company during lockdown, earning the moniker lockdown legend! It was wonderful to see so many colleagues get involved with photos of pets winning the day, a selection of which were shared on our social channels for something a little bit different to our normal output!
Our Mental Health First Aiders were on camera again on Wednesday, this time providing tips on how to look after your own mental health and support others experiencing mental health problems. We also asked for tips from our followers on social media for ways to improve your mental health.
The focus turned to acts of kindness on Thursday with our social media followers being asked to share their most recent act of kindness. Recognising your own good deeds and achievements is important for being kind to yourself which improves your mental health. Four of our Trustees shared their thoughts on kindness in short video updates.
The week ended with 'Feedback Friday' where we asked for any feedback on how we can better support our students with their mental health. Students and staff were also asked to fill in a wellbeing pledge containing vows to take forward in looking after our mental health.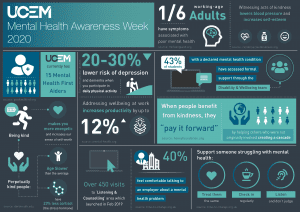 Throughout the week, useful statistics from our Mental Health Awareness Week infographic (also shown above), raising awareness, providing advice and demonstrating how our teams at UCEM can help people were shared on our social channels.
With everything going on, it was important to make a big effort to raise awareness of mental health and what can be done to support it. I owe a great deal of gratitude to the Mental Health First Aiders for all they did to highlight the support they can provide and preparing the week's activities for staff and students alike.
Next steps
Inspired by their efforts, we carried through with the message by giving staff half a day's extra annual leave to take in the three weeks after Mental Health Awareness Week to devote towards giving them a break to recharge the batteries.
It is an ongoing message when it comes to mental health and one I intend to keep repeating when leading all-staff meetings: be kind to yourself and be kind to others. This message applies to everyone and is so simple but it's important to remind ourselves about it.
We never know what people are going through but we can help by at the very least by being kind and treating ourselves and others with respect.
At UCEM, we are committed to contributing to a better Built Environment sector through excellence in online education. We deliver approved apprenticeship programmes, as well as undergraduate and postgraduate degrees. For more information take a look at our Study With UCEM page.
To keep up-to-date with the latest UCEM news and blogs, as well as more general updates from the Built Environment, make sure you're following us on Twitter, Facebook, Instagram, YouTube and LinkedIn.