Principal Thoughts: A positive Ofsted inspection – now let's celebrate!
Posted on: 17 January, 2022
Welcome to the latest edition of Ashley Wheaton's 'Principal Thoughts'. This month, Ashley reflects on UCEM's successful Ofsted inspection and the hard work which went into it, and invites stakeholders to get involved in next month's UCEM Built Environment Apprenticeship Awards.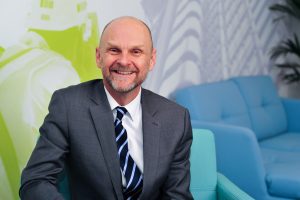 Frequently, UCEM undertakes vast documentation exercises to pursue its own ambitions or to comply with regulatory bodies which have a huge bearing on the future of the institution.
These exercises necessarily involve many stakeholders across the institution and are a cause of much stress and burden for those involved. Where we can control matters, therefore, we make sure not to have too many taking place at the same time.
Unfortunately, when it comes to external regulation, it's out of our hands, and no matter what else is on the agenda, we must produce what is required by the body/bodies. This was perfectly illustrated at the end of last year when we were simultaneously providing evidence and reports to four separate agencies.
'Gargantuan staff effort'
This required a gargantuan effort from staff fatigued at the end of a second, stop-start year of uncertainty who have worked incredibly hard throughout the pandemic. Put simply, this onslaught of mandatory reporting was unfair and overwhelming – a point I made in an article for the Higher Education Policy Institute (HEPI) in which I called for greater coordination from those bodies appointed to regulate HE institutions to avoid such situations occurring in future.
Nevertheless, and unsurprisingly, our colleagues rose to the challenge and, at senior level, we made the decision to oversee a hard closure of UCEM over the festive break to ensure everyone got some rest before the new year. Usually, UCEM has a soft closure during these holidays with a select group of staff working over the break so students can get in touch during this time.
Ofsted report
The hard work isn't for nothing, however, and we received the first outcome of the heavy regulation period this week when the Office for Standards in Education, Children's Services and Skills (Ofsted) published its inspection report, rating our apprenticeships provision at levels 3, 6 and 7 as 'Good'.
This was a fantastic outcome and the perfect way to kick off the new year. Our apprenticeships teams work so hard to ensure our employer partners and apprentices have a positive experience which can make a significant impact in the workplace, so it was incredibly gratifying to read Ofsted's judgement.
It's the first time we have been inspected by Ofsted, with the initial inspection date in March 2020 being postponed due to the UK's COVID-19 lockdown. We were ready then and, in the many intervening months, ensured we would be ready when the call came again, knowing that Ofsted provide 48 hours' notice of the inspection. Staff never took their eyes off the ball and demonstrated impressive focus and commitment to enable us to shine when the inspectors visited our office in Reading.
It was a pleasure reading through the report, with so many positive observations recorded. It made me even more proud of all those involved in the provision of our apprenticeship programmes and I do hope that those staff take a moment to read it too and reflect on their role in this success.
As ever, the report offered some recommendations for improvement and I have no doubt that we will work on the points raised to see an improvement in those areas by the time we are inspected for a second time.
'A notable milestone in the evolution of our apprenticeships'
The report is a notable milestone in the evolution of our apprenticeships seven years since we first offered them.
UCEM Built Environment Apprenticeship Awards
The timing of it also comes a little over a fortnight away from National Apprenticeship Week, where, for the first time, we will be hosting the UCEM Built Environment Apprenticeship Awards.
There has probably never been a better time to take stock of our work on apprenticeships and celebrate those who make them what they are today.
It would be pointless to offer apprenticeships without the support of built environment employers and our joint commitment to bringing new talent into the sector and upskilling existing employees makes the programmes a success. We invite nominations for 'employer representative of the year' to recognise an outstanding individual who has provided exceptional support to an apprentice/s.
The work of our colleagues is acknowledged with the 'UCEM staff member of the year' which is likely to be a hotly contested battle!
Finally, and most importantly, there is the 'apprentice of the year' category which is for any current UCEM apprentice who has, for example, shown academic excellence in their degree, contributed to a significant project at work or made an outstanding contribution during their apprenticeship. As with all our students, UCEM would not be doing its job without facilitating the success of our apprentices and, whilst we do everything we can to help all succeed, it ultimately comes down to the apprentice and their desire to complete the programme. This often is achieved in unison with excellent progress in the workplace and this category provides an opportunity for colleagues to highlight this.
I can't think of a better way to celebrate the successful Ofsted visit and the hard work of all those who brought this about and I invite every one of our employer partners, apprentices and staff members to get nominating those who deserve this recognition!
At UCEM, we are committed to contributing to a better built environment sector through excellence in online education. We deliver approved apprenticeship programmes, as well as undergraduate and postgraduate degrees. For more information take a look at the 'Programmes' section of our web menu.
To keep up-to-date with the latest UCEM news and blogs, as well as more general updates from the built environment, make sure you're following us on Twitter, Facebook, Instagram, YouTube and LinkedIn.