Online learning important component of levelling up in HE: Comment by UCEM Principal, Ashley Wheaton
Posted on: 8 October, 2021
Levelling up in higher education (HE) needn't be solely addressed through bricks and mortar. I read with interest Mark Leach's thought-provoking article for WonkHE on HE providers expanding geographically to better reach parts of the UK which have been left behind, economically speaking.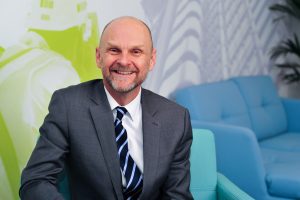 Mark's argument – suggesting the creation of universities in UK towns and cities not well served by local HE institutions – was sound and highlighted the gap between government rhetoric on serving those communities and HE provision in those areas. Whilst the extent of how far government should proceed with building HE facilities in areas lacking such provision is up for debate, the argument in favour of doing this is a good one and goes some way to demonstrating the notion of 'levelling up'.
The article, however, was lacking in addressing the impact of online providers, such as UCEM, on the debate. Our programmes can be studied by anyone with an internet connection across the UK and the majority of our students are part-time, meaning that the financial burden commonly associated with obtaining a degree is significantly eased. Overwhelmingly, the most common word used in praise about our offer is 'flexibility' as studying with us enables you to work around your employment and personal commitments, with options to halt your studies at any point, and you can move around with work without interrupting your studies with us.
Of course, we are not the only provider which offers and excels in this mode of study, and online institutions can be held up as an example of reaching people in more deprived areas of the UK.
I recently contributed towards public policy thinktank, ResPublica's Lifelong Education Commission report on lifelong learning (entitled 'The Pathway to Lifelong Learning: Reforming the UK's Skills System') where I made a similar point about existing solutions to the issue. The government wants more vocational education in addition to seeking to level up the country. UCEM is an online provider which offers degrees for those already in, or entering, the construction and real estate industries. We already provide what the government wants.
As Principal of UCEM, I have often felt that we have been left behind in HE debate as we do not easily fit into a box of what many people's preconceived notions of a university is. The government referred to institutions like ourselves as alternative providers until recently and it has been an uphill battle to be included in league tables of HE providers, perhaps due to our niche offering.
The pandemic prompted many HE providers to evaluate or even introduce online learning to cater for their students. We were able to carry on as before and offered to partner up with institutions to host their learning materials on our virtual learning environment (VLE) as an interim measure.
Online learning, during this time, took a lot of flak with students unhappy with the embryonic efforts created by institutions forced to find solutions with lecture halls remaining empty at the end of the last academic year. Frustratingly, this influenced discourse on online education, tarnishing institutions such as ours which had spent many years curating and refining its provision.
The pandemic forced traditional universities to consider their online offer and whilst, understandably, their initial efforts may have not met student expectations, more money is being spent in this area to enhance their offer, meaning there are more high-quality options for those who wish to study online.
More than ever, online education providers need to be part of the debate and thinking in finding solutions across HE.
I fully support the idea to create more physical HE provision in parts of the UK lacking such hubs with populaces containing lower percentages of people accessing HE which could be increased through such a move. This argument, however, should seen through the lens of adding to the HE provision already available to those communities through the growing number of online education institutions which already exist and, furthermore, provide a cheaper route to gaining degrees due to their accessibility.