Nightline Awareness Week 2018: Guest blog by London Nightline Coordinator, Grace Handley
Posted on: 20 November, 2018
Nightline – a confidential listening, support and practical information service for students – is available to all UCEM students, wherever they are in the world, on our Virtual Learning Environment (VLE). To mark this year's Nightline Awareness Week, London Nightline Coordinator, Grace Handley, writes a guest blog for our website to highlight the benefits of the service and how it can support our students should they need it.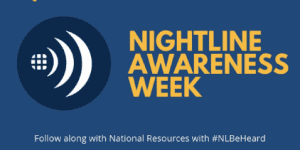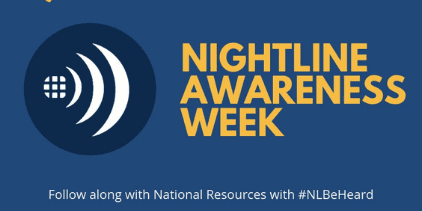 Studying at university has historically been portrayed as the time of a student's life, where they get to meet new friends, discover their passions and learn a lot of things both academically and about themselves. More recently, we've seen that being a student isn't always a walk in the park and in fact, as students we face many challenges that we might not have come across before; living with new people or by ourselves, balancing studying alongside a social life and a job, and keeping in touch with friends old and new are just some of the topics that students talk to Nightline about.
Nightline is an anonymous and confidential listening service run by students for students. We offer a safe space for students to discuss whatever is on their mind every night of term between 6pm and 8am, when university support services are typically closed, and friends and family are asleep. We work directly with UCEM to make sure that you always have someone you can talk to; whether it be about academic stress, mental health, family problems, we're here to listen. We were set up nearly 50 years ago by a group of students who wanted to support their peers, and that mission is still at the heart of everything we do now.
Talking about something that's on your mind for the first time can be scary or nerve-wracking, which is one of the reasons we operate anonymously. For some people it is easier to talk with someone they've never met rather than a close friend, especially if they're still exploring their own thoughts. The students that volunteer on our lines each have over 20 hours of active listening and empathy training and will never judge a caller or tell them what to do. We're here to listen and help you explore your thoughts, confidentially and non-judgementally.
We also offer a range of service formats so that you can contact us however works best for you. Since we first opened in 1971, we have offered a phone service where you can talk with another student directly. This is still one of our most popular formats, as it allows you to talk in depth about a topic, but in recent years it has been joined by instant messaging, which we run via our website. Sometimes it is easier or more comfortable to write things down; this is particularly useful if you're worried about people overhearing you, or you're just not ready to say something out loud. For information on our other email and Skype services, visit our website.
This week is our annual Nightline Awareness Week, and the theme is 'Be Heard'. We'll be promoting active listening skills across our social media, as well as running workshops across the 60 universities we work with. It can be hard to know how to support a friend in need, but we hope with some of the tools we'll be releasing over the week, you'll feel a bit more confident. If you would like to talk with one of our volunteers, please get in touch. We're always here to listen.
To get involved with Nightline Awareness Week, follow us @LondonNightline on Instagram, Facebook and Twitter. To talk to London Nightline, call 020 7631 0101 or visit nightline.org.uk.