National Apprenticeship Week Case Study: Yehya Hawila, Assistant Quantity Surveyor at Costain
Posted on: 5 March, 2018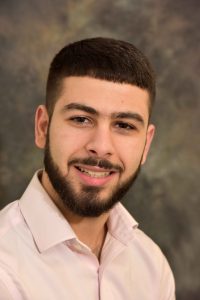 We last spoke to Yehya during National Apprenticeship Week 2017 so we thought it would be nice to catch up with him again to see what he'd been up to during his last year as an apprentice working for Costain and studying UCEM's Chartered Surveying Degree Apprenticeship – Quantity Surveying pathway.
"I've been working at Costain for a year and 7 months now. I spend the majority of my time working on the biggest infrastructure project in Europe – Crossrail. Within my role, I manage and administrate eleven Subcontractors at the Paddington station. Nine are slightly smaller (but no less important) and two are carrying out the most critical works within Crossrail Paddington: the glass canopy and the vent shafts.
The glass canopy is an impressive feature that holds 220 bespoke glass panels, 25 metres off the ground and the vent provide ventilation to the station and tunnel.
Managing these projects has meant that I have taken on a large amount of responsibility in a fairly short amount of time. I am the go to person for a lot of our sub-contractors and it's my responsibility to ensure that I go on site to check that the work has been done to an acceptable standard, I then need to check that the sub-contractors are being paid the right amount at the right time. My negotiation skills have also significantly improved this year. There was one time that we had a payment dispute with a sub-contractor. It had been going on for a while before I stepped in and did an assessment of the work. By doing this assessment and negotiating with our sub-contractor, I managed to save a significant amount of money for Costain which my manager was very pleased about.
I am the only Costain apprentice on the Crossrail Paddington project which is great. I don't get treated any differently to my other colleagues and I feel that I'm working way beyond my job title. I recently won the 'Costain Skanska Joint Venture – Contribution to Quality award' for closing an NCR (Non-Conformance Report) which I am very proud of as it's difficult to achieve.
The main thing that I enjoy about my job is feeling like I'm helping people out. I really enjoy working with other people, especially my sub-contractors. I like to know that their work is getting done and that they are being treated fairly and getting paid. One activity I've started running is a Costain football club. We have met every Tuesday since August 2016 and gather senior managers, apprentices, colleagues and some of our sub-contractors together to play 6-aside. It's such a great way to get people, who are sometimes shy in the office, involved and to build good team relationships. I love running it.
Doing a full-time job and studying at the same time does requires sacrifices. You do have to go into an apprenticeship with your eyes wide open and there are times when I do need to choose to study over seeing my friends, but it's like that at a traditional university too. It's been amazing studying with UCEM. I love the Virtual Learning Environment (VLE) as you are clearly signposted and guided through each of the learning weeks. I feel that I get given a lot of direction so never sit down and don't know what to do next. Every Friday in my office I go through my week on the VLE, ticking off my learning activities as I complete them. I also attend face-to-face workshops every 3 months. They're really good because they are set up to relate to a specific module or exam we have coming up. When I had my measurements module assignment the tutors (think it was Amanda) taught us tips on how to complete it.
Sometimes when you are learning online you can feel on your own but the workshops refresh you every few months, so you feel like you're really part of something. I think it's really healthy for us all to come together and it's a nice break away from the desk. I've met a lot of other apprentices in these workshops. Normally we're assigned to a different group each workshop meaning that we get to know each other well. It helps to know that you're not alone.
The thing that I have enjoyed most this year has been the additional activities that I've been able to get involved in, with the support of Costain. I am the nominated fire marshal and first aider for the Paddington office. I take these roles very seriously and do a fire inspection every Friday to ensure that we are working in a safe environment.
I'm also the charity champion for RedR UK, a charity that provides training and technical support to NGOs, aid workers and communities responding to natural and man-made disasters all over the world. By getting colleagues involved we've managed to raise over £4,000 for this charity through running a half marathon and running a sponsored football tournament. Through this connection I also got to meet HRH The Princess Royal (President of RedR UK) and tell her about the work I was doing with Crossrail.
Overall, this year has been great and I'm looking forward to the next one. How many people can say that by the age of 22 they are going to be Chartered and have already worked in the industry they love for four years?"
You can read our 2017 blog with Yehya here. If you are interested in finding out more about our apprenticeship programmes then please visit our dedicated apprenticeship webpage here.