National Apprenticeship Week 2019: Our Lead AOO, Debi Gaskin-Palmer shadows our Lambert Smith Hampton apprentices, Alex Clifton and Jack Deakin in Lincoln
Posted on: 7 March, 2019
To celebrate National Apprenticeship Week, we are sending out four of our Apprenticeship Outcomes Officers (AOOs) to shadow several apprentices throughout the week.
The shadowing opportunities will provide our AOOs with a different perspective of the challenges and workplace experiences our apprentices face alongside their studies.
On Tuesday, not only did we have Bethan Watts visiting Savills but our Level 6 Lead AOO, Debi Gaskin-Palmer visited Lambert Smith Hampton in Lincoln and shadowed two apprentices.
Debi spent the morning with our BSc Real Estate Management apprentice, Alex Clifton before spending the afternoon with our Surveying Technician Diploma apprentice, Jack Deakin.
Here's her summary of the day…
       Alex Clifton                                                     Jack Deakin
The two apprentices work in different teams at Lambert Smith Hampton (LSH). Alex works within the Lease Advisory department and is involved with carrying out lease renewals, rent reviews and rental valuation reports on commercial property within Lincolnshire and the surrounding areas.
Alex acts on behalf of the landlords and tenants in connection with both rent reviews and lease renewals on shopping centres, industrial premises, high street retail, offices and medical centres. Part of Alex's job role within the Lease Advisory department is to collate evidence to use in reporting back to her client the position of the current market. Alex explained to me the different factors that she takes in to consideration when negotiating rental values, as well as showing me how she calculates the rent.
During my visit, I accompanied Alex to The Forum Shopping Centre in Lincoln where Alex showed me the wide variety of different tenants in occupation.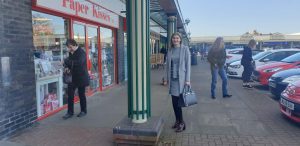 Later on in the day I accompanied Alex on another visit to some industrial units and was very impressed with how professionally she dealt with what could have been a sensitive situation – a lease renewal hadn't been signed because the tenant was unsure of the process, but Alex quickly provided a solution. We left with the signed document and the tenant was pleased with the service.
On returning to the office, Alex introduced me to the different teams she works with. I sat in on a meeting with Alex, her manager and their colleague from the management department, where they were discussing future lease events of a client's commercial portfolio.
After the meeting, Alex and her manager, Marie Gutteridge went through their notes and she they decided on the follow-up actions. She is well supported by Marie [a Director at the firm] who is very pleased with her progress.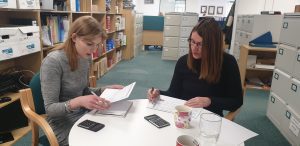 Alex is only 21 years old and she has taken on so much. Marie said that Alex is quite exceptional in terms of her knowledge and work ethic, particularly as she has no previous commercial property experience and has only been with the firm for six months. It was evident from my visit that Alex is an invaluable member of the team and a motivated professional.
Alex loves her job and says that an apprenticeship works perfectly for her as it allows her to gain experience as well as a qualification.
Jack is with the agency, and planning and development teams. He took me to visit a commercial development site called Fernwood Business Park. So far, some of the plots have already been sold and occupied. There's a pub, a fitness centre and he's had interest in one of the serviced office buildings. There's also a huge plot where a school is currently being built. Jack says the job is fun, every day is different and he's excited to go to work in the morning.
Occasionally, it doesn't go right when he is not meeting targets, but he said closing a deal is one of the best feelings he has ever had and that drives him on.
He likes the fact that he is helping people. He enjoys meeting new people and going to different places. Jack initially was with Lambert Smith Hampton in an admin role and this has benefited him in his apprenticeship with doing tasks such as billings.
I asked him what advice he had for prospective apprentices and he said 'just do it, don't wait. Be positive and give it everything. You only get out what you put in'.
For me, shadowing the apprentices has been a great experience. Rather than just seeing a report or seeing a review documenting their workplace development and learning, I have been able to see them in action and get a true feel for how they are developing in their roles.
The best thing I would take away from the shadowing is seeing how the apprentices really enjoy their role and their opportunity to learn and develop. That's all we can ask for!
Thank you, Lambert Smith Hampton for arranging this opportunity, and to Alex, Jack and Debi for taking part.
To learn more about our apprenticeships, visit www.ucem.ac.uk/develop-talent-for-your-business/employing-an-apprentice/, and to learn more about the work our AOOs do, visit www.ucem.ac.uk/news-events/blog/introducing-our-apprenticeship-outcomes-officers/.
Remember to keep an eye out for all our National Apprenticeship Week activity on our Twitter, LinkedIn, Facebook and Instagram channels too!