National Apprenticeship Week 2019: Our AOO, David Meilhan goes on-site with Malcolm Hollis apprentice, Dan Nixon in Watford
Posted on: 8 March, 2019
To celebrate National Apprenticeship Week, we are sending out four of our Apprenticeship Outcomes Officers (AOOs) to shadow several apprentices throughout the week.
The shadowing opportunities will provide our AOOs with a different perspective of the challenges and workplace experiences our apprentices face alongside their studies.
Our final blog sees our Apprenticeship Outcomes Officer, David Meilhan meet our BSc Building Surveying apprentice, Dan Nixon at Malcolm Hollis's office in Battersea before being taken on-site at a development in Watford.
David sums up his experience below…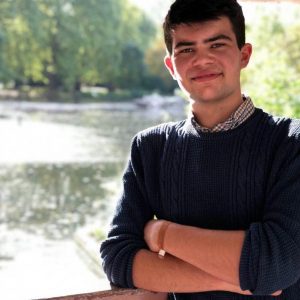 I met Dan at Malcolm Hollis's offices in Battersea. He began by giving me a tour of the offices and then we sat down to look at a few of the things he had been working on. There was a budget cost plan, a schedule of dilapidations and a reinstatement cost assessment.
He goes out to do the surveying, taking notes and photos and then writes up all his findings back at the office, working out the figures and completing the schedules and cost plans. He showed me how he does that and the software he uses for all the different items.
At lunch, I got to meet some of the other graduates at Malcolm Hollis. They are all at different stages of their APC and are on a similar journey to Dan.
We then went to a site in Watford to look at two different warehouses on an industrial estate. That was a pre-start meeting – a meeting with the contractor to agree the contract and the works which needs doing on the sites and what the best approach will be.
Dan didn't have a big part to play in that. His line manager was the chair of the meeting and Dan took notes. He gets tasks from the outcome of the meetings.
We went around with the contractor to discuss different points about jobs required. There was a structural engineer there to advise on changes that may be needed to strengthen various points of the building. There were mechanical and electrical engineers and roofers there too.
It was interesting to see a site meeting having heard lots about them. I expected a more formal affair, but the opposite was the case and they clearly work in a relaxed way which enables everyone to speak up and offer their thoughts and opinions.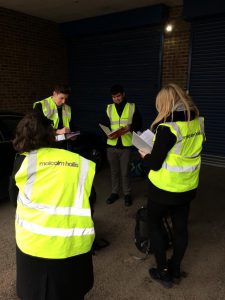 Dan goes out travelling a lot as he covers London and the South East. Site meetings and surveys make up a quarter of his workload and tasks to complete from those meetings make up the rest of it.
Dan is really enthusiastic about his apprenticeship. He started off at a rural estate agents on a residential pathway but it wasn't for him and he ended up going to Malcolm Hollis where he has fully integrated in the team.
He is given a variety of tasks and his line manager says he always gets the job done. He is a good student excelling in all his modules. He has no complaints about the apprenticeship, and he loves it.
In terms of the office environment at Malcolm Hollis, I found the atmosphere very friendly and welcoming. It's obvious that Dan is really well supported by his line manager, Jo Bell [Associate at Malcolm Hollis]. She encourages him to go out and gain experience in any areas of building surveying that he takes an interest in. She is very accommodating to Dan's training and development.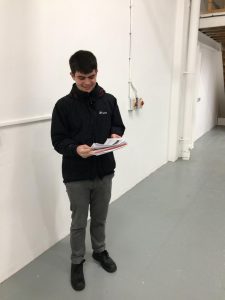 I got the sense that Malcolm Hollis are really pleased with how the apprenticeship is going. Having Dan has been positive for them and they are now looking to increase their number of apprentices. Jo is banging the drum about how good the apprenticeship has been and how good apprentices are for business, and I couldn't agree more!
Thank you, Malcolm Hollis for arranging this opportunity, and to Dan and David for taking part.
To learn more about our apprenticeships, visit www.ucem.ac.uk/develop-talent-for-your-business/employing-an-apprentice/, and to learn more about the work our AOOs do, visit www.ucem.ac.uk/news-events/blog/introducing-our-apprenticeship-outcomes-officers/.
We have been publishing plenty of content about National Apprenticeship Week this week so check out our Twitter, LinkedIn, Facebook and Instagram channels for all the latest.